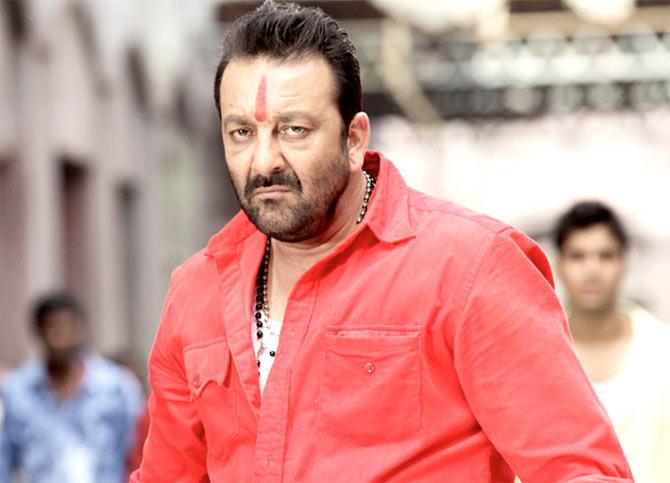 'Two things were clear: Firstly, Salem and Sanjay were no longer friends. Two, Salem was gunning for Sanjay.'
'The actor was in Goa at the time, along with his friend and the director of Kaante, Sanjay Gupta, known to him as Gups. Salem's instructions to his boys were clear: Go after Sanjay and kill him in Goa or at Mumbai airport upon his return.'
'But Sanjay and Gups heard of the planned hit and desperately began working the phones to get help. They asked several friends of Salem's to mediate, but these men found Salem in no mood to forgive Sanjay Dutt.'
An exclusive excerpt from S Hussain Zaidi's latest book, My Name Is Abu Salem.
Image: Abu Salem and Sanjay Dutt before court appearances.
Photograph: Sahil Salvi
The courtroom was packed to the rafters. The tension was palpable.
The hundred accused of the Mumbai serial blasts were present in the court and so were over a dozen lawyers and several CBI officers. The specially designated TADA courtroom wore an air of eerie grimness.
At the centre of attention were two distinctly different men, regarded as frenemies of sorts.
Film actor Sanjay Dutt was riding high on the recent success of Munnabhai MBBS -- his comeback vehicle to stardom. The other was Salem -- clean-shaven, nattily dressed, wearing nice shoes, sporting gelled hair and smelling of expensive cologne, quite in contrast to the morose and weary Sanjay.
Salem, unlike his former friend, was smiling, displaying his characteristic chirpy disposition.

Sanjay and Salem were of course good friends once upon a time -- Salem in complete awe of Sanjay and the star enjoying the attention. The running joke in the Mumbai underworld had been that Salem did not bathe for three days after having delivered the AK-56 to Sanjay Dutt before the riots.
After that, the two had kept in touch over the phone and met several times in Dubai during Sanjay's foreign shoots or events. Their friendship was in fact a much-discussed subject within the Bollywood-mafia circles.

But times change.
Those who know Sanjay claimed he had grown uncomfortable with Salem. Salem often used intimidation and coercion to retain Sanjay as a friend, something the star detested.
It wasn't the same case with Chhota Shakeel, Salem's arch-enemy and Dawood Ibrahim's right-hand man, with whom Sanjay shared an easy, comfortable equation.
A telephone conversation recorded on July 14, 2002, exposed Sanjay Dutt's connections with Shakeel. The transcripts would later be produced in the MCOCA (Maharashtra Control of Organised Crime Act) court where Sanjay would have to explain them away by saying he was too drunk and didn't have the slightest clue who he was talking to.
Salem had by then fallen out with his former boss Anis Ibrahim and was aware that he and Shakeel were stalking him at every turn. What he did not know was that they had also allegedly involved his one-time friend Sanjay Dutt in a plot to eliminate him in New Jersey.
For the record, the actor has always denied his involvement in such a conspiracy.
According to unconfirmed reports, Salem had told his old friend Sanjay that he would attend one of the star-studded live Bollywood shows in New Jersey.
Salem wanted to drop by and say hello to Sanjay and his other 'friends' in Bollywood. After all, this was 2001 and he was living inconspicuously in the US. Not many in Bollywood knew that Salem was trying to settle down in Chicago and was making efforts to extend his base to Los Angeles and New Jersey.
Salem had confided only in Sanjay about his plans to attend the event. Maybe he wanted to make it seem like a casual visit to a 'Bollywood night' while he was on a trip to the US, and wanted to give away nothing about his whereabouts in the country.
At the very last minute, however, the gangster received some chilling intelligence and cancelled his visit to the event.
Chhota Shakeel had hatched a plot to kill Salem in New Jersey, he was told. Shakeel's gunmen had conducted a recce of the stadium and were planning to strike as soon as Salem appeared at the glittering event.
Salem had heard that it was Sanjay who had tipped Shakeel off about his expected presence at the event.
Salem was only too well aware of Shakeel's skills and resourcefulness and how well he could plan an attack.
Only a few months ago, on September 15, 2000, Shakeel had orchestrated an audacious attack on Chhota Rajan in his den in Bangkok. Rajan had survived by the skin of his teeth.
Salem decided to cancel his visit to New Jersey, but harboured a massive grudge against Sanjay and had decided to punish him for his treachery and betrayal.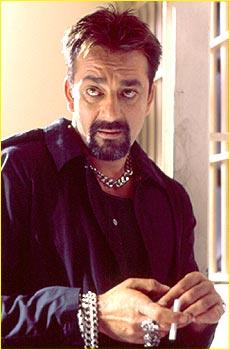 A few months later, Salem organised four gunmen to 'take care of' Sanjay.
The actor was in Goa at the time, along with his friend and the director of Kaante, Sanjay Gupta, known to him as Gups. Salem's instructions to his boys were clear: Go after Sanjay and kill him in Goa or at Mumbai airport upon his return (Left: Sanjay Dutt in Kaante).
But Sanjay and Gups heard of the planned hit and desperately began working the phones to get help. They asked several friends of Salem's to mediate, but these men found Salem in no mood to forgive Sanjay Dutt.
Sanjay and Gups remained holed up in the hotel room until they managed to get hold of a close friend of Salem's in Mumbai by the name of Akbar Khan. This man had helped Salem in the days when the don was on the run from the Mumbai police after the serial blasts.
Khan had helped Salem cross the border and had even driven him to Kathmandu in his own car. It was a huge risk for him to take and Salem was so grateful to Khan that he never refused him a thing.
When Gups asked Khan to intervene, the latter agreed. After all, who would not want to oblige a successful and affluent filmmaker?
Khan called up Salem and asked him to rein in his shooters.
Salem was furious, but also couldn't say no to Khan. He told him that his hitmen would not touch the two Sanjays so long as they travelled in Khan's car.
The news of amnesty was conveyed to the beleaguered actor-director duo, much to their immense relief. They managed to reach Mumbai airport and Khan ferried them across town in his Hyundai Santro, saving them from the wrath of Salem and his shooters.
Khan was no Good Samaritan. Over the next few months, he regularly visited Sanjay Gupta's plush office in Lokhandwala and took lakhs of rupees for something or the other, part of the unwritten price for his help.
Gupta resented it, but shelled out the money quietly. He could hardly irk Khan and invite bad luck home.
While Khan extracted hard cash from Gupta, he ensured that Sanjay Dutt, whose market price at the time was a couple of crores per film, worked in his own movie for free.
Market analysts dubbed the movie as the most disastrous of Sanjay's career and wondered what made him take up the movie just as his career was peaking.
Salem later boasted that he decided to forgive Sanjay because the actor had called him on his satellite phone (which used to cost Rs 1,000 per minute for a call) and tearfully sought his forgiveness.
Salem would boast about this incident, saying to his audience that he had decided to forget Sanjay's betrayal out of the goodness of his heart.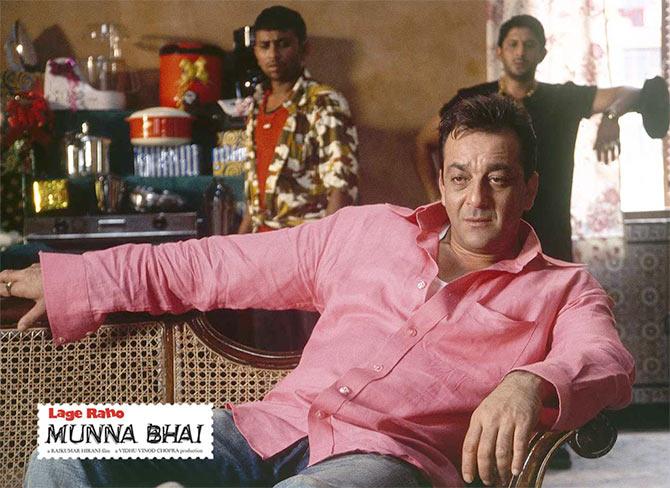 Two things were clear from these incidents: Firstly, Salem and Sanjay were no longer friends. Two, Salem was gunning for Sanjay.
The veracity of Salem's claim of forgiving Sanjay could never be verified though. That's why, in court, the actor decided to avoid Salem and preferred to take a seat on the last bench along with a few of the accused.
The officers from the ATS who had surrounded Salem from all sides (for his own safety) were also there to ensure that Salem did not abuse Sanjay in any way.
Soon after the serial blasts case chargesheet was filed on November 4, 1993, at the TADA court (in the Mumbai sessions court near Colaba), the city police were faced with the massive problem of security. The case involved over 200 accused, over a thousand witnesses and scores of lawyers and police personnel.
It was going to be a major challenge to ferry all these accused from Arthur Road Jail to Colaba on a daily basis. This would involve several dozen vehicles and complicated security paraphernalia. Any security glitch would easily result in a major catastrophe for the city which was still recovering from the serial blasts.
The police were not willing to take any chances.
So, in an unprecedented step, the state government vacated a major portion of the Arthur Road Jail and dedicated it for the specially designated TADA court meant only for the serial blasts trial.
This arrangement allowed the accused to meet their lawyers in the court premises itself. Relatives could also drop in to meet the accused.
This section of the jail sprawled across acres of land and some of the accused even discovered nooks and crannies to grab an intimate moment or two with their wives, right within the court premises.
But Sanjay, of course, was too prominent a personality to hide in some secluded corner. He knew that he had to go through the motions of paying obeisance to the don.
During the recess, several accused hugged Salem and greeted him with extreme cordiality, some of them fawning over him. Sanjay remained standing in a corner.
Salem was, in fact, eager to meet Sanjay or at least give him his famous glare that was capable of having a spine-chilling effect on the recipient. Eventually, as he came down the stairs along with his ATS escorts, he spotted Sanjay standing there.
It was quite an awkward moment for Sanjay, although Salem kept smiling.
Not knowing what to say to dispel the awkwardness, Sanjay took the initiative and said, 'Salaam alaikum, bhai (Peace be with you, brother). Salem promptly replied, 'Walaikum salaam (And peace unto you as well)'.
Sanjay then asked, 'Khairiyat? (Is all well with you?)' Salem merely nodded to this question about his well-being and moved on.
The actor heaved a sigh of relief -- the storm had passed and all was well.
Having arrived in Mumbai on November 10, 2005, Salem was produced in the TADA court the next day. He preferred not to inform his family members of his arrival. At the time, he did not have a lawyer, but several lawyers of varying levels of skill were jostling for his attention.
Salem was remanded to custody. He was allowed home food and other facilities during his time in the jail.
Special Public Prosecutor Ujjwal Nikam told the court that the CBI's Special Task Force which was spearheading the prosecution would file a supplementary charge sheet against Salem in the next 30 days.
Salem was kept in the high-security anda cell -- the egg-shaped enclosure in Arthur Road Jail -- to protect him from any hostile gang rivals among the inmates. He hated it. Cramped space, discourteous staff, stinking toilets, mosquitoes, no bedsheets and other such miseries threatened to make his incarceration insufferable.
Slowly though, Salem began to settle in, especially when he came to the realisation that jail authorities react positively to the stature and wealth of gang members.
With everyone being respectful to Salem, he started enjoying his time in jail.
Excerpted from My Name Is Abu Salem, by S Hussain Zaidi, with the permission of the publishers, Penguin India.
Also Read: