'At the end of 2020, I was insecure, going through heartbreak, filled with negativity and self-doubt.'
'I had worked so hard over the past few years and suddenly, my career was stagnant.'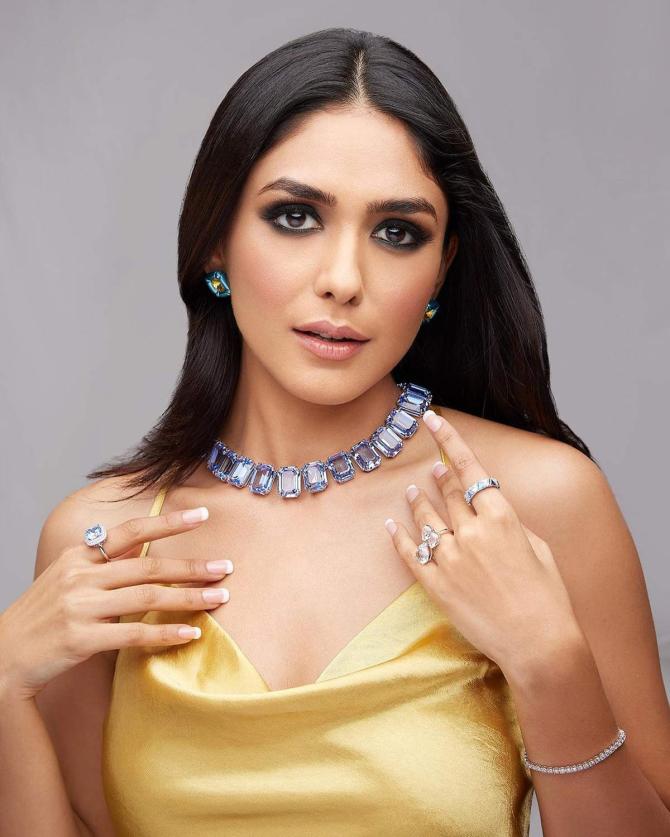 Mrunal Thakur has impressed audiences and critics even in films which largely revolved around the hero, be it Super 30, Batla House, Toofaan or the just released Dhamaka,
She is not a part of the giggly, girly, bubblegum brigade, who is there for a dance or two.
Mrunal is the spine of the narrative, offering a strong shoulder to her mate or sparking their conscience.
Even as a person, she knows her mind and speaks it too.
"It's gratifying when people see me as a woman of substance," she tells Rediff.com Senior Contributor Roshmila Bhattacharya.
It must have been a huge challenge shooting a film in 10 days during the lockdown in the midst of an ongoing pandemic.
I wrapped up the climax of Jersey in Chandigarh and flew directly to Mumbai and straight into Dhamaka.
Fifteen days of quarantine, followed by eight days of shoot.
It was an experience.
We were in a bubble.
I was locked away in a room and cut off from the world.
As part of our prep, we were doing Zoom sessions and I got to watch some really interesting OTT content.
Like what?
The coming-of-age period Netflix mini-series, The Queen's Gambit. The protagonist, chess prodigy Beth Harmon, is strong, firm and passionate while she is playing.
My character in Dhamaka, journalist Soumya Pathak, is equally passionate about going on the field and reporting live.
For me, Dhamaka is a jewellery I bought for a special occasion, which I have now put in my tijori and will treasure all my life.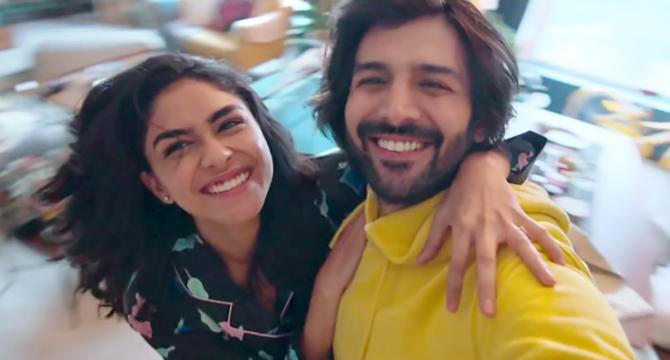 Not everyone realises the pressures of a newsroom or a news studio, but having played a journalist in Batla House and now Dhamaka, you certainly would.
Oh yes, I wanted to be a journalist once and was doing my bachelor's in mass media.
So which three people would you want to interview right now given the chance?
Oh my God, if I could set the clock back, definitely Smita Patel.
Whenever I have read or watched her interviews, what struck me was how searingly honest she was, unlike others -- and I don't mean just actors -- who do not put themselves out there, 100 per cent.
She was way ahead of her time in her choice of films.
Then, the spiritual guru, Ma Anand Sheela Anand. I saw Wild Wild Country and her interview with Karan (Johar). She comes across as so strong. I want to know more about her.
And finally, Mr Amitabh Bachchan. I would quiz him on what happened behind the scenes when he was shooting for some of the iconic scenes in Sholay, Agneepath, Black and Paa.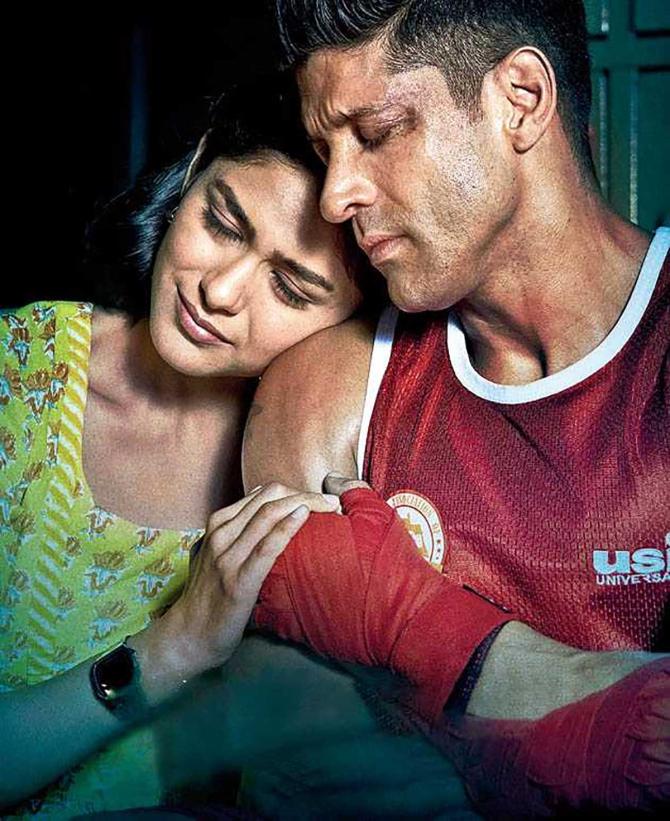 Your last three-four films, be it Super 30, Batla House, Toofan or Dhamaka, have all revolved around the hero. But despite lesser footage, you were their conscience, their strength. Without you, their journey would have remained incomplete and they wouldn't have been the heroes they were.
Growing up, I was influenced by Vidya (Balan) ma'am, the roles she did.
Also, films like 3 Idiots which urged you to listen to your inner voice and follow your heart.
Strong characters excite me and it's gratifying when people see me as a woman of substance.
When someone like Ram (Madhvani, Director) sir gives me a special appearance in his film because he believes I can contribute something to Dhamaka.
I want my films to reflect a jhalak of Mrunal, I want them to empower not just Indian women, but women across the world.
It's interesting that you are talking of women empowerment given that your first film, Love Sonia, was a beacon that lit up the darkness. What is your takeaway from that film?
To be a good human being.
People run after success, happiness and money, but this film taught me taught me that as an actor, I have the power to be the voice of the voiceless.
So it is my responsibility to speak up for the right thing, to push for what I believe in.
I wish Love Sonia had released after Super 30, it might have reached a bigger audience then. But it reached Uzbekistan and changed some laws there.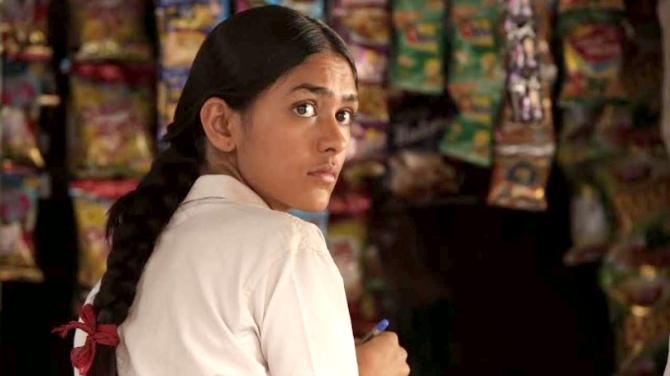 And it was screened at the United Nations...
Yes, and I got a chance to meet Michelle Obama, do press junkets across the world as the film played at many international festivals.
All this was preparing me for Bollywood.
In what way?
As they say, when you travel the world, it makes you wiser.
Well, Love Sonia made me wiser.
From a teenager I became an adult.
It helped me mature as an actor and a human being.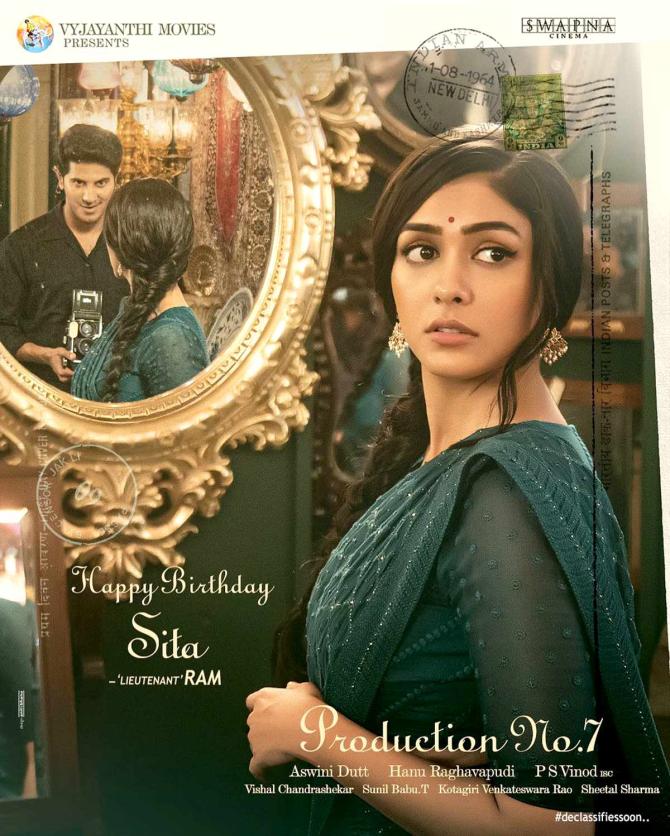 In an upcoming Telugu film in which you play Sita...
Actually, the character is called Sita Mahalakshmi.
...Having seen the kind of characters you have played, how different will your take be on Sita?
I'm fortunate to have got a role like this.
Sita Mahalakshmi is firm, strong, and madly in love with her Ram. You will see a reflection of Mrunal in her.
It's a character very close to my heart.
I can't wait to finish the film and release it. Fast, fast, fast...
The Jersey trailer has released to a great response. This film too has had a long journey because of the pandemic, but is now slated to open on December 31.
How does it feel to have three releases -- Toofan, Dhamaka and Jersey -- in a year?
I won't lie, at the end of 2020, I was insecure, going through heartbreak, filled with negativity and self-doubt.
I had worked so hard over the past few years and suddenly, my career was stagnant.
I was wondering if this was The End.
Today, there's one dhamaka happening after another.
I wanted to do just one film a year, this year I have three releases.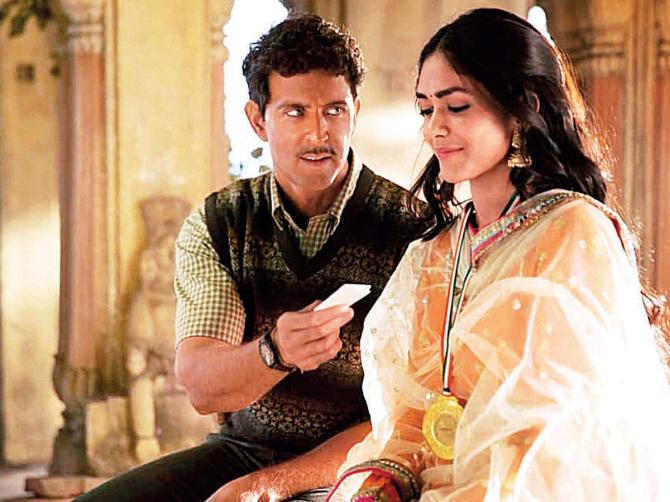 You are perhaps one of the most envied girls in Bollywood today, having worked with all to A-list actors from Hrithik Roshan, John Abraham and Farhan Akhtar to Kartik Aaryan and Shahid Kapoor.
(Laughs) That's why my sister puts kala tikka on me every day.
But seriously, I feel blessed because they are not just superstars, they are good human beings too.
I'm happy I'm getting to know them as a person too.
As I climb up this ladder, I will make sure I keep making girls jealous. This is just the beginning.
Tell us one quality that stands out in these co-stars...
There are times when one is filled with self-doubt. Not Kartik! He is extremely confident.
I look at him sometimes and wonder, 'Wow, where does all this confidence come from!'
Shahid can get very serious while performing, but he also has a fun, quirky side, a hint of which you get on social media. His sense of humour is on another level. He cracks me up every time.
Farhan is the smart kid, who always gets 100 on 100.
He is aware of everything that is happening in the world, knows every dialogue from every film no matter how old and has a sense of humour very few get.
Sometimes it passes me by completely, phir meri tubelight jalti thi and I realise it was a joke.
John never cheats on his diet, ever. Which is why our dinner is still pending.
Hrithik is extremely hardworking and being the Hrithik Roshan, he doesn't need to work so hard. When one sees him giving his 1,000 per cent, one is motivated to do 10,000 times more.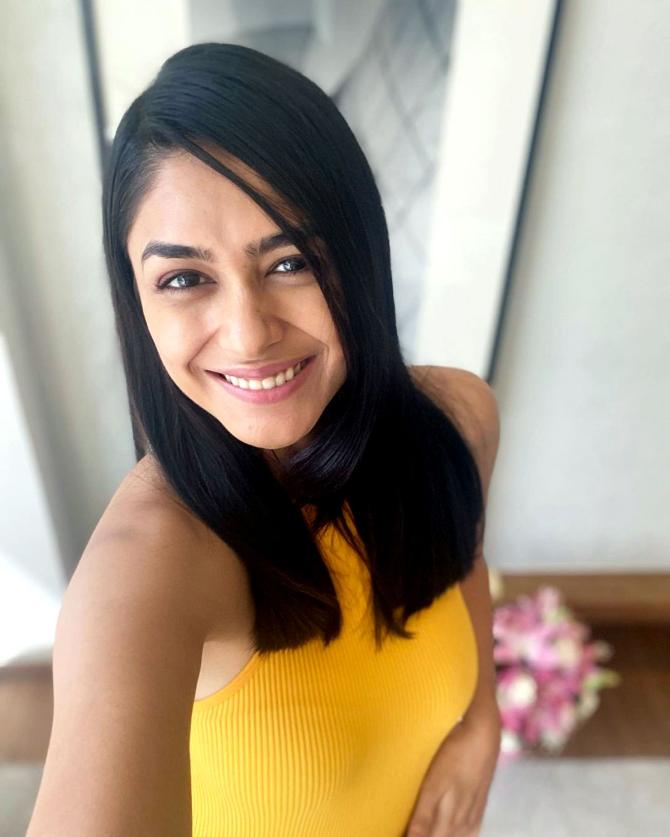 Tell us about your next two films, Pippa and the Thadam remake.
Pippa is a war film and I have found good friends in Ishaan (Khattar), Priyanshu (Painyuli) and Soni (Razdan) ma'am.
It's great that we gelled so quickly because sometimes actors take time to open up.
Shooting with Raja (Krishna Menon) sir was amazing. I've just finished my portions. The shooting of the war portions is still on.
The boys are on the field and major FOMO is happening here with me.
I have just finished the Delhi schedule of Thadam, I will be starting the shoot in Mumbai in December and am really looking forward to performing with Aditya (Roy Kapur).
Any really dhamakedar role for Mrunal in the near future?
I want to gain some experience before I step into such a role.
Every week I have three-four narrations.
All of them are such superb, outrageously powerful scripts that I am finding it difficult to decide which to pick.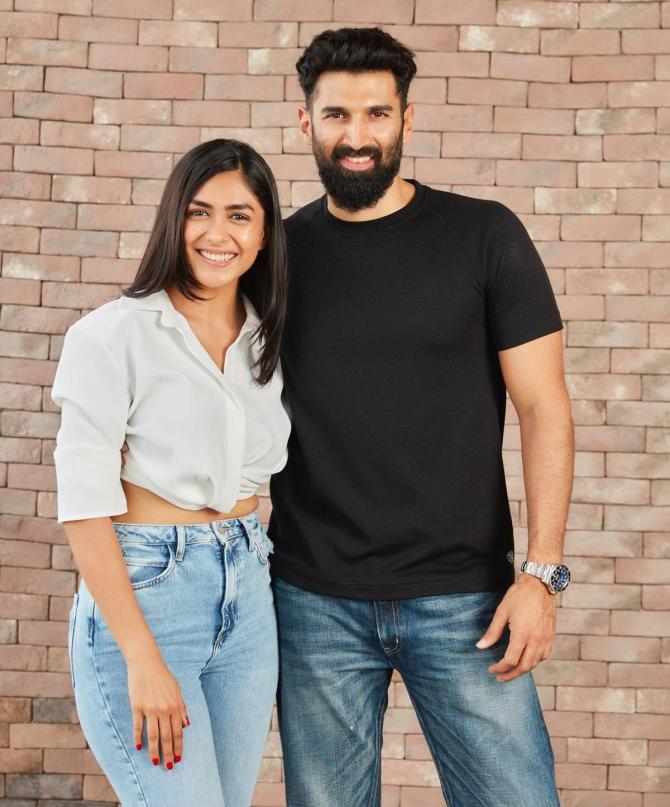 Apart from making a movie and finishing another, what else did you do during the lockdown?
I learnt ballet and Mixed Martial Arts. Both can help me as an actor, the latter also being good for personal safety and security.
And while I may be an actor, I don't like pink or bags.
I love cars. I love driving them.
Driving a car in the snow, one of the most challenging tasks there is, was on my bucket list.
I'm really proud I managed to accomplish it during the lockdown.