'When Zubeida came, everybody loved me and I got a slew of offers of the same kind.'
'People started saying,"Aap nayi Aruna Irani ban jayegi".'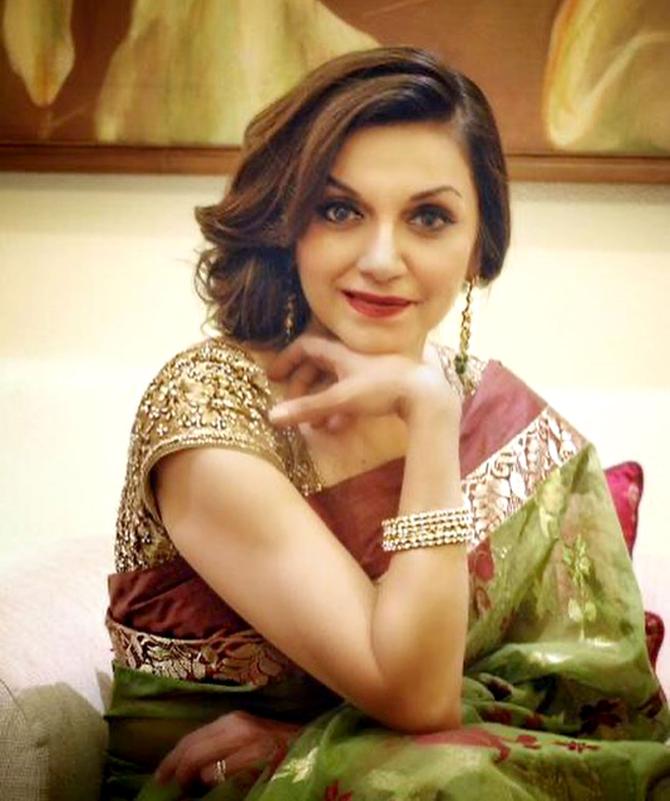 "Theatre has been an integral part of my life for more than 45 years. Except for little hiccups like getting pregnant and not being able to work for a year or two, I have always had theatre in my life," Lillete Dubey tells Ronjita Kulkarni/Rediff.com.
So when the theatres shut down during the lockdown, the actress and director was among those who were hit hard by it.
"After a long, horrible hiatus for all performing artists, theatre is opening again and new productions are coming up," she says.
Among them is her 34th play Lockdown Liaisons, which she is producing and directing, based on a book by Shobhaa De.
"Since I haven't done anything for more than two years now -- the last play I did was in 2019 -- this is special for me," she says.
Lockdown Liaisons is a book of 24 stories that De wrote like she was 'possessed' during the lockdown. It tells the stories of common folk who went through life-changing experiences during this time.
Lillete was invited by De to launch the book online, and they got a "very good response".
"People like the stories like that. So I thought that why don't I convert them into a stage production?" Lillete says.
She picked five stories out of the 24, and fleshed them out like monologues, narrated by Lillete, her daughter Ira and theatre actor Joy Sengupta.
How involved was Shobhaa De in the process?
"She's the best!" exclaims Lillete. 'She said 'Just do what you want.' She left it all to me, which is nice as well as scary."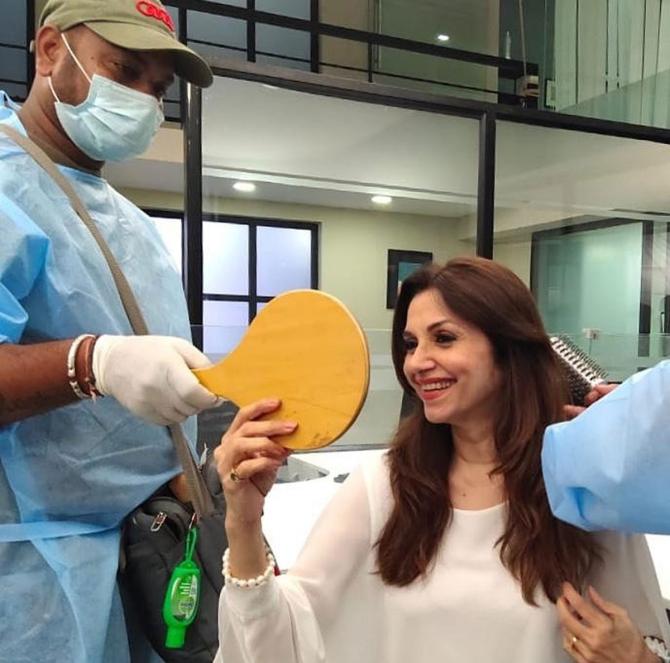 "I'm a person who is very happy with my own company, so the lockdown was not a punishment," Lillete says.
"After a certain age, you don't socialise too heavily. I am very, very choosy about what I want to do with my time. I don't have time to do things I don't particularly enjoy anymore, so it was it was quite lovely. I didn't mind it at all," she adds.
Then, suddenly, she went through a personal tragedy, and it left her disturbed for months.
"When the shoots started again, it was really important for me because at that point, I was mentally not happy with what was happening. It was a nice reprieve for me to go to work," she says.
Lillete "picked up COVID" as well, but it was a mild attack.
She jumped headlong into Lockdown Liaisons, which is set to open on November 19.
"The lockdown was such an extraordinary time, globally. I don't think even World War II went the same way. It was one of those very unusual events where from one end of the globe to the other, people were dying."
Surprisingly, acting was not Lillete's career choice, growing up.
"I come from a very professional family. There was no acting-phacting," she recalls.
Her mother was a gynaecologist while her father was an FRCP (Fellow of the Royal College of Physicians). He was a colonel in the army, and then he started his own practice.
Lillete's great grandfather was a judge.
"In our family, people didn't get into this business at all. When I was very young, in my 20s, looked halfway decent and was acting on stage, I got offers from the Hindi film industry. My father was aghast and said absolutely out of the question. Of course, I didn't want to do it either."
So it was ironical when the Delhi native came to Bombay in her 40s with her husband Ravi Dubey and got into films.
Lillete had acted in school, and she had enjoyed it. She went on to act in college too. After she got married, she continued acting.
"I did theatre with Barry John for 15 years, and people like Shah Rukh Khan and Manoj Bajpayee were there. Then I decided when my kids got a little older, I would set up my own company, so I did in 1991. It turned 30 in February," she says proudly.
Lillete calls herself an accidental film actress.
"I never chose this path. I started my film career at 46, and that's hardly the age to start shooting for films! I don't think many actresses have started their career at such a late age. It's unusual even today," she says.
Her first release was Shyam Benegal's Zubeida in 2001.
"I had shot Bhavandar before that. I had a small part in it for (Director) Jagmohan Mundra, but it released later. I was still in Delhi then. When I came to Mumbai, Shyambabu offered Zubeida to me."
2001 was quite an important one for Lillete, as she had three totally contrasting and successful movie releases. Besides Zubeida, she was seen in Mira Nair's crossover hit Monsoon Wedding and Anil Sharma's hardcore masala blockbuster Gadar: Ek Prem Katha.
"That's because I didn't come with any baggage. A lot of stars in their 40s would not take roles that weren't committed to their talent or stature, and I'm saying this in a good way," Lillete explains.
"When Zubeida came, everybody loved me and I got a slew of offers of the same kind. People started saying, 'Aap nayi Aruna Irani ban jayegi.' I love Aruna Irani, but I don't want to be someone else. I am who I am," she says.
"I realised very quickly that people label you 'Aruna Irani' or 'chulbuli bhabhi' or something...they have these little classifications. But I said that I'm not going to be in any drawer. I was a theatre actress and I seek variety all the time."
"I refused to do the roles, as I didn't want to be typecast. I don't want to do aunty roles again."
"Now I'm much older and can't look for a lot of variety because I have already done all kinds of roles. But still, I do. I don't like to repeat myself.
"That's why I liked it when Dr Chandraprakash Dwivedi gave me Pinjar or Ritesh Batra gave me The Lunchbox. They were people who could look beyond what I look like in real life.
"Honestly, I feel I have used only a small finger of mine in the film business. I tell them, please give me a chance, come and see my work on stage. There's so much more depth, variety and range," she says.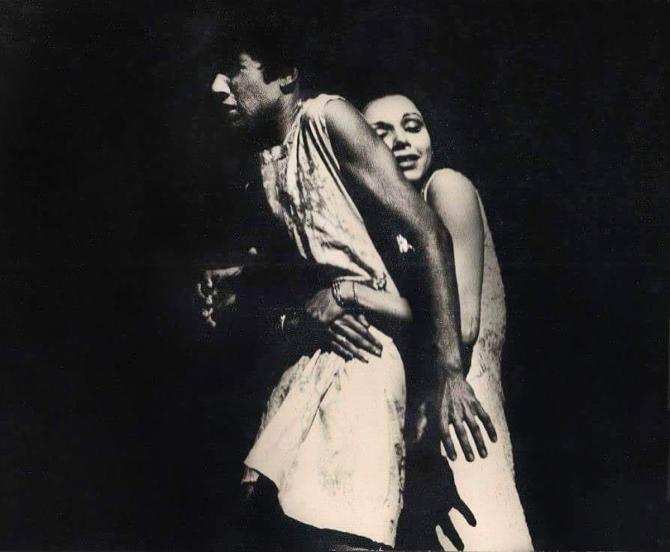 Doesn't it get frustrating?
"I gave up being frustrated a long time ago," she says.
"I don't expect to get some deep creative satisfaction in films. That's why I need theatre.
"I've never felt challenged by cinema in any of the roles that I've done. I'm sounding very immodest, but I find them very easy to do. Like, my role in Call My Agent was one that I enjoyed but it didn't challenge me in any way," she says, referring to her cameo in the Netflix Web series, where she "locks horns" with good friend Ila Arun.
"Most of my work in cinema has been enjoyable and I've got to work with some wonderful actors. Like Mammootty. Where else would I have worked with him? That's been a very enriching experience.
"I'm lucky that I still get work. I have two films coming out, and I'm very grateful for that."