'I will live my life and let other people live their life too.'
'There are big problems in life yaar, like global warming. Let's talk about that.'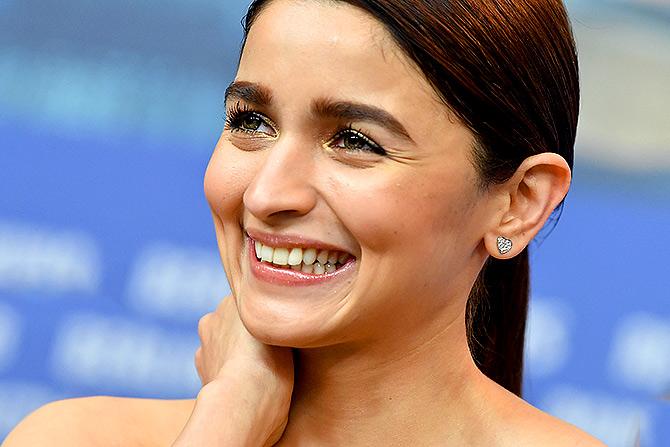 Alia Bhatt takes up a costume drama for the first time in Kalank, and she admits that the vintage adah does not come to her naturally.
The actress joins an ensemble cast in Karan Johar's film, directed by Abhishek Varman, along with Varun Dhawan, Sonakshi Sinha, Aditya Roy Kapoor, Madhuri Dixit and Sanjay Dutt.
"Sitting gracefully, with so much jewellery, doesn't come naturally to me," she confides in Patcy N/Rediff.com.
What kind of training did you undergo to match steps with Madhuri Dixit?
Luckily, I did not have to match steps with Madhuri ma'am because she is not dancing with me.
Still, I went for training.
I did a year of basic Kathak training and two-and-a-half months of learning the song's choreography.
I did that every day, relentlessly, to get it right.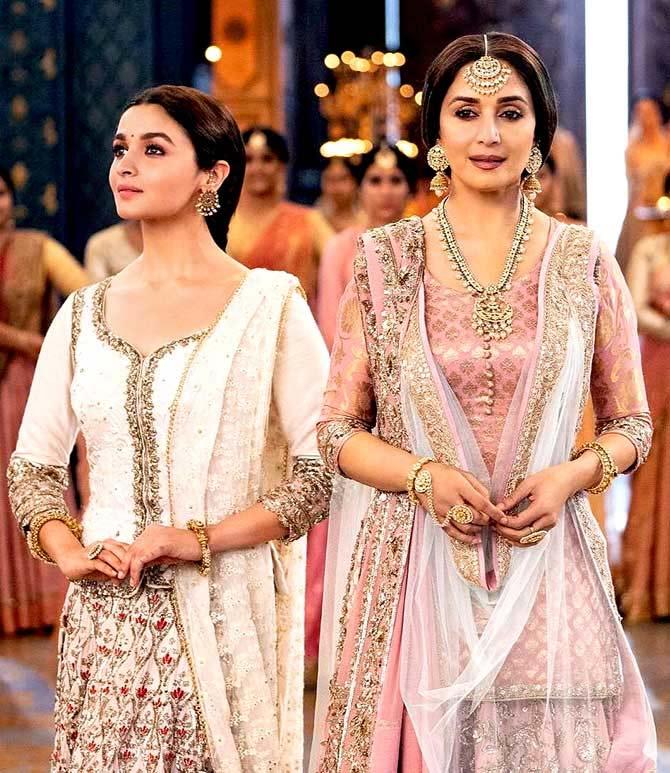 How nervous were you during the shooting of the song, Ghar More Pardesiya?
I was very excited as I had never done anything like this before.
Someone once told me that characters come and go, but what lives on are the songs and that is how people connect with you immediately.
So I am a little bhooki for songs.
In this film, we did classical and semi-classical numbers, which is so new and unique for today's times. I am happy that I got to do it.
I think I have done better than what I have done before.
Do you feel any box office pressure with Kalank?
I have a lot of expectations from Kalank. It is making me nervous, but I don't feel the pressure.
Nervousness is good; pressure sucks a lot of energy from you.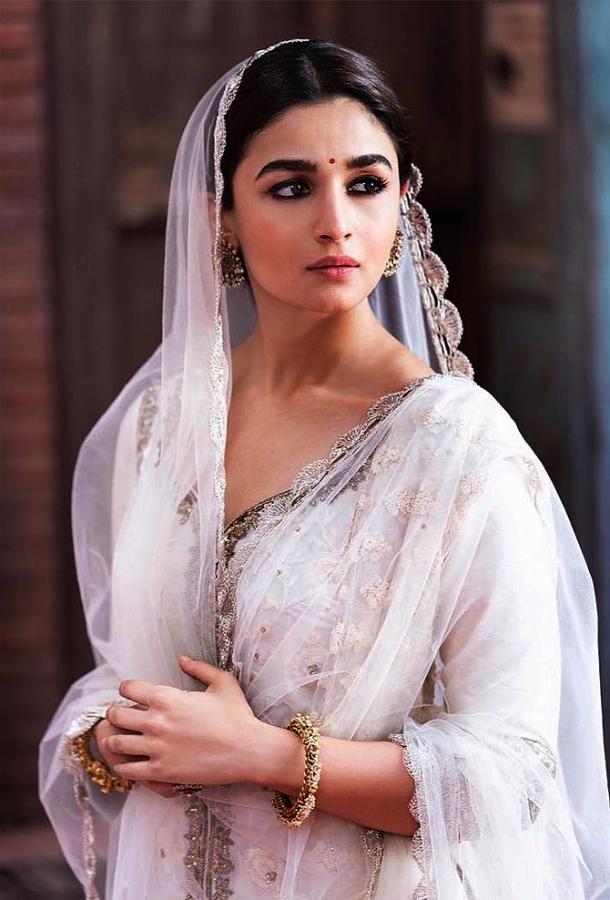 This is your first costume drama, followed by Takht. How different is a costume drama from other films?
It is very different and very difficult.
Sitting gracefully, with so much jewellery, doesn't come naturally to me.
There is a shot of me walking down the stairs towards Varun and climbing into a boat.
I kept asking Abhishek (Varman, director) how can we just stand on the boat and not fall?
The amount of strength that Varun and I used to hold each other plus give calm expressions... some people were in the water holding the boat so that it would not shake and we would not fall. It was really difficult.
Then Abhishek also asked me to walk down the stairs without looking down. So I asked him, 'How am I supposed to walk with this big lehenga?'
At the same time, you have to make it look convincing and effortless.
But my character's emotions made it harder.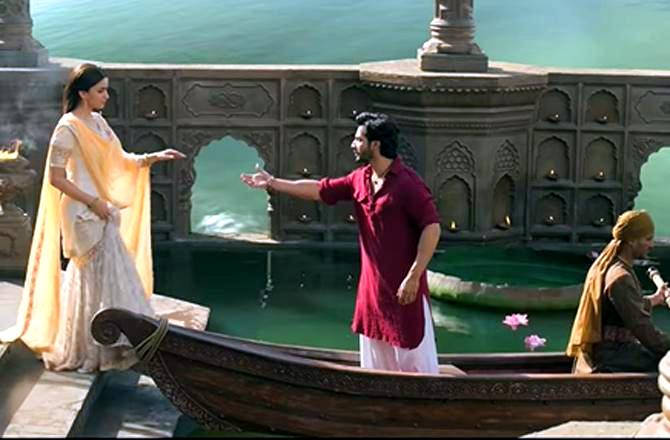 Cinematographer Binod Pradhan said it was the most tiring film he has ever done.
Yeah, there was a time when Binod sir and I fell ill, another time when both of us lost our voices -- he had a sore throat and I was screaming in a scene. For two days, I could not talk.
He also said you memorise long dialogues very fast.
Binod sir is a man of few words. When he says something, it's really a big deal.
I am obsessed with memorising dialogues. I ask everyone to send me dialogues a month in advance.
I like switching on and off between takes, so that while I am doing my take, I am not thinking about my line.
It should just flow.
My directors pull my leg and say that they will change the lines. And I get shocked and ask them why because I take really long to learn my lines.
I learn it nicely like a good student and come on sets.
I get thrown off with improvising.
Varun is constantly improvising and I get very irritated. I always tell him to stick to the lines.
Are you taking Telugu lessons for RRR?
I have started taking lessons. I spend an hour every day on the lessons, but it is not easy.
I read the dialogues, say them well, but forget them the next minute!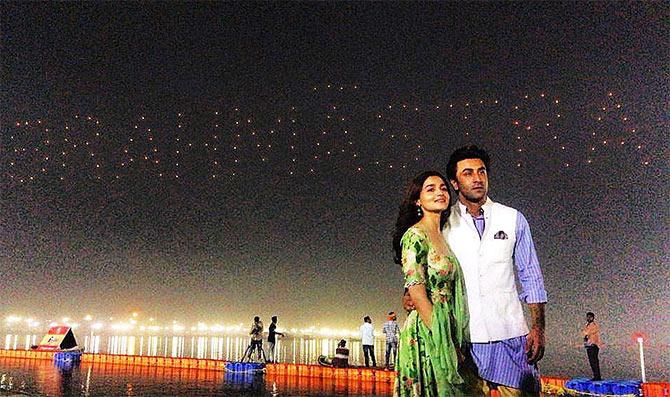 Raazi, Gully Boy, Kalank, Brahmastra, Inshallah, RRR... You have been choosing different kinds of films.
What do you look for in a script? Does anyone help you choose films?
No one helps me.
I don't look for anything in particular, but sometimes, I want to work with certain directors.
If the script is good, I go ahead.
Sometimes, if I am in the mood to do something serious, I look accordingly.
Sometimes a film comes to me unexpectedly and I like it and take it up.
That's why I make it a point to meet everybody and listen to everybody. You never know what will come up.
You started your career with Varun in Student Of The Year. How much have both of you evolved as actors?
We have evolved in different ways.
I can't pinpoint and say what exactly but there is a little understanding when it comes to each other.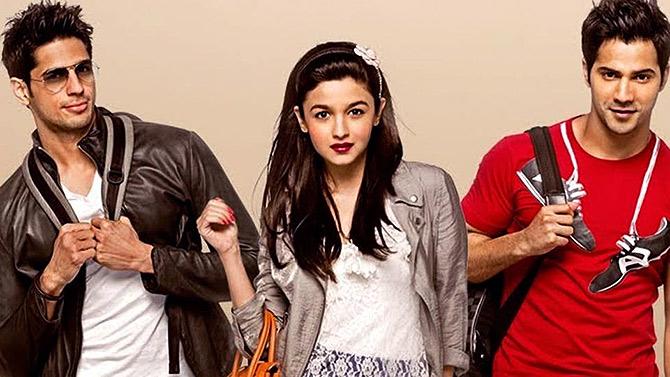 When you watch Student Of The Year now, do you feel you could have done a scene better?
I could have done the whole film better!
But I don't like going back in time and changing things.
Even in Humpty Sharma Ki Dulhaniya, there is a scene I could have done it -- I was talking so fast in that. But those flaws also made that character.
You recently announced your production house called Eternal Sunshine Productions. What kind of content will you make?
I will make films that I believe in.
I will probably be a part of most of them.
I would like to be a creative producer, not a line producer, so I will be always team up with someone.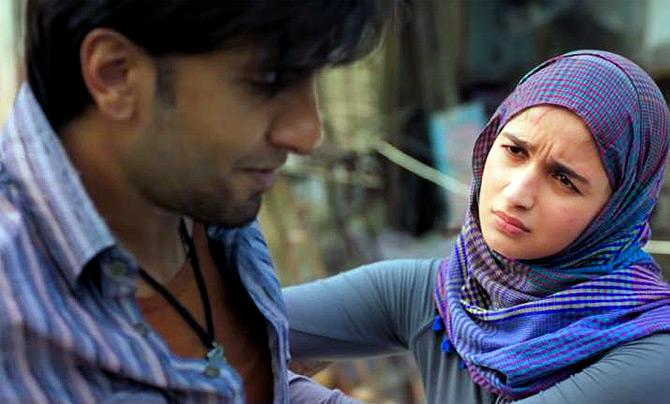 Your character Sameena in Gully Boy has been appreciated.
Sameena was a fun character.
This happens with me very often -- when I am working on a film, another character becomes my favourite.
It may not even be the main character.
Like, I remember in Badrinath Ki Dulhaniya, I liked the character played by Sahil Vaid.
So for the first time in my life, my favourite character was Sameena in Gully Boy.
It was written like that.
I did a three-day workshop and had a blast on the sets.
Honestly, when I was going through the reviews, I kept thinking what did I do? I didn't expect it to become so famous.
So which is your favourite character in Kalank?
I think it is Varun's character, Zafar.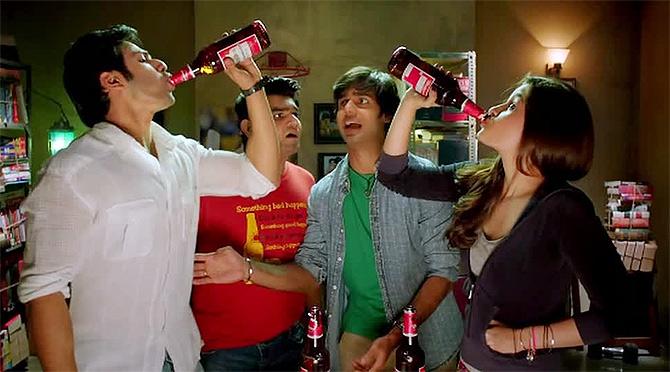 Recently you spoke about how you suffer from anxiety. Your busy schedule does not give you time to breathe. How do you deal with it?
I would not use the word 'suffer' because I have seen my sister suffer from depression.
I spoke about it because it is normal to speak about it, like any other emotion.
I spoke about anxiety because it is an important thing to discuss.
Such emotions come and go and you must accept it.
For days I was feeling low for no reason.
I was jogging my mind to see if something had happened, as I am an over-thinker as well, but there was no reason.
So I spoke to my friends and realised that this happens to people. You just have to know that it will pass.
I have not felt like that in months now.
How do you look at negative comments written about you?
If you are able to accept people talking to you positively, which they do, I think I should be able to take it when they do not speak positively.
I believe in live and let live. I will live my life and let other people live their life too.
There are big problems in life yaar, like global warming. Let's talk about that.
When Sanjay Leela Bhansali's Inshallah was announced, a lot of people were surprised with the casting -- Salman Khan and you. There was some criticism too.
I don't think so. I did not get any criticism.
I got a lot of excitement.
Speculation is also a form of excitement.
I don't think Sanjay sir or Salman are bothered about it.
This is a film-maker who has given us beautiful cinema. We should trust just his vision and be excited.
Have you auditioned for him?
I had auditioned for Black, but it was a terrible audition. He wanted me to do Balika Badhu after that.
How do you unwind?
I watch television, I read, I sleep, I work out...
I get an hour or one-and-a-half hours to do my stuff.
I make sure to squeeze in my workout, my TV time, my reading time... I didn't get to do this last year, but now, I am.
I am watching Delhi Crime now.
I just finished watching Made in Heaven.
Such a beautiful cast, I was so star struck!
Did you like your mother Soni Razdan's No Fathers in Kashmir?
I loved it!
I think people should watch it.
There are not many shows, but I told my mom that this will be a huge digital hit, and that they should put it on Netflix or Amazon immediately.
I think it will get genuine appreciation there.
She should do more films; people should know she is looking for work and they should cast her in their films.
She is a brilliant actor. She was so effortless in this film. She just became that character.
People ask me how I am a good actor and I tell them, now you know where I get it from.
Even my father is a good actor.