'Made in Heaven plays well as a busy show; when it's hip, but without being hopeless,' feels Sreehari Nair.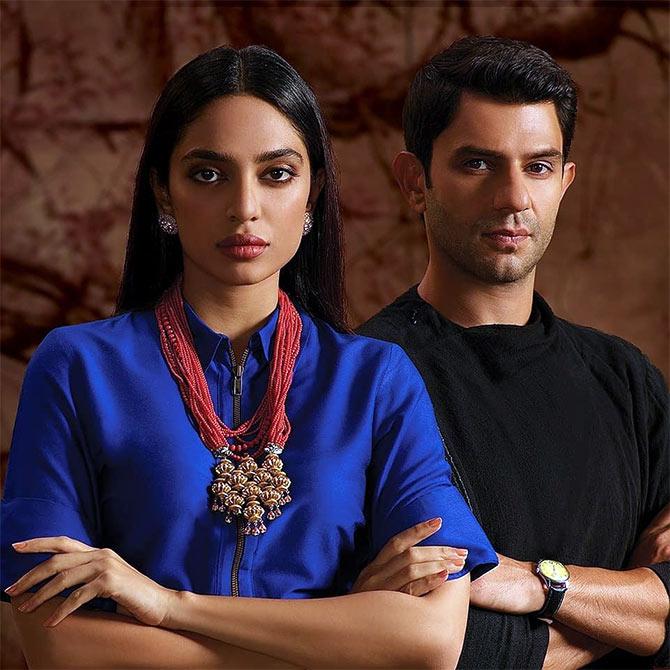 Amazon's Made in Heaven may be set in the world of wedding planners, but that's just the show's *thing.* (Like a funeral home was Six Feet Under's *thing.*)
The most touching aspect of this Web series is the inability of its two central characters to take hold of their own lives, even as they steer complicated wedding scenarios to their logical conclusions.
Though they are half-crazed by their personal situations, wedding planners Tara (Sobhita Dhulipala) and Karan (Arjun Mathur) try to do right by everyone in a marriage party: cheating brides, impotent grooms, and parents who act dishonourably in the name of honour.
Karan is a homosexual, supervising every facet of a ceremony that is meant to commemorate the union of a man and a woman. Nothing of what Karan 'designs' does he wish for himself.
Tara is a woman lacking the courage to walk out on her unfaithful husband; and so she thinks it her duty to inspire that bit of courage in a girl whose family is being oppressed for dowry.
Despite Tara and Karan's efforts to orchestrate a harmonious event in every episode, their own lives are marred by a sense of complete disharmony.
This is the zinger in Made in Heaven -- one that you come to care about because Tara and Karan happen to be the most fleshed-out people that the writers of this show (Zoya Akhtar, Reema Kagti and Alankrita Shrivastava) have devised thus far.
And Arjun Mathur and Sobhita Dhulipala compel you to go deeper into their characters' anguishes, but they do so without appealing for your sympathy.
There's something behind Sobhita Dhulipala's eyes that you can't see. As Tara, she makes mild depression seem sexy.
What the actress masterfully conveys is the exhaustion of a person who is forever straddling worlds.
Tara has stiffened up to keep her image, and it's a wonderful comic routine when she clenches her teeth slightly every time she talks to her sister: A sister who causes her to relax her sophisticated neck, and who reminds her of her lower middle-class roots.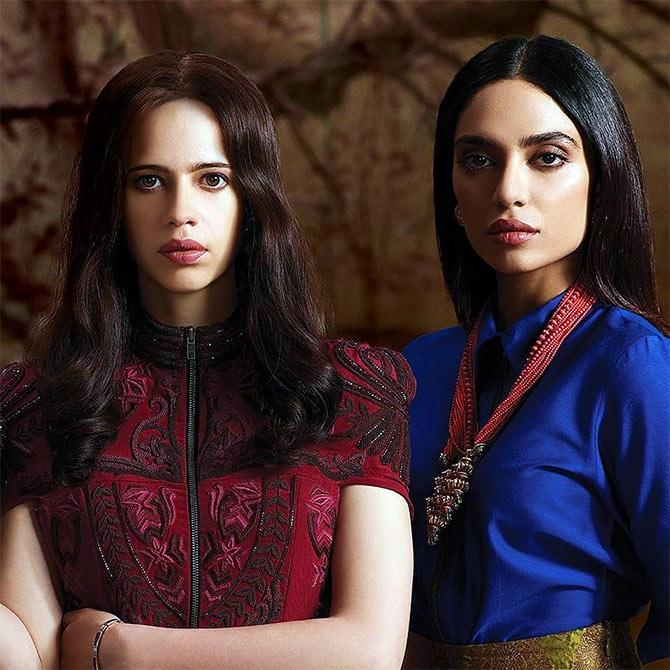 Like Dhulipala, Arjun Mathur also brings great feeling to his part; his performance is almost a reaction against urban India's search for security and easy 'labels.'
Words bubble up inside Karan's mouth every time he finds the truth to be more elusive than he thinks. And Mathur has intuitively mapped out how his character must 'move.'
Here's a gay man with a background in sports, and there's something of the mano a mano, of the man-to-man confrontation, in his mating rituals. When he goes down on another chap, Karan is both a lover and a sportsman.
Arjun and Tara are such gorgeous people and have such interesting personalities that, in a conventional story, we would be mentally egging them on to go for a kiss.
However, in-line with the show's larger spirit, and its distrust of concepts such as The Ideal Couple and The Perfect Match, it also denies us this cushiness which would have come with bundling together of two such desirable characters (An imaginatively thought-up flashback sequence shows us how Tara had felt an attraction for Arjun the first time they had met).
In a standard Zoya Akhtar venture (if one were to treat this as a Zoya Akhtar show, given how it builds on some of her pet subjects), such ironies would have been magnified for us to catch.
By this marker, a good chunk of Made in Heaven (especially the first two episodes and the writing in the third) can be viewed as representative of Akhtar's growth as an artist.
For she isn't playing her preferred Spot the Irony game, this time: A lot of the ironies in Made in Heaven *just emerge* and don't come off as planted for applause.
It also helps that the characters aren't thinking in English and talking in Hindi.
The English lines are allowed to stay English, with 'f***' being used almost like punctuation; as the go-to word for expressing everything from anger and frustration to excitement and shock.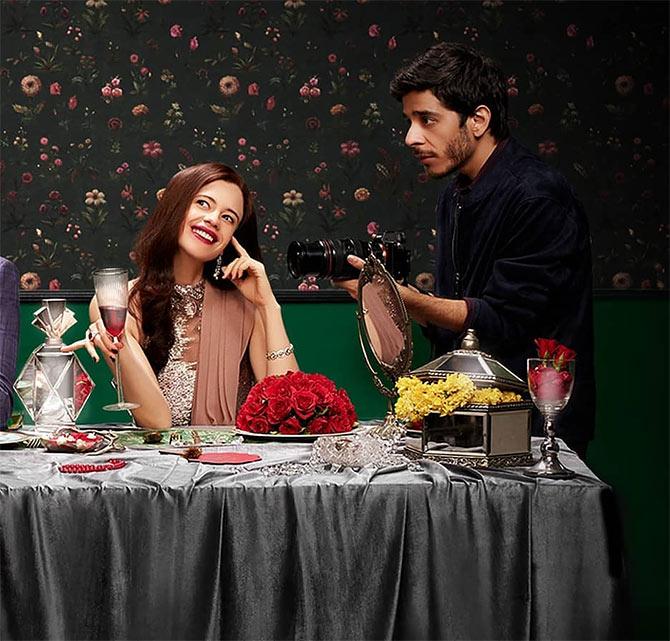 I personally thought the weddings were the most convenient bits in the series.
Outside of Tara and Karan's story, Made in Heaven works better when it's being frivolously witty than when it sets out to expose the pretenses in our society.
The writing in the wedding sections is strongest when the writers seem not savage about the hypocrisies of the privileged classes; and when they seem almost fond of their follies.
Neena Gupta, playing mother to a groom whose bride gets outed as a non-virgin, puts on a comic vaudeville of protest, complete with references to maternal love and family pride, before finally bowing down to her son's wishes, and welcoming a guest with all her South Delhi heritage, going,'Binduuuu!'
Akhtar's characters, here, have more Free Will; even one called Kabir, who is a spiritual child of those dreadful life-lesson spouting characters from Zindagi Na Milegi Dobara and Dil Dhadakne Do. (Typically, the biggest howlers in a Zoya Akhtar film).
Shashank Arora plays Kabir and it helps that the actor has a nose which seems to naturally twitch every time it senses something absurd happening around it.
Arora's character isn't used to 'tie things up' but as a stand-in for the audience: It feels as though Kabir is wielding the camera just to watch those camera-induced clichés ('She is not my daughter-in-law, but my daughter', among others) and smile at them.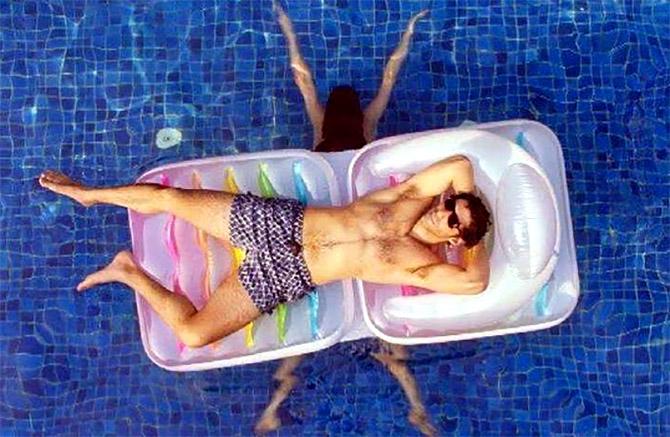 For the most part, there is a conscious effort here to create people than 'people-types.'
Seen from a distance, Jim Sarbh's Adil Khanna is a sick guy.
But the show takes a real close look at him, so that we get the implied irony: Here's a man who is applying to his personal relationships the same grandstanding that has brought him such enormous success in his corporate life.
Made in Heaven is a good show when it merely floats through its people, Altman-like; and when it casts an offhand, prankish look at the idea of the big, fat Indian wedding.
It's a good show when it revels in decadence -- but without losing control.
It's a good show every time it tries to keep its numerous stands of contradictions together, in a state of eerie balance. (The blend of saxophone, sitar and tabla notes doesn't hurt).
But it becomes a far lesser show when it attempts to untie these strands.
When its liberal snigger starts to take effect, the show stops moving forward, and hobbles about.
Its display of empathy feels skewed when it makes it too easy for us to like or dislike a certain character.
The show turns laughable, almost, when it suggests that every man who mocks Karan's gayness might be a closet homosexual himself -- that's flabby, fraudulent, writing.
Episode 4 and onwards, Made in Heaven becomes heavy, and I have the niggling suspicion that the series has begun to show signs of fatigue.
The wedding spoilers are a standard set of social problems (patriarchy, superstition, toxic masculinity, sexual oddities), all treated pretty much on the same level. You can already sense the calculations: 'Which social problem do we expose in this episode?'
In life, we learn no lessons; at the most, we experience a fleeting moment of insight. And then, the next moment arrives.
The best parts of Made in Heaven are made up of such fleeting moments.
A would-be bride is ridden with guilt about her night of infidelity and wants to tell her man about it. But Arjun is so deep into organising their wedding that he instructs her to forget the confession, and move on.
Made in Heaven plays well as a busy show; when it's hip, but without being hopeless.
Akhtar, Kagti and Shrivastava have done some of their finest work here.
However, you'd be reading their achievements all wrong if you fail to see that the real triumph isn't in their unmasking of the elites, but in their recognition that these characters would have behaved better, if only they knew better.
'What are you doing?' asks Adil Khanna's mistress, in a scene of high emotion.
'I don't know what I am doing,' says Adil.
It is a great line. For that's all there is to it.
Rediff Rating: