'The investigation was a complete eye-opener for me.'
'I didn't know this side of the incident at all.'
'And to make it even more poignant is that a woman cracked it.'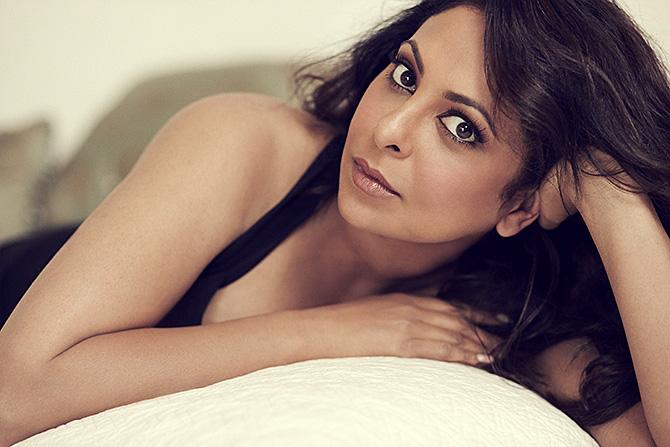 One of Bollywood's most under-rated actors Shefali Shah feels she has finally got her due in the digital space.
Her latest show Delhi Crime -- based on the horrific Nirbhaya gang-rape case -- sees her play the DCP who cracked the case.
It is a gritty show, directed by Richie Mehta, and Shefali's performance takes it a notch higher.
She discusses the show with Ronjita Kulkarni/Rediff.com and also discloses her thoughts while doing the show: "Every time I go in front of the camera, I have this fear of 'Oh my God, how am I going to tackle this? The director is going to say 'action' and I'm going to just keep standing there; I won't know what to do.' That's a constant fear I have as an actor."
What made you take up Delhi Crime?
That was a complete no-brainer.
Richie told me what he was thinking of and working on, and I said yes in three minutes.
I told him I would read the script in a couple of days and get back to him, but I read it in one hour. Once I started reading, I could not stop.
I was completely sold.
Were you ever apprehensive of working in a story that shook the country?
No. But when you are doing a true life incident, you know the basic guidelines. What is paramount is sensitivity and responsibility.
You cannot hurt the people involved.
You cannot deviate from the facts.
When you are interacting with the director, you know the kind of sensibility he has.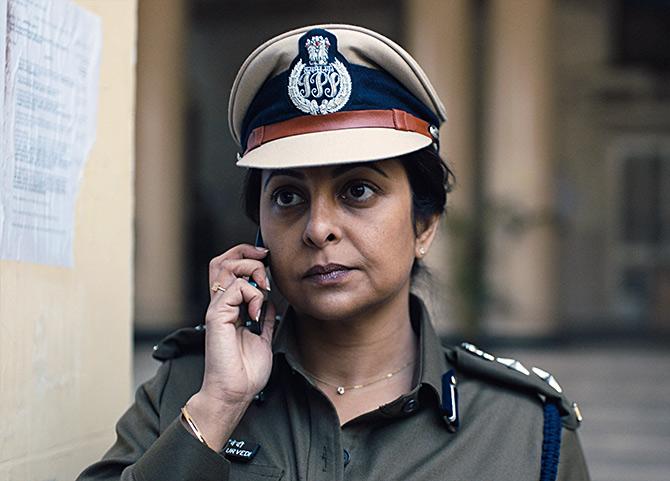 Were you ever scared?
Every time I go in front of the camera, I have this fear of 'Oh my God, how am I going to tackle this? The director is going to say 'action' and I'm going to just keep standing there; I won't know what to do.' That's a constant fear I have as an actor.
But when you plunge into it, you just plunge into it. Then you don't think of the hows and the whats. You've just got to do it.
How did you prepare for your character, Vartika Chaturvedi?
Rishi has done six years of research on this.
He has interacted with the real people involved.
He introduced the (then) DCP (Chhaya Sharma) to me, and she was kind enough to answer my questions.
The first thing Richie told me was, I don't want an actor from you, I want a collaborator. I need someone who will come halfway through, and work with me to create Vartika.
He needed a woman's voice.
After I got the blueprint of what happened in those days, came the emotional angle -- my perception and interpretation of the situation.
I can't even explain all the things that went into my mind while I was creating her.
When I would go on the sets, I would ask what the time was. Not the actual time, but the time in the story, which started from December 16, 2012.
I would see how many hours has Vartika been awake, what was the last crack in the case when she had an adrenalin run -- her exhaustion reduces when she gets that kick -- and then when was the dip (in the case).
It takes a lot of work.
Whether it shows on screen or not, it's important for me as an actor.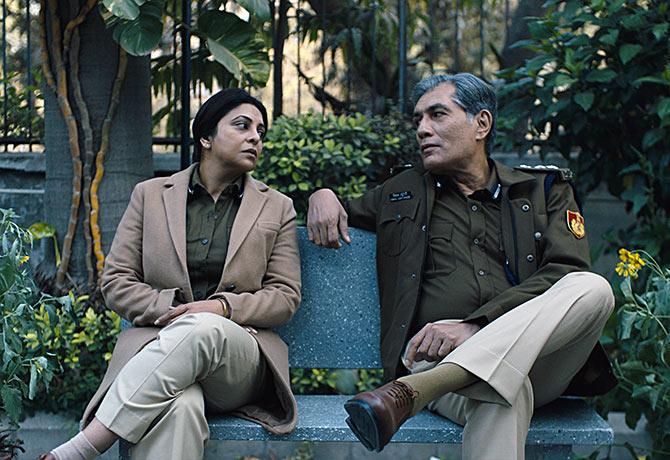 What was it like meeting Chhaya Sharma?
I got only two hours with her and you cannot soak in a person's personality in two hours.
But I was lucky that she was there to answer my questions.
I would message her and she would reply.
She is one hell of a woman, obviously.
It was an honour that I could interact with her.
What challenges did you face?
I am a very emotional person.
When this happened in 2012, all of us got emotionally affected by it.
There was anger, frustration, rage, disappointment, sorrow...
But the difference between Shefali and Vartika is that Vartika puts everything in the backburner emotionally and channelises her single-minded focus of catching those guys.
She doesn't let her emotions cloud her investigation.
And to maintain that level of exhaustion over the span of five days (through which the story runs)...
Also, to be honest and real.
This was not a caricature or mimickry.
I didn't want to be like Vartika, I had to become her.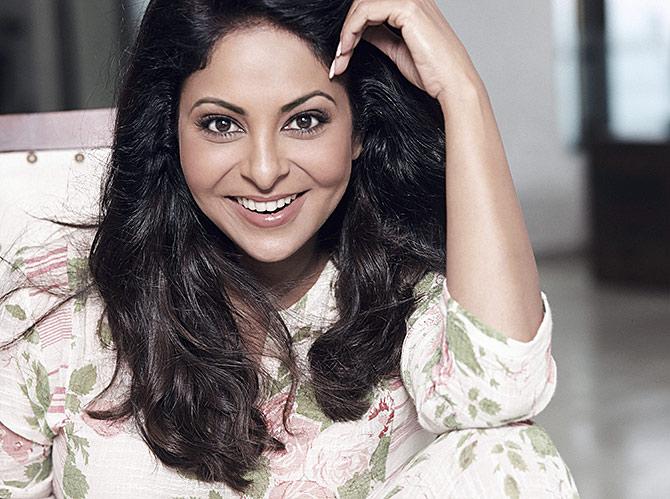 What was your toughest scene?
There were many.
When the doctor discusses the prognosis, it was like somebody had hit me in my gut! But Vartika does not react at all.
If she breaks down, her team will break down and she can't afford that.
There's a scene outside the hospital, where she is giving out instructions.
It was a 12-page scene that Rishi wanted to do in one go.
So it was 12 pages of me talking!
I was terrified of that!
And it wasn't an emotional scene, it's all instructions. There was so much information.
I was like, I can't do this. I was sitting in my van and crying!
How difficult is a 12-page scene?
It is very difficult.
I wasn't good at mugging up even at school!
What I normally do with long scenes is that I understand the emotional content and the words fall into place.
But in a scene like this where there is just information and no emotional line of thought, it becomes very difficult.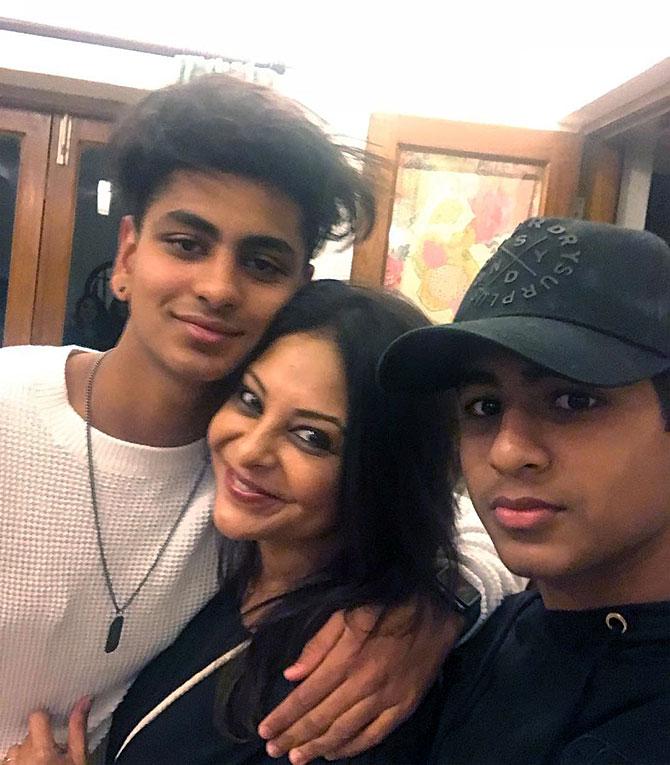 As a mother, what is the most important lesson you taught your sons, Aryaman, 17 and Mauya, 16?
The basic thing you teach your children is to respect other people.
It is not rocket science; it's as simple as brushing your teeth.
When they were very young, I had told them that if they ever mess with a woman, they have to deal with me first and I will not be good to deal with.
I said it in far more harsher terms.
What did your sons think of Delhi Crime?
They have Netflix on all the time. They felt it was at par with other international shows.
Do they watch your films? Which is their favourite?
I don't really know. I've never asked them that question.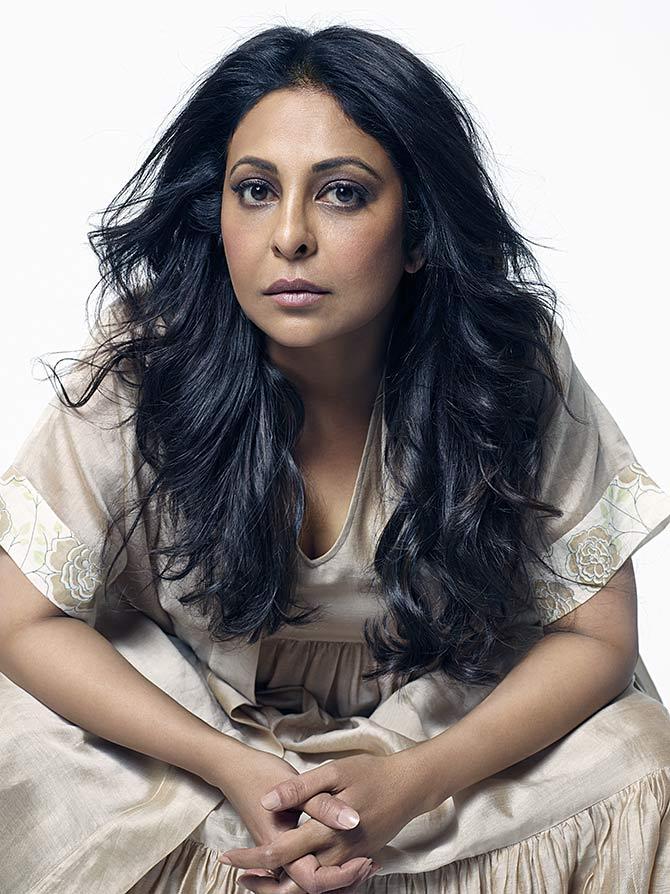 Your sons are studying in Spain.
Yes. They want to be professional soccer players, so they are training to be professional players and studying there as well.
My dad used to play for India, so it has skipped a generation and now it has come in them.
And they are good at it.
Unfortunately, there is no... I mean there is some kind of football training now (in India)...
If it was cricket, I wouldn't sent them anywhere.
But if you want to play international soccer, you have to be trained that well.
So this is completely their choice, their dream.
What did you discover from Delhi Crime?
We all had this anger and angst in 2012, about why nobody was doing something about this.
But when I heard this story from Richie, I realised that somebody was doing something about this.
The investigation was a complete eye-opener for me.
I didn't know this side of the incident at all.
And to make it even more poignant is that a woman cracked it.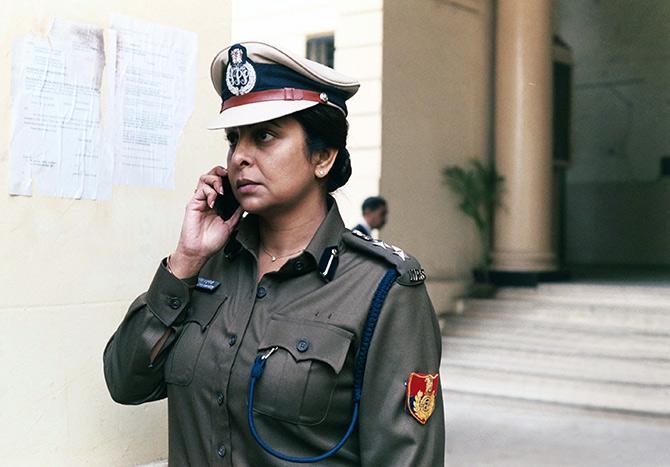 Would you call this your toughest role?
All my roles have been tough.
I am scared every time I go on the sets.
But Delhi Crime is my learning curve. I have never worked like this in another film or show.
I work on a character, not a scene.
Who she is, is important to me. For me, a scene is a window between the audience and the story. Who she is defines the scene, the scene doesn't define who she is.
So if I know her in and out, then in the scene, Shefali won't react, Vartika will.
Also, the two most prominent emotions in a situation like this would be anger and pain -- screaming, shouting, raving ranting or crying.
I had this conversation with Richie and I said that there should be only two points where she breaks down and two points when she screams.
Otherwise, it will lose impact.
When the camera starts, I don't know what I do.
When I saw the show, I was like, I did this? I don't remember it.
And I never check the monitor (while shooting). Not even my first shot.
I used to do it earlier, but I don't do it anymore.
How do you unwind after doing such intense work?
When we shooting Delhi Crime, I would keep working on it, keep re-reading it...
Otherwise, I read a lot.
I watch films. I write. I travel. I cook.
I have a great bunch of close friends.
I run a house.
You said in an interview that you hate yourself on screen.
I am very critical of myself.
Even when I saw Delhi Crime, I felt there were a couple of moments when I fell short.
As you grow, as you evolve, you think differently.
Do you think you have finally got your due as an actress?
Now, yes.
In the digital space?
I think so, thanks to shows like Once Again, Juice, Delhi Crime...all three have different roles, they are all central characters.
What's next?
Delhi Crime Season 2.