Unlike most Bollywood kids whose careers tend to play out in fits and starts, Alia Bhatt's growth has been swift and steady, notes Ranjita Ganesan.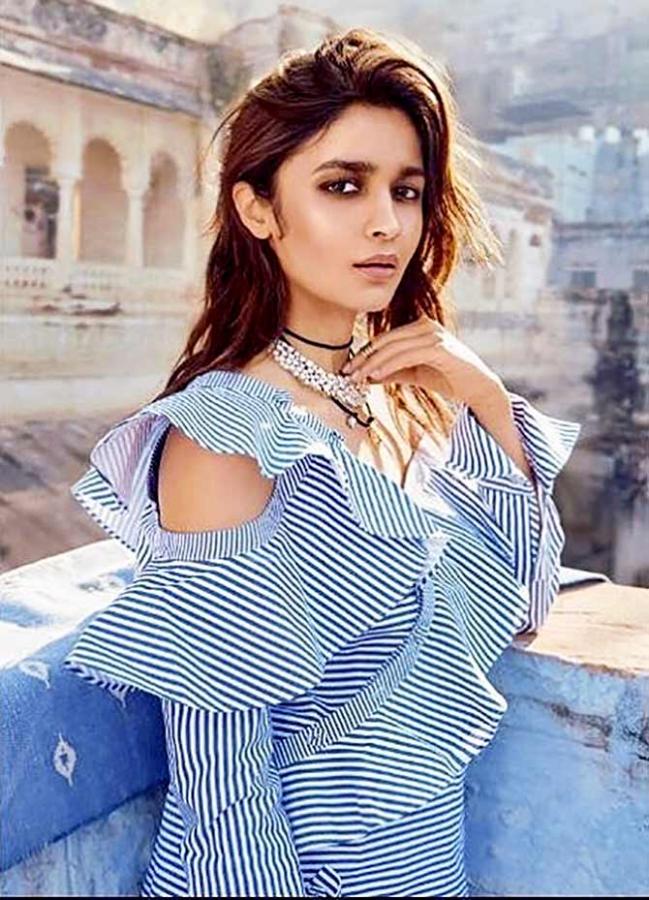 Photograph: Kind courtesy Alia Bhatt/Instagram
"For actors, 'you only live once' does not apply. I can live several lives."
This, says the 24 year old, has been her motivation for embracing the movies.
"I get to be part of a different world in every film."
Five years into the business, an inventory of the worlds she has accessed includes that of an enslaved migrant worker from Bihar, a cinematographer struggling with depression, a survivor of child abuse, and a small-town girl with international dreams.
Besides the multiple existences, there are outwardly perks, too. "I have songs that are mine. I get to sing and dance and wear beautiful clothes."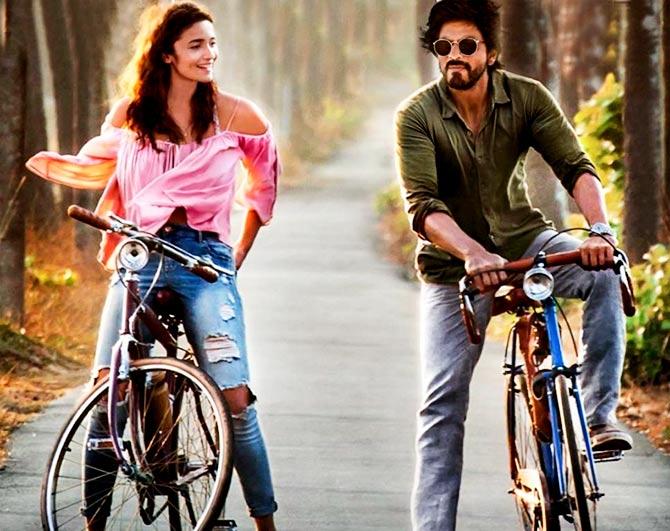 IMAGE: Alia Bhatt and Shah Rukh Khan in Dear Zindagi.
Unlike most kids of Bollywood families, whose careers tend to play out in fits and starts, the young actress' growth has been swift and steady.
At the age of 19, her plans to attend drama school in London were cut short by an offer to work in Karan Johar's Student of the Year.
Over the course of her next nine films, she established herself as a breezy, believable performer.
For Bhatt, born to director Mahesh Bhatt and actress Soni Razdan, the Bollywood dream began at age four.
"It was an organic decision and a want, not instigated just because my family or parents were in the industry. I had no idea what they really did."
It manifested first as an urge to dance, spurred by watching Karisma Kapoor-Govinda routines in David Dhawan's mad-capper films.
She was usually the one to perform at family weddings and events. Often, in front of a mirror, she would play-act, too.
The realisation grew stronger when she led the school choir and liked the feeling of all eyes being on her.
"I knew I wanted to be in front of the camera, but I didn't know it would happen so early on."
She is already counted among the most bankable stars in Bollywood, claiming as much as Rs 4 crore (Rs 40 million) per film and between Rs 75 lakh (Rs 7.5 million) and Rs 1 crore (Rs 10 million) per day for brand endorsements, according to reports.
Nearly all her acclaimed performances have been for big banners and translated into box office rewards, resulting in Bhatt being named in the Forbes Asia's '30 under 30' list of influential celebrities.
Bhatt has little time for meetings between assignments. The phone conversation she agrees to begins well behind schedule.
Her responses are quick, generic even, but they are delivered with a sincere, willing air. Just as in acting, she seems to employ skilful deception in interviews too, so that not much is given away.
She considers herself an actor first, then a star, but rarely indulges in the deconstruction of her craft.
"If I start remembering the process, it will feel like a 'trick of the trade'," she says. "I don't want to fall prey to that. I'd become a machine rather than a human being."
Instead, she goes with the flow.
One thing the actress is proud of is an ability to remember lines.
When she does not understand what is expected of her character, discussions with the director help.
By now, Bhatt is known for her moving portrayals of breakdowns, including in Highway (2012), Udta Punjab (2016) and Dear Zindagi (2016).
"I don't think about some sad thing that happened two years ago, I am not one of those actors. I think what is in the script is actually happening."
Sometimes the tears don't come, she says.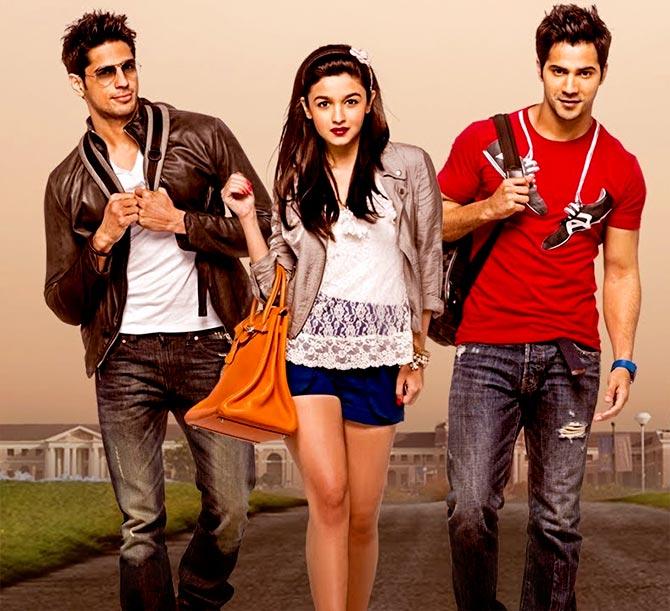 IMAGE: Sidharth Malhotra, Alia Bhatt and Varun Dhawan in their debut film, Student Of The Year.
What stands out further is an intelligent choice of films. Except for Student Of The Year, an imitation of American high school dramas, and Shaandaar, a mashup of fairytale and slapstick comedy that misfired badly, she has picked important roles.
The way Dear Zindagi's Kiara felt depressed but did not know what depression meant and Udta Punjab brought out the story of drugs in the country appealed to her.
"These are things we are privy to and still not talking about. When I hear a story of relevance, I respond to it."
When she needs advice about a film, she consults Johar, whom she considers a mentor and father figure.
She also relies on sister Shaheen to be a sounding board.
"Sometimes it helps to hear yourself say what you are thinking."
The two share an apartment the actress purchased in Juhu (a western suburb in Mumbai) last year, the formalities of which, like most of her financial decisions, were taken care of by her mother.
"I just had to do some signing, have three conversations, and was handed over the keys. I happen to have a very efficient mother."
IMAGE: Alia with her sister Shaheen and mother Soni Razdan. Photograph: Kind courtesy Alia Bhatt/Instagram
Growing up, Bhatt was closer to her mother than her father, who was preoccupied with filmmaking. Until she began working, she reportedly did not talk to him much.
The experiences of belonging to an atypical family likely inform her emotional range.
When Mahesh Bhatt married Razdan, he had a family from an earlier marriage with Kiran Bhatt.
'We were not a normal family. We did not sit and eat together. We would always be doing our own thing,' she said in an interview.
More recently, Alia helped everyone in the family reconnect by starting a private social media group, which includes her siblings, Pooja and Rahul.
In contrast to her candid older sister Pooja, who acted in films in the 1990s, she has always been more guarded about her personal life.
It takes the attention away from work, in her opinion, and any misinterpretation could potentially damage a relationship.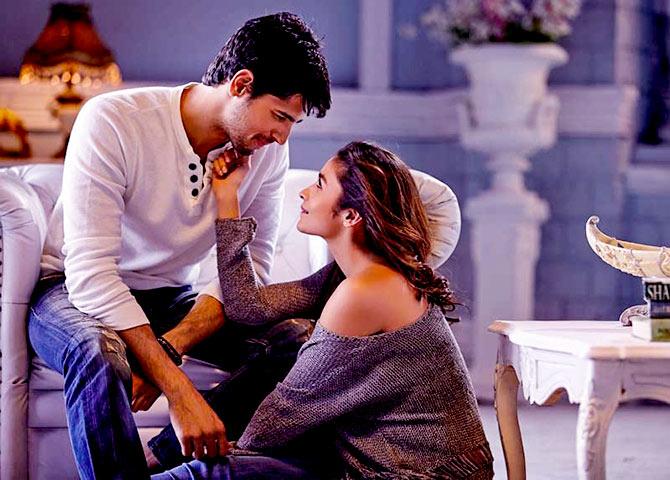 IMAGE: Sidharth Malhotra and Alia Bhatt in Kapoor & Sons.
Kapoor & Sons director Shakun Batra says little goes into making her look good and act well. He was surprised she accepted a relatively smaller role in his film.
"She is well-prepped, well-rehearsed, but also happy to try things and modify as we go along."
In his view, these attributes comprise a dream actress.
The fact that she does not take her image too seriously helps.
"At a young age, achieving so much can go to someone's head and turn one into a diva. But she is like a buddy."
In agreement with him is casting director Nandini Shrikent, who cites how Bhatt gamely participated in a comic video deprecating her lack of general knowledge.
That had helped shut down discussions about her IQ, which began after she incorrectly named the President of India on Karan Johar's chat show -- Prithviraj Chavan was her answer.
Shrikent says she had auditioned some 300 girls for Student Of The Year, of whom only two seemed somewhat suitable.
Johar then suggested calling in Bhatt.
Like everyone, she was asked to come prepared to read a few lines and dance to a song.
"She had no qualms or awkwardness, no questions or confusion. It was pitch perfect."
The nuances she has developed in the years since convince Shrikent she has the potential to make it internationally.
The young star's career so far is characterised by a wonderful both-ness. She is capable of vivacity as well as restraint.
While her debut was facilitated by nepotism, she has not rested on those laurels. She grew up watching Hindi cinema's lightweight capers but brought gravitas into her own work.
She is alone at times in giving earnest performances even in fluffy films like Humpty Sharma ki Dulhania (2013). "But isn't that what I am supposed to do?"
On the Ormax Stars India Loves list, which tracks the popularity of celebrities, Bhatt ranks second with a share of 26 per cent. (The first is Deepika Padukone with 37 per cent.) This compares with rank 16 and a popularity share of one per cent at the time of her first film.
Gautam Jain, partner at the media consulting firm, says she is currently in the same league as older actors such as Padukone, Katrina Kaif and Priyanka Chopra, and far ahead of other young actresses who made their debut in the last four to five years.
She is a favourite especially with young audiences across metros and smaller markets.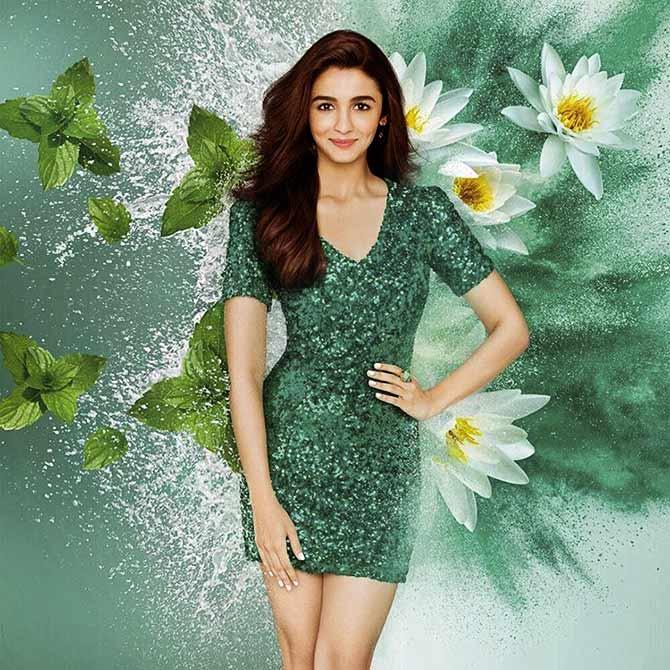 IMAGE: Alia Bhatt in a Lux ad. Photograph: Kind courtesy Alia Bhatt/Instagram
With endorsement deals pouring in, her face has taken over television screens and hoardings.
"She is a huge star, yet is also open, accessible and irreverent. She is not bound by a particular image, is willing to experiment and laugh at herself," says Saujanya Shrivastava, group CMO, MakeMyTrip that roped her in for ads together with Ranveer Singh.
The travel bookings site believes the campaign, which features the stars as regular people with quirks, will draw in young clients.
Smartphone maker Gionee collaborated with her around the launch of its new product A1.
"Being trendy in all spheres is one of Alia's biggest strengths, including social networks where she spontaneously communicates with her thousands of fans through selfies," observes Arvind Vohra, MD and CEO, Gionee India.
Bhatt has 15 million followers on Instagram and 10.8 million on Twitter.
She recently also had a mobile game developed based on her, by Bengaluru-based MoonFrog, which has on its board Mark Skaggs of Farmville-fame.
Skaggs says movie folk can often be a handful, but the young actress was always cordial. The singular challenge was capturing her "very elastic and expressive face" correctly in the design.
Brand consultant Harish Bijoor says, "The only problem is the fact that she may be a bit over-exposed already in terms of being with just too many brands."
The star, who is also juggling various prospective films, is aware that her success is rare and will not be easy to sustain.
She acknowledges having the fear of failure and being unable to digest losses even in school competitions.
So far, Shaandaar has been her first and only resounding flop. Her father seemingly helped her get over it, pointing out the necessity of failure.
At times of triumph too, she goes by his advice: Treat someone who has tasted success as you would a bomb blast survivor.
The normal way to deal with it is to say: "You're good, but someone out there is better than you," she observes. "I don't want to hold on to anything too strongly, nor take anything for granted."
With Bhatt, it is never just one way.
DON'T MISS reading the features in the RELATED LINKS BELOW...