Amul Suryakant Tamboli from Shirpur shares his special winter recipe.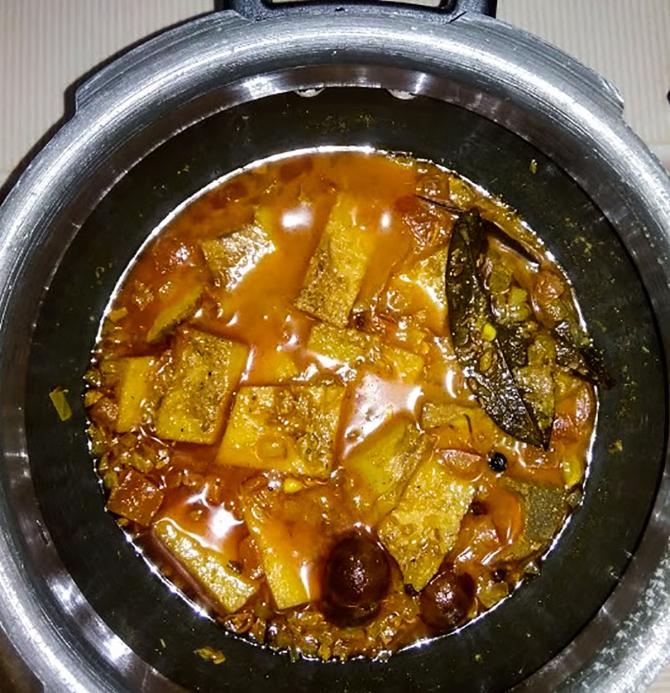 Jimikand Suran
Ingredients
Suran
2 tbsp yogurt
¾ tsp turmeric powder
1 tsp red chilli powder
1 tsp coriander powder
1 tsp mango powder
1/3 tsp garam masala powder
1 tsp salt
For the tadka
4 tbsp cooking oil
1 tsp cumin seeds
¼ tsp carom seeds
¼ tsp asafoetida
Few cloves
Method
Clean and chop yam.
Before you start working, apply oil on your hands and then scrub the yam in warm water.
Peel the yam skin carefully with a strong and sharp knife.
Don't forget to grease your hands or they may get itchy.
Cut into big/small pieces, and wash them thoroughly.
Boil till done or pressure cook with 2 glasses of water for 1 or 2 whistles on medium heat.
Drain and keep aside, when cooled completely, chop and make medium size pieces.
You can fry these pieces separately if you wish to have a more crispy taste.
Heat oil or ghee in a pan and add cumin and carom seeds. When the seeds turn golden in colour, add asafoetida and clove powder.
Add turmeric and add the boiled yam pieces.
Stir and then add all the dry spices, mix and add whipped yogurt. Mix gently.
Let it cook on slow heat for about 5 minutes. Stir in between.
Add chopped fresh coriander and serve.
You can also flavour it with curry leaves or add coconut paste during preparation. It tastes best when eaten hot along with bhakri or chapati.
Share Your Winter Recipes!