Satiate your sweet cravings with this laddoo that's filled with the goodness of dry fruits.
Swathi Kamath from San Francisco shares her special recipe.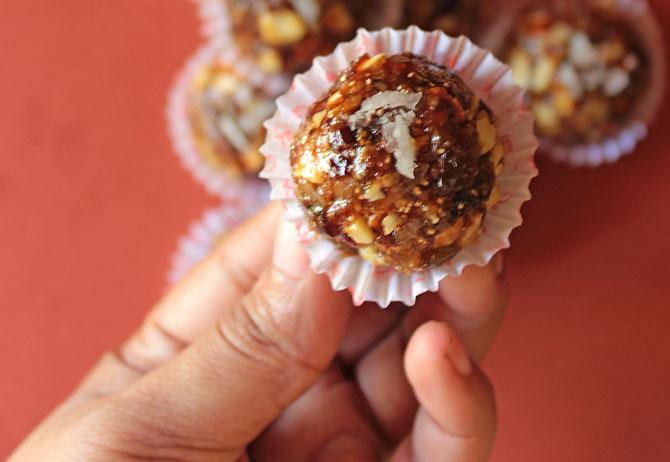 Ingredients
2 cup freshly grated coconut
1½ cup jaggery powder
½ tsp cardamom powder
1 tsp ghee/clarified butter
¼ cup raisins
½ cup seedless dates
¼ cup pistachios
¼ cup cashew nuts
¼ cup almonds
Method
In a blender take seedless dates, raisins and dry blend them coarsely.
Keep aside.
Finely chop cashew nuts, pistachios and almonds.
Do not powder them.
Dry roast them till they slightly change colour or become aromatic.
In a heavy-bottomed pan add grated coconut, jaggery, ghee and cook on low flame till the mixture becomes almost dry.
Add coarsely ground dates and raisins.
Mix evenly and fry on low flame for 2-3 minutes.
Add finely chopped and roasted dry fruits and mix.
Add cardamom powder, mix and switch off the flame.
Allow to cool for a minute and immediately start making the laddoos.
You can store the laddoos in an airtight container for 15 days.
Would you like to share an interesting recipe or cooking video?
Please mail your recipe (s)/video(s) to getahead@rediff.co.in (Subject: My Recipe) along with your name, location and, of course, the recipe(s).