A few years ago, when Vibha Harish, 26, was suffering from PCOS (Polycystic Ovarian Syndrome), she wanted something completely natural that would give her body the nutrition it was lacking.
What she ended up finding were products that promised health by playing on people's insecurities.
Later, when she decided to turn vegetarian, it got further challenging for her to get the required nutrition.
It was a journey that taught her "we are what we eat" and that lead to the inception of her health brand Cosmix, which makes immunity boosting, nutritional powder supplements from herbs, berries and plants.
'I saw it was such a big problem that we don't get enough nutrition in our daily diets and this cause just called out to me,' she reveals on Instagram.
Today, Vibha is using her knowledge of plants and herbs into creating holistic formulas; she is trying to create long-lasting health through natural forms of nutrition.
The entrepreneur from Bengaluru who made it to the Forbes Asia 30 Under-30 list tell Anita Aikara/Rediff.com about her journey into herbalism, the urge to create something natural and holistic, and her mission against malnutrition.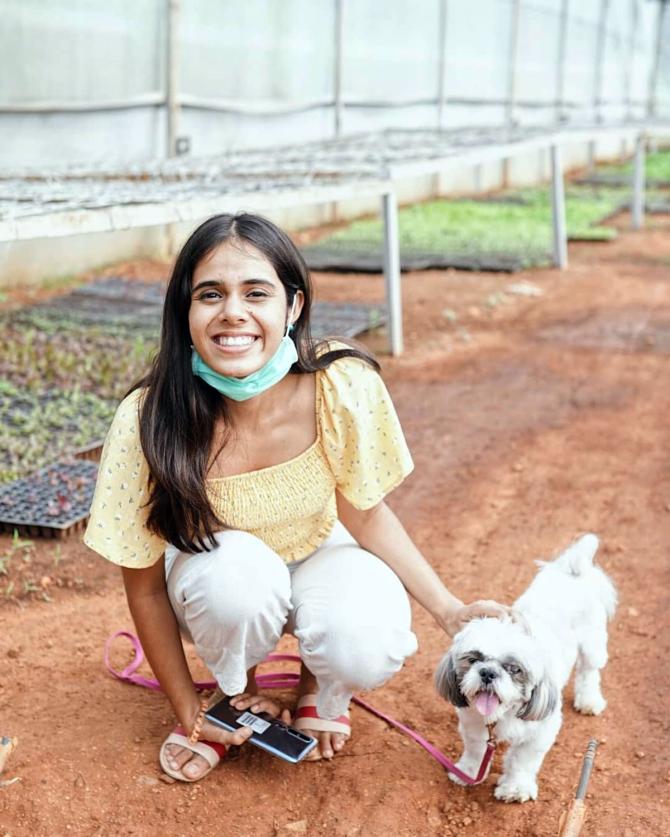 Is there someone in your family who is into herbalism?
My mother's background in homeopathy allowed me to be more open to alternative medicine.
Our family was just like any other Indian family -- we used roots, herbs and spices in our everyday life.
What was the inspiration behind Cosmix?
I found that herbs in synergy work better than herbs alone.
Creating a holistic formula with a mix of powerful plants to me felt otherworldly and magical.
These mixes felt cosmic and hence the name Cosmix.
Right now you're studying Ayurveda and herbalism, but initially you were a sceptic?
I grew up around my mom, who is a homeopathy doctor.
I was very open to the idea of herbs and superfoods too.
However, with the amount of Western influence and exposure I had, I grew sceptical.
I asked where's the proof? What is the science?
But even though the science may not be widely shared online or easily accessible, when I started studying more about it and consulted with Ayurveda doctors, I became more and more convinced.
What are the challenges you faced operating a business during a pandemic?
Last year was a different challenge and each month has brought up a new challenge.
Marketing posed a unique challenge during a pandemic.
You have to be sensitive to what is happening around you.
Sometime, Cosmix's business side of things shrinks in comparison to the grim picture outside.
But that's when I have to remind myself that I'm not offering just anything. It is nourishment; it's micronutrients in a bottle.
Keeping Cosmix alive helps me keep our social initiative Nutrition for All alive. And that's important.
Where do you get the recipes for your herbal mixes?
My grandfather did study Ayurveda himself so did my mom. I drew inspiration from them.
When it comes down to making effective formulas that can stand the test of time, I work with experts in this field including herbalists across the globe.
I want to use Indian herbs in synergy with Chinese medicine and western herbalism.
It's my way of adding value to the Indian supply chain and utilising the beautiful produce our own land has to offer.
What actually goes into these mixes and powders?
It's purely powdered herbs or their extracts and nothing else.
We find ways to optimise the herb through different potentiation techniques and play with quantities of the herbs that go into a mix.
The end result is to make the combination most effective and make it available to people with zero added sugar or preservatives.
Could you throw light on your mission against malnutrition?
Nutrition for All was started during the first wave of COVID-19.
We felt there is a huge need for nourishment in rural India.
We realised that we could use the same superfoods we had access to, to solve the crisis of malnourishment in children from backward communities.
Our team, in partnership with few anganwadis, have created a CFTRI-certified spirulina peanut bar, which is distributed according to each child's specific nutritional needs as per their age and other factors.
We also closely monitor their progress and adjust their superfood intake accordingly.
Using economies of scale, we were able to use superfoods to provide more than 2,50,000 spirulina peanut bars to children diagnosed mildly/highly malnourished through local anganwadis in Karnataka in association with The Spirulina Foundation.
Through the program Nutrition For All, these children will continue receiving the bars until they are no longer in the danger zone in our battle against malnourishment in India.
So far, we are monitoring and caring for around 7000 kids -- a number that we steadily increase week by week.
You mentioned in an interview that the Internet is a confusing place?
I had PCOS and I had insecurities.
For a condition such as PCOS which 'has no cure', with so many contradictory statements and misinformation around it, I was a vulnerable consumer and desperate for help.
I came across so many companies trying to push their products onto me.
There was never a doctor or a trusted source who could or tried to back these claims.
I wanted to be that person and that brand who they could trust to act with their interests in mind, who took responsibility in deciding what words to use while marketing and make sure the claims we were making were factually correct.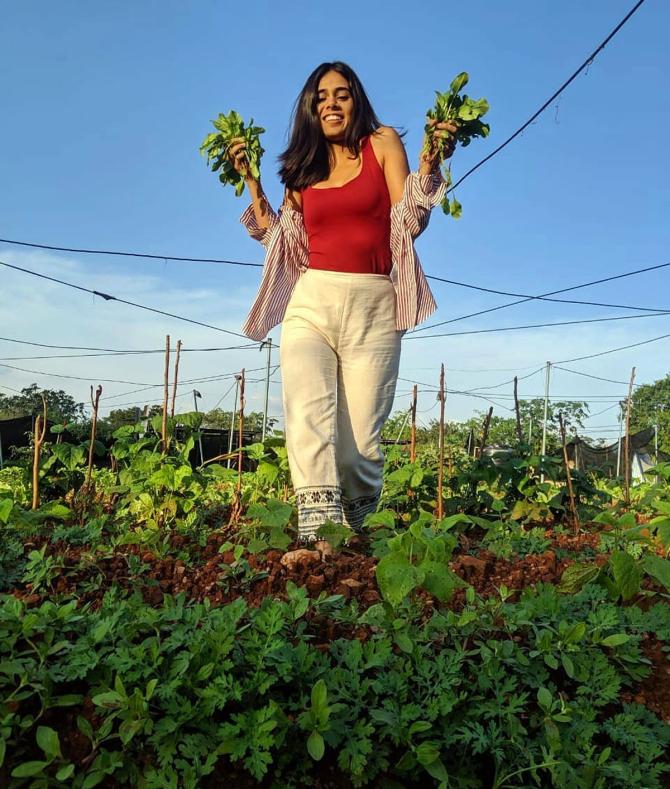 How would you define herbalism in a few words?
I understand it as plants for healing and using food as medicine.
Can herbalism and modern medicine complement each other?
Yes! That's the way I live and Cosmix promotes that too.
Modern medicine is necessary, especially for impact injuries.
However, when it is a lifestyle issue that can change or where the body needs to be healed holistically and the cause is preventative, herbalism or Ayurveda could really come in and play a role.
Several people are turning to the natural world as a way of healing. According to you what could have caused that shift?
We're fed up of quick fixes failing to become the permanent solution.
They are temporary, like a Band-Aid.
You need to look at the bigger things impacting your body in your daily life.
People are understanding the role of nutrition, movement and mental wellbeing on one's health.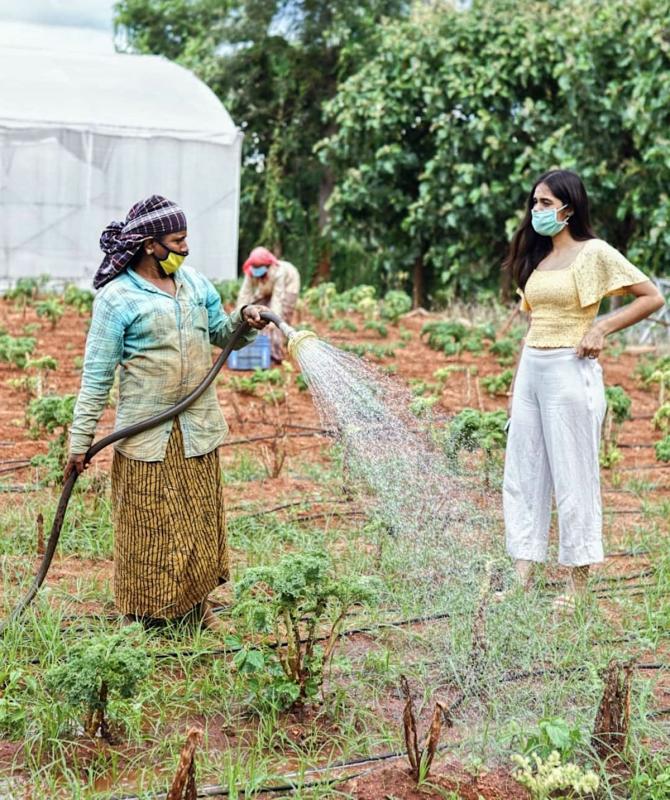 Is one herb going to solve people's problems? Or is it a change in lifestyle and embracing healthy living?
It's most definitely a holistic solution, and we are promoters of holistic health.
Without a healthy lifestyle and consistency to support it, no product can do anything for you.
It's about how you nourish your body and move everyday in a way that feels good, feeding it fluids and challenging your mind, keeping it active, etc.
Even meeting loved ones or doing simple activities that make you happy are a part of being healthy.
Does one need skills or a degree to pursue a career in herbalism?
There are certification courses, but as far as I understand herbalism is something you learn and that knowledge is passed on from one herbalists to another.
You can't call yourself a herbalist just because you have a certificate.
You become a herbalist when you're in tune with your plants and your knowledge can be applied to help people.
People really come into this profession with the intention to serve, learn and heal. That's what I love about this space.
It definitely keeps you on your toes. New things are being learned every day.
Each body reacts to things differently, but your superpower is knowing your herbs and lifestyle.
I feel being able to help people is rewarding.
---
Turmeric Tonic Tea Recipe
Vibha shares her special herbal concoction that helps with stress. It is filled with anti-inflammatory herbs and will help wake up your gut and kidneys.
Ingredients
1 tsp haldi or turmeric powder
¼ tsp cinnamon powder
¼ tsp green elaichi or cardamom powder
A pinch of nutmeg powder
¼ tsp ashwagandha or Indian ginseng powder
1 cup homemade cashew milk (as it is anti-inflammatory)
¼ cup hot water (to activate the herbs)
Method
Combine cashew milk with hot water in a tall glass.
Add all the spices and give it a good stir. Consume the turmeric tea warm.
NOTE: To make cashew milk you'll need to soak a handful of cashews in water overnight.
Next morning drain the water and rinse the cashews a few times.
Add the soaked cashews in a blender with one cup of water and blend until you get a smooth mixture.
If you don't get a smooth mixture, strain the cashew milk using a fine mesh strainer.
You can consume this milk immediately or keep in the refrigerator for 2-4 days.

You can reach Vibha Harish at cosmic.in