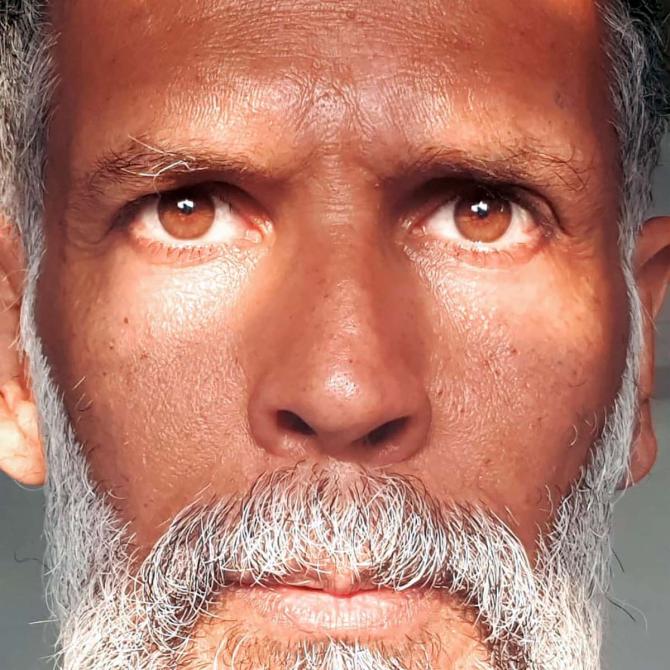 At 55, Milind Soman is easily one of the fittest Indian celebrities.
However, more than two weeks ago, he tested positive for COVID-19 and immediately went into quarantine.
While he continued to rest and keep everyone updated during his 14-day quarantine period, Milind did share a few important pointers. Take a look!
1. It's only a matter of time
Milind took his first RT-PCR test on September 4, 2020 and has been taking a flight almost every week since then, even visiting the US in October.
'I have taken the RTPCR test more than 30 times so far, it was like a routine. I was reasonably careful, following all prescribed protocol. Even so, like @ankita_earthy and I discussed many times, it was always a question of when,' he confessed while sharing his COVID journey.
'Difficult to say how I got infected or from whom. I had a negative report on the 18th March when I came back from Delhi, was working from home and only went out to run every day, but started feeling a little low energy on 23rd. I also had a mild headache and elevated body temp of 98 degrees'
'Today when I woke up, pulse was 61, 02 was 99 and temp 97.6.' he wrote on March 26, three days after testing positive for the virus.'
2. There is a lack of clarity, general awareness
Milind mentioned how, even after a year, there are people who are not aware of the disease.
'From the comments on my posts on various platforms, it's easy to see the persistent lack of clarity surrounding covid19, inspite of an almost yearlong global conversation,' he pointed out.
3. No one is immune
One thing is clear, that anyone can be infected, Milind wrote. 'Even if you have had the vaccine,' he pointed out.
'If you have had the vaccine, they say that the severity of sickness/symptoms will be less. Without vaccination, the severity of the sickness post infection depends on your body function, overall mental and physical health, and immune system.'
'We are all born with physical, mental and emotional strengths and weaknesses. Call it heredity or genes or whatever. Nobody is perfect. Nothing is good or bad. Find and recognize these strengths and weaknesses through honest self observation and deal with them accordingly. Celebrate your strengths. Work hard on your weaknesses. Constantly. This is the way to health and happiness,' he added.
4. Importance of positivity
In any illness, I believe the most important aspect of healing is positivity, Milind shared alongside a picture of him with his wife Ankita Konwar.
'In fact, the most important aspect of leading a healthy life, is positivity,' he added.
'How to focus on the positive, how to bring positive energy into your life, is the journey, and the constant effort.'
5. Listen to your doctor
While there is no perfect cure for the virus, Milind also shared what helped him heal and get better.
'I took a kadha made of dhania and methi seeds, pepper, tulsi leaves, ginger and jaggery. I lost sense of smell for a week but had no other overt symptoms. I took a blood thinner for five days, as I had elevated D dimer levels. No other medication or supplements.'
'Do listen to your doctor at all times,' he insisted.
6. Back to fitness
On April 7, after 14 days of quarantine and a Covid negative report, Milind was back to what he loves doing -- running a marathon.
Sharing a video of his run, he said: 'Ran a comfortable, easy pace 5 km in around 40 min and it felt amazing! Such a relief to be on the road again :) hearing stories of post covid and long covid, so will take it easy for a while, and test every ten days for lung function, blood clots and other things that are being talked about!'
7. Covid is real
As someone who has not had flu like symptoms for more than 25 years, Milind also confessed why we need to take this pandemic more seriously.
'I know for sure that covid is a thing now, I have not had any flu like symptoms for more than 25 years now, so to have even the mild fever and tiredness that I had was definitely unusual! I am sure we are all being as careful as we can.'
'Understanding health and fitness is so important. Knowing that health is not just about being free of disease and fitness is not about six packs and biceps, is a start. Keep the mind calm and the body active. Always!' he wrote.