Mumbai-based couple Jyoti and Shrinath Iyer travelled 4,600 km by bike from Maharashtra to Kerala and back.
Jyoti Iyer shares some of her most fascinating experiences with us.
All photographs: Jyoti Iyer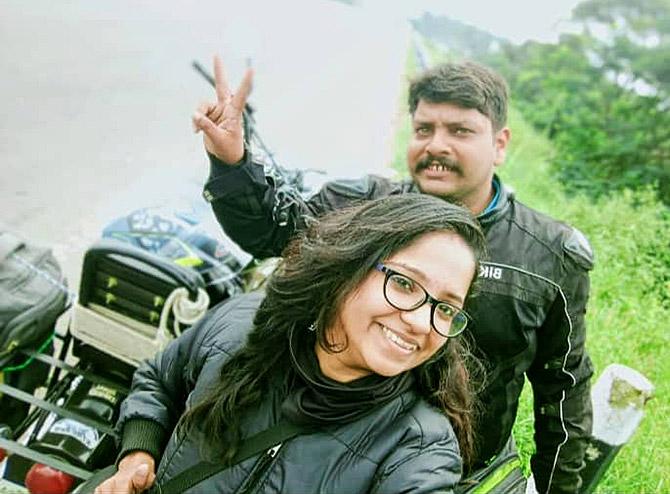 Our dream expedition to South India was first planned two years ago in 2017.
My husband Shrinath, an avid biker always wanted to explore Mumbai to Kerala by road on his Royal Enfield.
When I conceived and had a son, both of us got busy and delayed our travel plans.
A year later, we were back to planning again, this time making sure we tick all the right boxes.
When we shared the idea with my parents, they agreed to take care of our son for a week, so we could live our dream.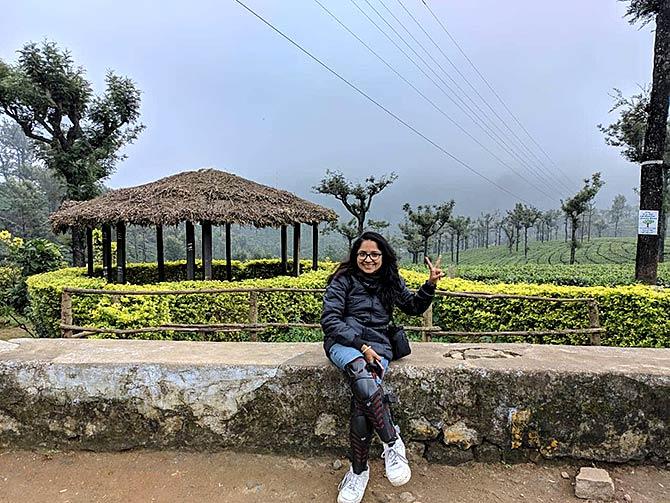 Before starting our trip, we pre-serviced our vehicle -- checking and maintenance of all parts, oiling, petrol, extra tools etc.
We packed safety jackets, a pair of helmets and shoes.
My husband modified the bike and built a back support for me.
It was very important to choose a proper helmet considering the long hours of travel involved.
Since it was just the two of us, we decided to kept our budget simple and avoided staying in lavish hotels.
Our overall trip cost us only Rs 30,000.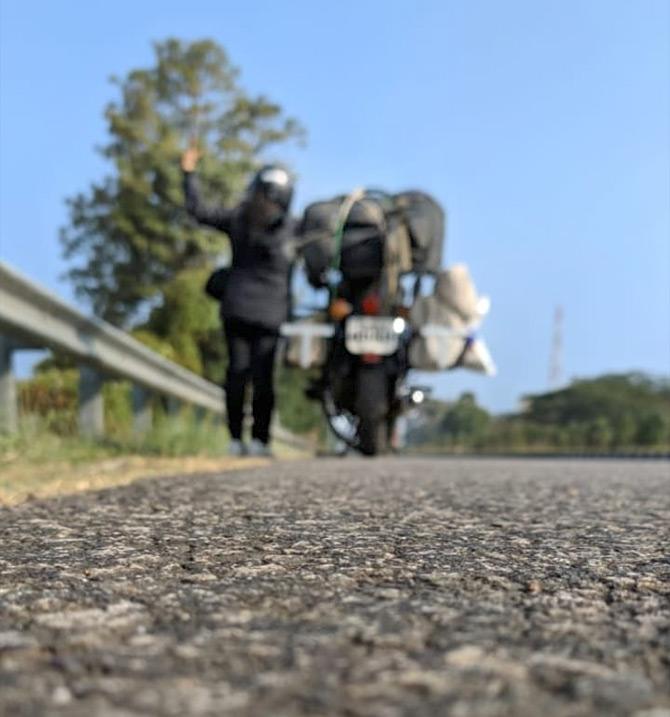 We started our trip on December 19, 2019.
Over the next seven days, we crossed 4600 km, travelled through four different states -- Maharashtra, Karnataka, Andhra Pradesh and Tamil Nadu, before we reached Kerala.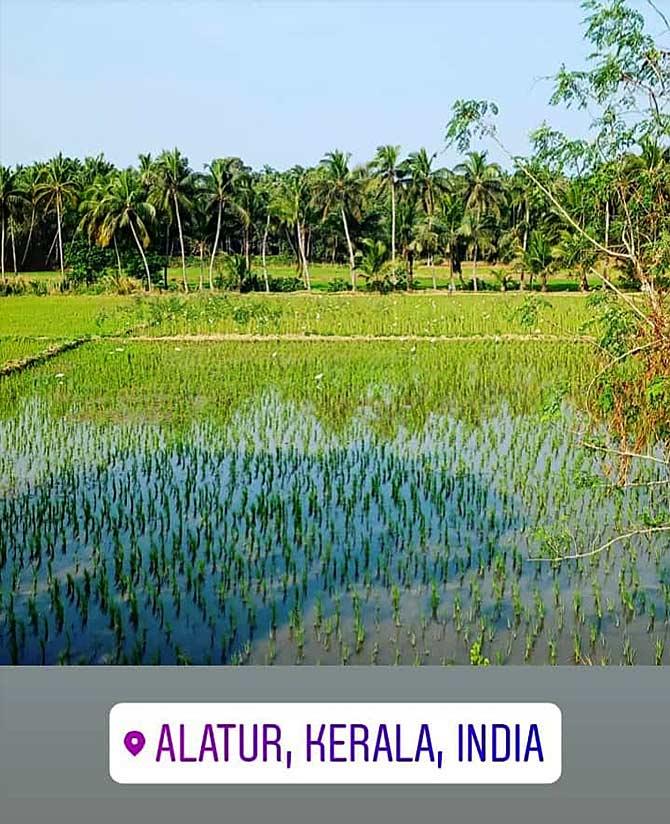 It took us two days to reach Kerala via NH4.
We crossed Lonavala, Khandala, Satara, Belgaum, Tumkur, Chirtadurga, Bangalore before hitting Walayar.
We avoided riding in the night and preferred staying at nearby OYO verified accomodation.
After reaching Palghat in Kerala, we took a detour and rode up to Valparai in Tamil Nadu through Pollachi and it was one of the most beautiful decisions we took.
It was fascinating to see Sholayar dam via Annamalai forest.
The 140 spins we took around the mountain was worth the effort.
The lush tea plantations and mist kept us company throughout.
We explored local cuisine and stayed at small hotels to cut costs. In Tamil Nadu, I gorged on murukku sandwich and in Karnataka, the set dosa was really tasty.
We took ample breaks to stretch ourselves.
I must admit here that the tea and filter coffee you get on the highway are no match for the ones you get at the luxury coffee houses in India.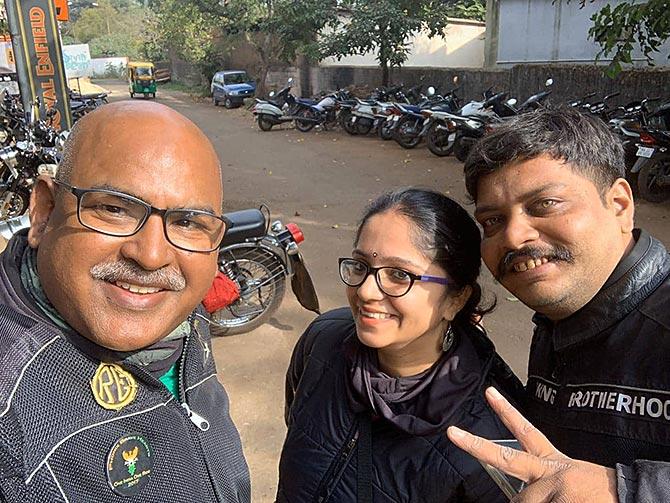 At the Royal Enfield servicing station in Belgaum, we had the rare pleasure of meeting Colonel Mr Naik, an army officer who sacrificed his leg for our country in the Kargil war. He was on a road trip with his wife.
Despite his artificial leg, he was a spiritful soul and had lots of stories to share.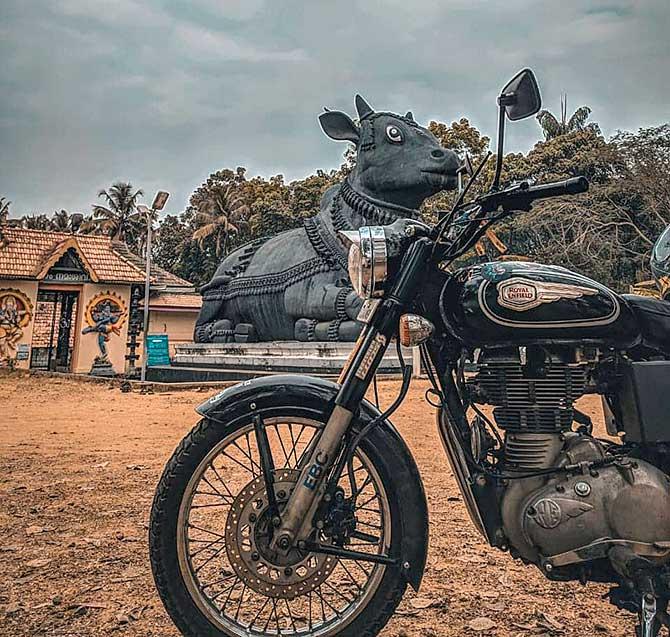 Besides exploring forests and waterfalls, we also took pit stops to visit a few temples and local deities.
We visited the Dhanwantri temple in Aluva, Chathapuram Ganapathy Temple and Kalpathy Shiv Temple.
The most exciting experience was when our bike unexpectedly broke down on the highway late evening near Karad when we were returning home.
There were no mechanics or service stations nearby, so we had to take our vehicle almost 50 km to reach the city, which delayed our return by a few days.
We halted at a nearby hotel and got it fixed from the Royal Enfield service centre before we could continue our ride.
Looking back, it was an experience I would cherish for life.
In fact, I would recommend everyone to try something that pushes you out of your comfort zone, the way we did.
Some tips for first-time travellers
Have your vehicle checked and serviced before starting the trip.
Carry all relevant paperwork and documents; make copies
Have a proper route map of the places you intend to see
Carry first aid
Travel light; carry only what is essential
Wear helmets and jackets
Stay hydrated; avoid over eating
---
READER INVITE
Do you have interesting pictures of India that you'd like to share?
Simply upload your #India-Photos on ZaraBol along with a short description of the place and we will publish them right here on Rediff.com!
You may also write to getahead@rediff.co.in (subject: Travel pix) and share your travel stories and experiences with us.