Chiranjeev Lalwani, who has attempted over 70 dives, shares his experience of scuba diving in the Maldives.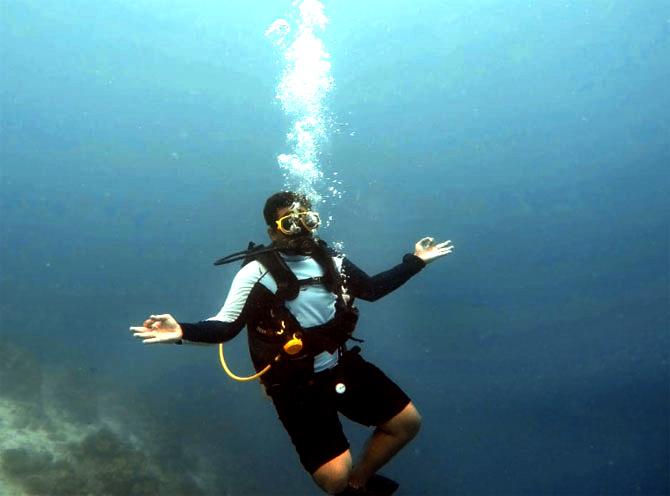 Kandooma Thila (pronounced as kun-doo-maa thee-laa) could easily get the title of the best dive site in Maafushi, an island in the Maldives.
I was lucky to visit this dive site on my first day itself as it is meant for advanced divers.
For starters, thila is another word for 'underwater mountain'.
I figured that based on a super informative blog that explains three words divers in the Maldives should know.
It is a deep dive site where one can see the best aquatic life (sharks, turtles and eagle rays) only after reaching a depth of 25 m.
The major attraction for me was the shark cleaning station, which almost guarantees shark spotting along with turtles and eagle rays.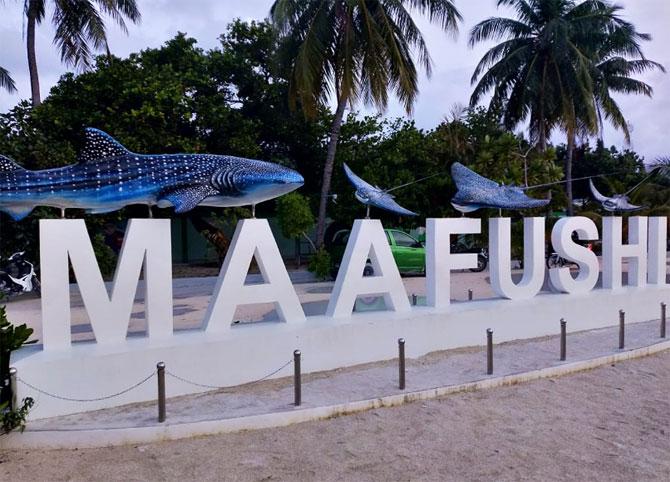 Another interesting thing about the dive site is that it is close to a channel. The starting point of the dive depends on the direction of the current.
One of the dive masters had to go underwater and figure out the direction of the current even before we started the dive.
It turned out to be an outgoing current so we knew from where to enter the dive site.
The adventure only kept getting more interesting. On the way to the dive site, I reached my boat at 8:25 am, and at 8:30 am sharp the boat started moving out.
Our dive master started off with a briefing, which included some insight on the topography of the dive site, what kind of aquatic life one should expect to spot and also a quick safety briefing.
He reminded us to keep an eye on the dive computer and the air gauge. This helps keep track of the amount of bottom time that's left.
All divers were instructed to end the dive when they had 50 bars of air left and begin the ascent.
The dive experience
Almost all dives in Maafushi are drift dives. In other words, there is no line available during the descent.
So we used the giant stride method of entry (in my words, we just walked off the boat and jumped into the water).
We started descending immediately and I could estimate a visibility of 15-20 m.
On our way to the bottom, I saw plenty of small fish, but my eyes were searching for turtles, white tip sharks, eagle rays and moray eels.
And there they were! At a depth of 25 m, I saw a giant cleaning station with about 40 odd sharks.
What is a shark cleaning station you might ask?
Well, these are designated spots where sharks come and either open their mouths or take a position -- an indicator to the small fish around them to begin eating the dead skin on the sharks' body.
While I was mesmerised by this sight, my dive master spotted five majestic eagle rays swimming above us.
We didn't get to see their beautiful pattern which would only be visible from a top view.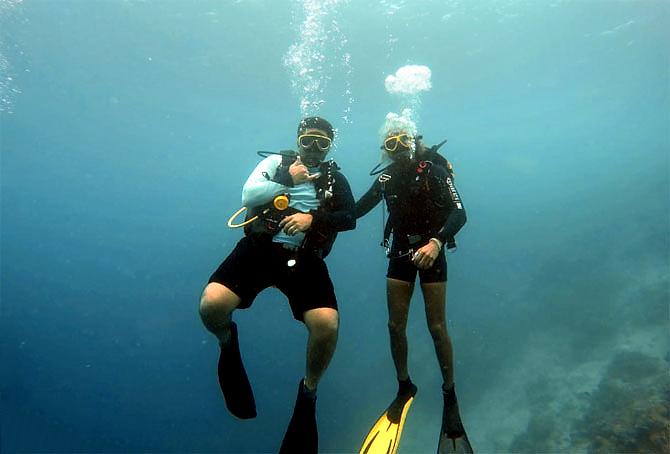 They were moving along at a depth of 15 m while we were at 25 m. Since it is not advisable to descend and ascend that much during a dive, we had to make do with the bottom view.
Words cannot justify the feeling of seeing these creatures in all their glory, but I think the word 'surreal' comes very close to describing this experience.
Somewhere at the back of my mind, I was wondering if the rest of the diving experience would turn out to be as amazing as this one.
As they say, all good things must come to an end soon and my dive buddy had only 50 bar of air.
It was time to ascend keeping in mind safety guidelines of not ascending more than 9 m per minute and ensuring a 3 minute safety stop at a depth of 5 m.
Even the last few minutes of the ascent showed us some amazing fish life.
As we hit 5 m, the dive master sent out a dive marker. That's a tool that lets out an indication to the boat to come to the spot where we had 'drifted with the current'.
By the time we hit the surface with this amazing experience, the boat was there, waiting to receive us like our knight in shining armour.
WATCH: Chiranjeev Lalwani's scuba diving experience in the Maldives.