Three young Indians will cycle from Kochi to Tokyo to attend the Olympics.
A Ganesh Nadar reports.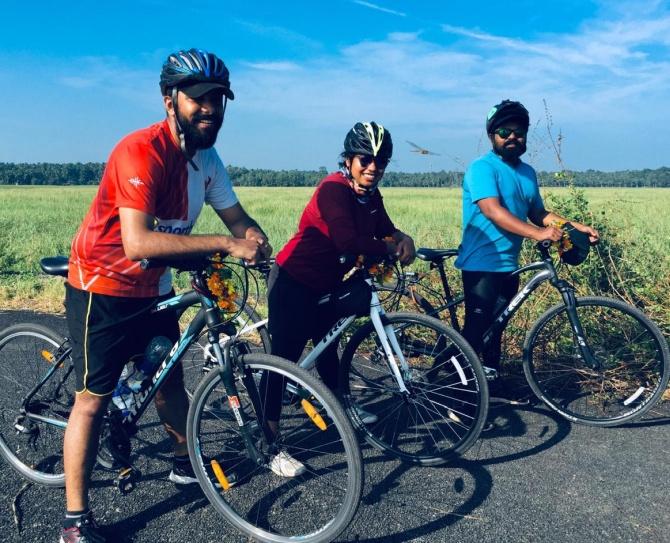 Clifin Francis and Dona Jacob -- and Haseeb Ahsan, who will join them next month -- left Kochi on December 15, 2019 bound for Tokyo. The hope to arrive in the Land of the Rising Sun before July 24, 2020 when the Summer Olympics begin.
Eight months, eight countries -- India, Bangladesh, Myanmar, Thailand, Laos, Vietnam, China, Japan.
The last leg from China to Japan will be by ship.
Where and why did this all begin?
"Between 2004 and 2019," Clifin Francis, an engineer, tells Rediff.com, "I got a lot of offshore work as an engineer. In between work, I used to travel a lot. On my journeys I met a lot of cyclists. They told me many stories about their journey, the interesting people they met, the sights they saw. Their life on the road was my first inspiration."
"Last year I cycled from Dubai to Russia in four months," says the 29 year old. "I reached there in time to watch the football World Cup."
"I made that trip on an ordinary cycle. This time round, we are getting high end cycles from Bergamont, they are giving us three cycles."
For the eight-month trip they have calculated that they need Rs 15 lakh (Rs 1.5 million) for the three of them.
They are carrying still and video cameras and plan to make a documentary about their journey across Asia.
Clifin knows how to fix a puncture and conduct minor repairs. For major repairs, the trio are confident of finding bicycle mechanics en route.
"We hope that the cycling community we are in touch with will host us on some days," Clifin says. other days we will stay in reasonably priced hotels."
They are also trying to get sponsors for their trip, otherwise, "We will have to manage ourselves."
Haseeb had gone to watch the football World Cup in Russia. There, he met Clifin, his junior in college. When Clifin told him he had cycled to Russia, Haseeb, 32, was attracted to the idea immediately.
"In college, I was the captain of the football team and a good athlete," recalls Haseeb, an IIM graduate. "I know I am not as fit now as I was then, but I am sure I can get myself back in shape."
"It is not only a question of physical fitness, more important is to be mentally tough. If you think you can do it, you will be able to do it," he says.
Clifin and Dona began their journey from Kochi on December 15. Haseeb is working till January 15 and will join Clifin and Dona in Vishakapatnam in the third week of January.
Haseeb says the trio have worked out their entire trip and know where they will be at a certain time plus or minus three days.
"We expect a few cycling groups to host us for the night. We are also carrying tents so we can camp out. Once in a while, we will have to stay in a hotel to freshen up. Friends are helping us with all this."
"We are looking at three kinds of sponsors. One who can give us accessories, like we are getting cycles from one, we might get cameras from another. We are also hoping that we get a sponsor for the tickets to the Olympics and lastly, we are also looking for monetary sponsors."
All three participants in this Olympic endeavour of cycling 10,500 kilometres are from the same college.
Dona Jacob, an engineer, worked for an MNC in Mumbai when she was assigned work on a project in Mexico.
"In Mexico, I saw lots of people used cycles. For them cycling was a way of life. I was always fond of cycling in school, but had stopped once I was in college. Seeing so many people cycling around rekindled my interest in cycling," says Dona, 29.
"I bought a cycle and started using it regularly. I used to cycle to work, go shopping on the cycle."
She went to Cuba for a month. On the island, she cycled everywhere.
Like Haseeb, she feels mental toughness is more important than physical fitness.
Interested in women's empowerment and menstrual hygiene, she plans to speak about it on her journey through rural India.
"We are in touch with several NGOs and schools. I plan to speak to one or two every week. I will also be speaking to village women when I meet them. If I come across girls who have dropped out of school, I will encourage them to go back to school," says Dona adding, "education is very important for empowerment."
"We will be cycling in India for the first two-and-a-half months, says Dona. "I will be speaking to women and youth here as we know the problems they face. In the other countries it will only be cycling."
"We will cycle only in the day time. No cycling after sunset," says Clifin. "Though we have tents we are not planning to camp in the wilderness. We will camp in church compounds or in places where there are people around."
December, 15, the trio embarked on what promises to be a journey of a lifetime.