Brighten up your lunch with these tongue-tickling, tangy-spicy, recipes by Maharaj Jodharam Choudhary, corporate chef, Khandani Rajdhani, a chain of thali restaurants serving Rajasthani food.
Kacchi Kairi Khichiya Chaat works well as a light appetiser, while the punchy Kacche Aam Ki Launji is a refreshing chutney that will go well with any meal.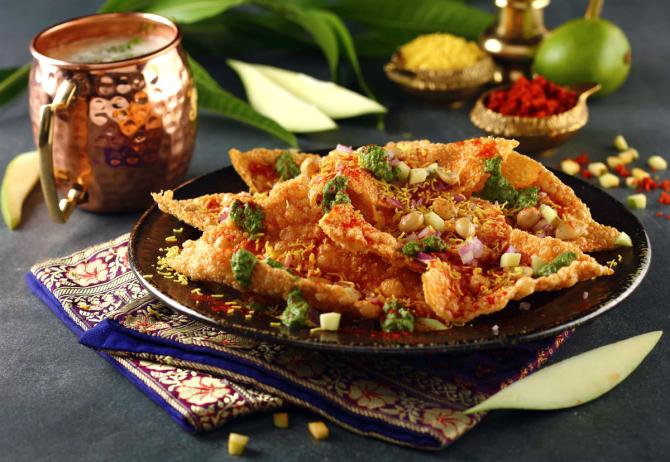 Kacchi Kairi Khichiya Chaat
Serves: 2
Ingredients
3 khichiya papad
1 onion, finely chopped
1 tomato, finely chopped
1 kacchi kairi or raw mango, finely chopped
1 tsp chaat masala
A handful of roasted peanuts without the skin
1 tsp red chilly powder
A squeeze of lime juice
Bunch of fresh dhania or coriander or cilantro, finely chopped, reserve some for the garnish
Black salt to taste
Oil for frying
Few tsp of mint chutney, for garnish
Method
Heat the oil in a heavy-bottomed deep frying pan over medium heat.
Deep fry the khichiya papads.
Drain the excess oil and set aside on a plate lined with tissue or a paper towel.
In a large bowl combine the chopped onion, tomato, raw mango, coriander and roasted peanuts.
Add the lemon juice, black salt and mix well.
Break the khichiya papad with your hands and toss it into the bowl.
Sprinkle the chaat masala and red chilly powder.
Garnish with the chopped coriander, mint chutney and serve.
---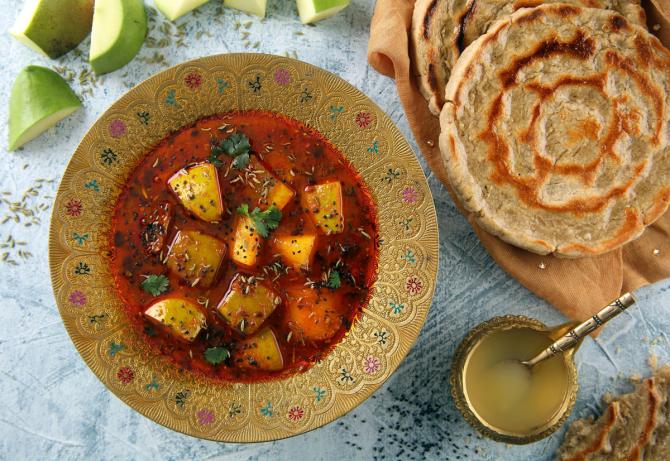 Kacche Aam Ki Launji
Serves: 4
Ingredients
3 kacchi kairi or raw mangoes, diced
1 tsp jeera or cumin seeds
1 tsp saunf or fennel seeds
A pinch of hing or asafoetida
A pinch of haldi or turmeric powder
1 tsp red chilly powder
1 tsp garlic paste
1 tsp ginger paste
3 tbsp jaggery
1 tbsp sugar
Salt to taste
½ tsp dhania or coriander powder
2 tbsp grated coconut
2 tbsp fresh coriander or dhania or cilantro
2 tbsp oil
Hot water
Method
Heat the oil in a heavy-bottomed pan over medium heat.
Add the cumin seeds, fennel seeds, garlic, ginger and saute for a few minutes.
Add the cubes of raw mango along with salt and mix well.
Saute for 10 to 15 minutes till the mangoes become soft.
Add the turmeric, coriander and red chilly powder, and stir so that the masalas coat the mango well.
Pour the hot water over the ingredients -- they should be covered in water.
Top with the jaggery, sugar, coconut and fresh coriander.
Cover the pan with a lid and let the mixture simmer covered for 10 minutes over slow flame.
Serve warm.