Two handy mango recipes from Mumbai-based food blogger Sangita Agrawal.
Her Sweet Mango Pickle can jazz up any basic meal. And the Mango Salsa is a vibrant dish with a zesty dressing.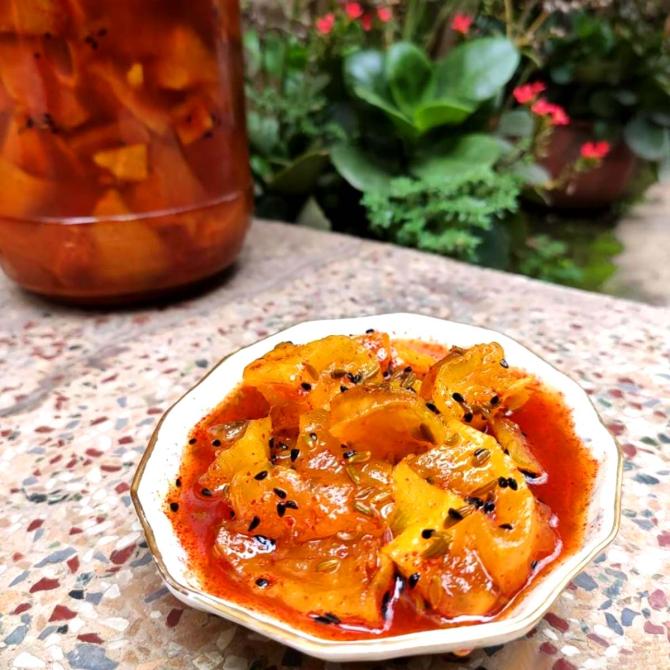 Aam Ka Meetha Achar or Sweet Mango Pickle
Servings: A large jar
Ingredients
1 kg raw mango
750 gm sugar
2 tbsp salt
½ tsp haldi or turmeric powder
1 tbsp chilly powder
1 tsp saunf or fennel seeds
½ tsp kalonji or nigella seeds
¼ tsp hing or asafoetida, optional
Method
Wash and peel the mangoes.
Chop into cubes along with their hard shell.
Discard the seed which is inside the hard shell, and wipe clean the cubed mangoes with a soft cloth.
Combine the mangoes, sugar, salt and turmeric powder in a wok or kadhai or heavy-bottomed pan over medium heat.
Cook till the mixture begins to leave water.
Stir occasionally until the mangoes are cooked, but have a bite to them.
At this point the sugar syrup should be lightly sticky also.
Add rest of the ingredients and give it a good mix.
Take off the heat and let the pickle cool.
Store in a clean glass jar.
---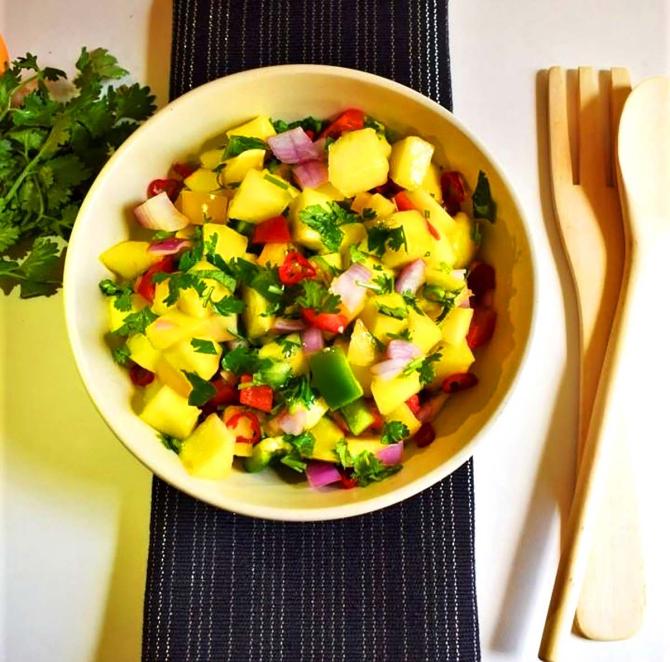 Mango Salsa
Servings: 4
Ingredients
2 to 3 firm ripe mangos, cubed
1 medium red bell pepper or capsicum, cubed
1 medium yellow bell pepper or capsicum, cubed
1 medium green bell pepper or capsicum, cubed
½ cup diced red onion
¼ cup chopped dhania or coriander or cilantro leaves
1 jalapeno or green chilly, de-seeded and minced
1 fresh red chilly, minced
1 to 2 tbsp lemon juice
1 tbsp extra virgin olive oil, optional
Salt to taste
Nachos for serving
Method
In a large bowl combine the mango, bell peppers, onion, green and red chillies, coriander leaves, olive oil, lemon juice and toss lightly.
Cover and rest for 20 minutes.
Add salt and check for taste.
Serve the salsa with nachos.
Sangita Agrawal lives in Mumbai and publishes the food blog Bliss of Cooking.