Make the most of the mango season with these recipes by Chef Sabyasachi 'Saby' Gorai.
You can kickstart your day with the fresh, fruity Walnut Mango Lassi Bowl or the deliciously healthy Tropical Mango and Turmeric Smoothie Bowl.
A nutritional powerhouse, the berry-flavoured Mango Spinach Salad is light, fresh and filling.
The Walnut Falafel pairs beautifully with the Mango Pickle that will excite your taste buds.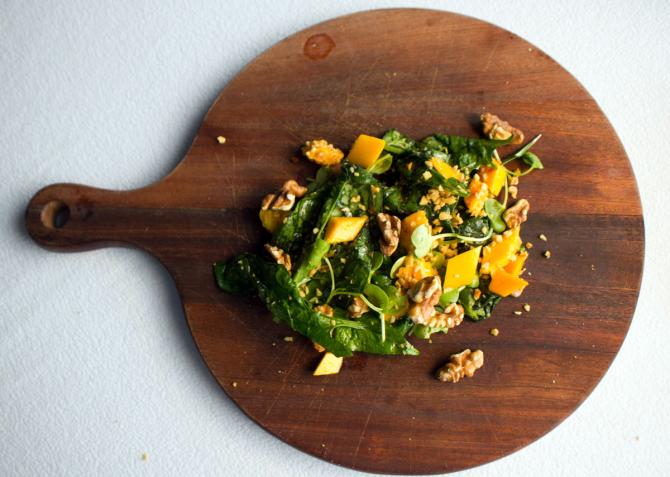 Walnut Mango Spinach Salad
Serves: 4
Ingredients
225 gm baby spinach
500 gm baby kale
450 gm fresh leafy greens/lettuce like romaine, cabbage, iceberg, arugula and rocket; you can also add herbs like mint and basil
1 small red onion, sliced thin
2 raw mangoes, peeled, seeded and cut into strips
250 gm fresh blackberries or preserved, dried or substitute with other berries
30 gm fresh parsley, chopped
125 gm walnuts, roughly chopped
2 ripe mangoes, peeled, seeded and pureed in a blender
30 gm freshly squeezed orange juice
30 gm freshly squeezed lime juice
2 cloves garlic, minced
30 ml extra virgin olive oil
15 ml honey
5 gm sea salt
Method
Toast the walnuts in a small skillet over medium/high heat for 3-4 minutes until lightly browned.
Place the cooled walnuts along with the baby spinach and kale, leafy greens and lettuce, red onion and mangoes in a bowl.
Add the berries and the parsley.
Pour in the pureed mango and mix well.
In another bowl combine the orange juice, lime juice, minced garlic, olive oil and honey.
Season with sea salt and pour over the salad and serve.
---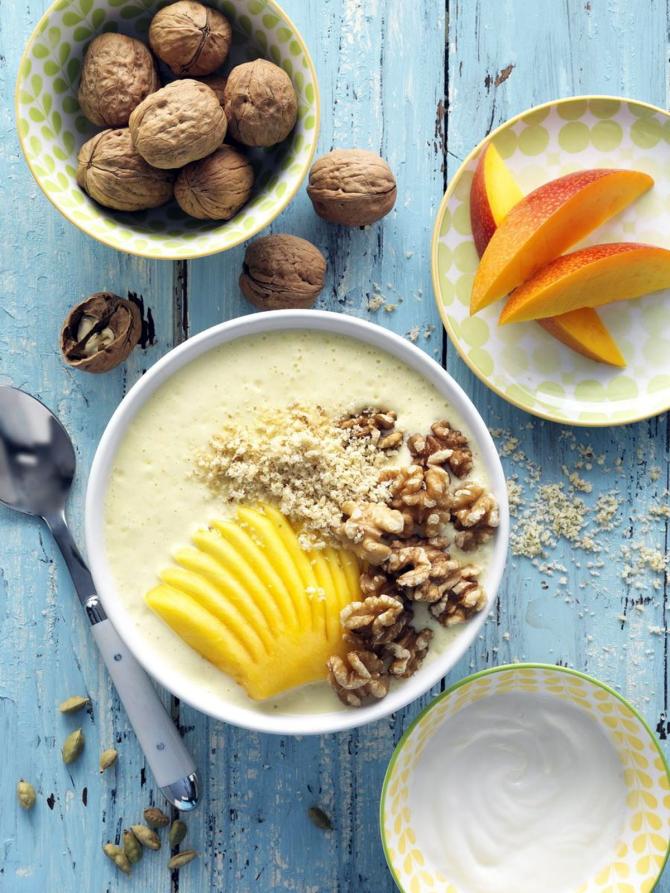 Walnut Mango Lassi Bowl
Serves: 4
Ingredients
300 gm of the flesh of a ripe mango
800 gm sugar-free yogurt
40 ml milk
4 ice cubes
¼ teaspoon cardamom powder
30 gm walnuts, halves
A pinch of cocoa powder, for the garnish
Slices of ripe mango, for the garnish
A pinch of cardamom powder, for the garnish
30 gm walnuts, ½ grated + ½ cut into halves
Method
Grind the mango together with 30 gm walnut halves, yogurt, milk, ice cubes and cardamom powder.
If the mixture is too thick, can add more milk or water until the desired consistency is achieved.
Pour the mango lassi into 4 bowls and decorate with walnuts and mango slices.
Sprinkle cocoa, cardamom powder and serve.
---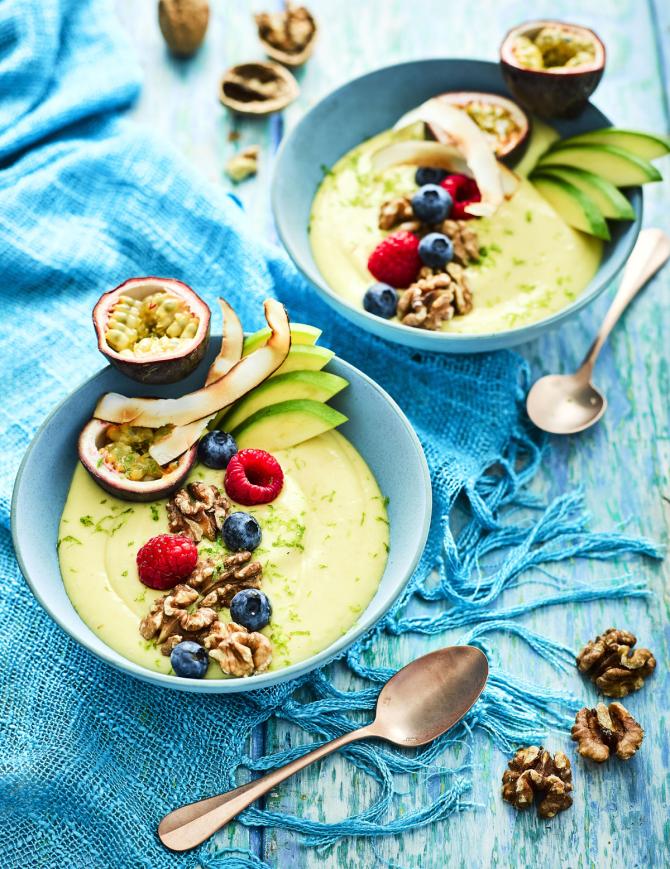 Tropical Mango, Walnuts and Turmeric Smoothie Bowl
Serves: 1
Ingredients
Flesh from half a ripe mango, reserving a few slices to garnish
1 small piece fresh turmeric or 1 tsp turmeric powder
Half a banana
200 ml coconut milk
Squeeze of lime juice + a little zest to garnish
8 walnut halves, for the garnish
A handful of fresh raspberries and blueberries or preserved, dried or substitute with other locally available berries, for the garnish
1 passion fruit, optional, if available, for the garnish
1 tbsp coconut flakes, for the garnish
Method
Combine the mango, turmeric, banana and coconut milk into a blender and blitz until smooth.
Add the lime juice to taste and blend again until combined.
Pour the smoothie into a bowl and garnish with the reserved mango, berries, walnuts, passion fruit, lime zest and coconut flakes.
---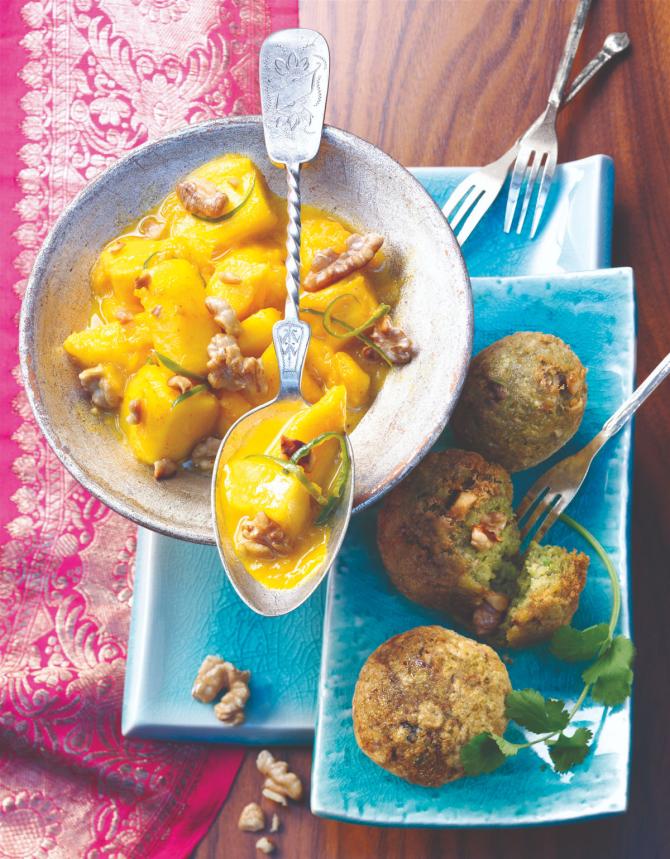 Walnut Falafel with Mango Pickle
Serves: 2
Ingredients
For the falafel
250 gm dried green split peas
2 onions
2 garlic pods
1 small green chilly
½ bunch of dhania or green coriander or cilantro
Salt
1 tsp baking soda
40 gm walnuts
50 gm chickpea flour, alternatively wheat flour
Oil for frying
For the pickle
1 ripe mango
1 small green chilly
2 tsp oil
½ tsp haldi or turmeric
1 tbsp brown sugar
1-2 tbsp white wine vinegar
40 gm walnuts
Method
Soak peas overnight in cold water.
For the falafel
Peel and chop the onions and garlic.
Chop the chilly fine.
Separate the leaves of the coriander from the stems and chop finely.
Drain the peas and then puree, with very little or no water with the onions, chilly, garlic and turmeric in a blender.
Season the mix with salt and stir in baking soda.
Chop the walnuts and roast them briefly.
Mix the walnuts and flour with the peas to form balls from the dough.
In a heavy-bottomed frying pan heat oil and fry the balls for 3-5 minutes until golden brown.
Drain them on paper towels and set aside.
For the pickle
Peel the mango, remove the pulp from the stone and cut into dices.
Wash the chilly and chop finely.
Heat oil in another heavy-bottomed pan and saute the chilly briefly.
Add the turmeric and mango, then sprinkle with sugar and let it stew for about 1-2 minutes.
Add the vinegar and raise heat for a minute.
Chop the walnuts, toast them in a small pan and mix them with the pickle. Serve the falafel with the mango pickle.
Chef Sabyasachi 'Saby' Gorai runs a hospitality company in New Delhi.