Maharaj Hemaram Choudhary, of the Rasovara chain of Rajasthani food restaurants, presents his mango-inspired creations for the season.
His recipe for Aam Khasta Kachori is a delicious way to turn mangoes into a fried snack.
The lightly tempered and delicately flavoured Mango Fajeto, a kind of kadhi, makes for an excellent weekend meal when paired with steamed rice.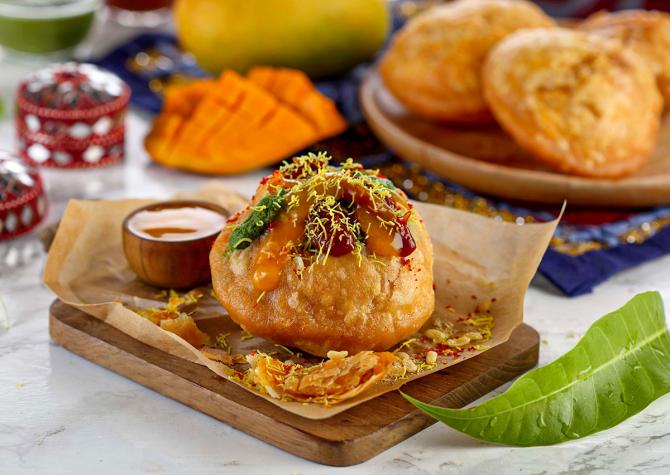 Aam Khasta Kachori
Servings: 10
Ingredients
For the dough
2 cups maida or all-purpose flour
4 tsp ghee
Salt to taste
Water as required
Oil for deep frying the kachoris
For the filling
1 ripe mango, cut into cubes
½ cup split yellow mung dal
½ tsp saunf or fennel seeds
1 tsp jeera or cumin seeds
A pinch of hing or asafoetida
1 tsp red chilly powder
½ tsp haldi or turmeric powder
Salt to taste
1 tbsp besan or gram flour
½ tsp crushed black pepper
1 tsp sugar
2 tbsp oil
For serving
Aamras or mango puree
Imli or tamarind chutney
Green chutney
Fine-grained sev
Method
For the dough
In a bowl, mix all the ingredients together to make a firm dough.
Cover the dough with a muslin cloth and keep aside for 30 minutes.
For the filling
In a heavy-bottomed frying pan heat the 2 tbsp oil over medium heat.
Add the jeera, saunf and let it splutter.
Lower the heat and add the hing and then the besan, haldi powder and roast lightly for 2-3 minutes.
Add the rest of the ingredients and cook for 5 minutes till everything is mixed well.
Take off heat and cool to room temperature.
For the assembly
Divide the dough into 10 equal portions.
Roll each portion into a small ball and press lightly to flatten.
With your thumb make a cavity in the centre of the flattened dough piece.
Fill the cavity with a little of the stuffing and bring the sides together to seal the stuffing inside.
Flatten it slightly and roll again lightly so you have a tiny stuffed kachori.
Repeat this process for the balance 9 balls.
In a wok or kadhai or heavy-bottomed, deep frying pan, heat the oil over medium heat and deep fry the kachoris till light brown and crisp.
Drain the kachoris and transfer to a plate lined with tissue or a paper towel.
Serve the kachoris warm, along with generous toppings of mango puree, tamarind chutney, green chutney and sev.
---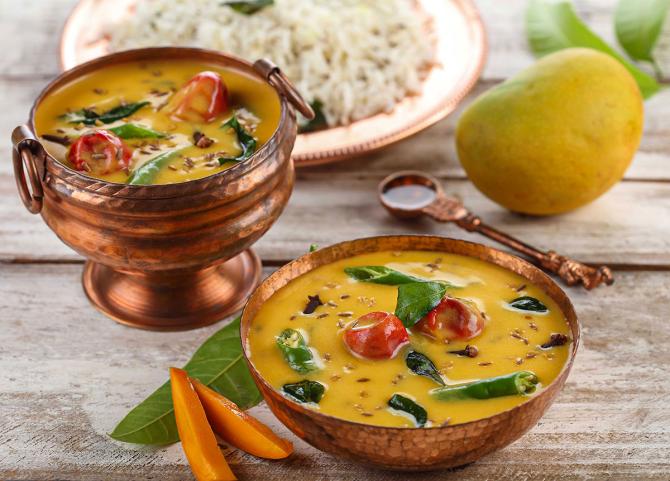 Mango Fajeto
Servings: 4
Ingredients
½ cup mango pulp
3 tbsp besan or gram flour
¼ tsp haldi or turmeric powder
Salt to taste
3 cups sour buttermilk
2 tbsp oil
Pinch of hing or asafoetida
½ tsp jeera or cumin seeds
A sprig of curry leaves
3 green chillies, chopped
1 tbsp gur or jaggery
Water as required
Method
In a bowl, mix the mango pulp with the besan, haldi, salt and buttermilk and beat with a whisk to make a smooth mixture.
In a wok or kadhai or heavy-bottomed saucepan, heat the oil over medium heat.
Add the hing asafoetida, jeera, curry leaves, green chillies and saute for a minute.
Add the mango mixture and mix.
Add the jaggery and give it a good stir.
Add water to get the required consistency.
Once the mixture comes to a boil, reduce the heat and simmer for 5 minutes.
Serve hot with steamed rice./li>