These tempting recipes are full of flavour and spice.
Every winter, there's a desire to stay home with a blanket tucked around your feet as you read your favourite book or catch up on that long pending television show.
As the temperature dips, the body needs to adapt to the changing weather and a good diet becomes very important.
These winter special recipes will keep you warm and your belly full and happy.
Spicy Prawn and Walnut Curry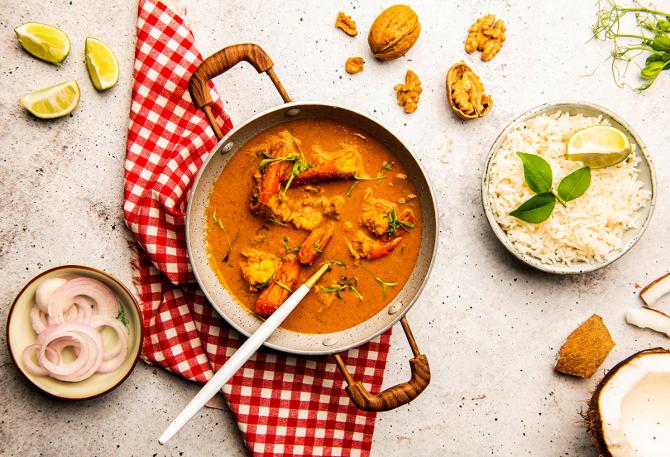 Recipe by Chef Anahita Dhondy
Ingredients
For the curry masala
½ fresh coconut, chopped into pieces
1 tsp poppy seeds
1 tsp white sesame seeds
1 tsp cumin seeds
2 tsp coriander seeds
100 gm walnuts, cut into halves
30 gm cashews, chopped
10 cloves of garlic
15 dried Kashmiri chillies
100 gm tomatoes, chopped
For the prawn marinade
1 tsp turmeric powder
1 tsp chilli powder
½ tsp salt
For the curry
350 gm prawns, shelled and de-veined with tails on
100 gm potatoes, quartered
2 tbsp wheat flour
2 tbsp cooking oil
1 tsp turmeric powder
1 tsp chilli powder
1 tsp curry powder
Salt to taste
Method
In a pan, dry roast all the seeds for the curry masala and the Kashmiri chillies and let it cool.
Chop the tomatoes, garlic, coconut and add to the grinder with walnuts.
Add the the dry roasted seeds and Kashmiri chillies to make the curry paste.
Add water as needed.
Clean the prawns and keep in chilled water for some time.
Marinate with prawn marinade and keep aside for at least an hour.
In a heavy bottom pan add oil and wheat flour. Cook until the wheat flour is brown and tastes nutty.
Add the curry paste and keep cooking until it thickens.
Add water as needed.
Add the chilli, turmeric and curry powders. Add salt.
Add in the potatoes and cook till almost done.
Add in the prawns when nearly ready to serve and cook them in the curry for 4 to 5 minutes.
Serve hot with steamed rice and fresh salad.
---
Walnut Matar Kachori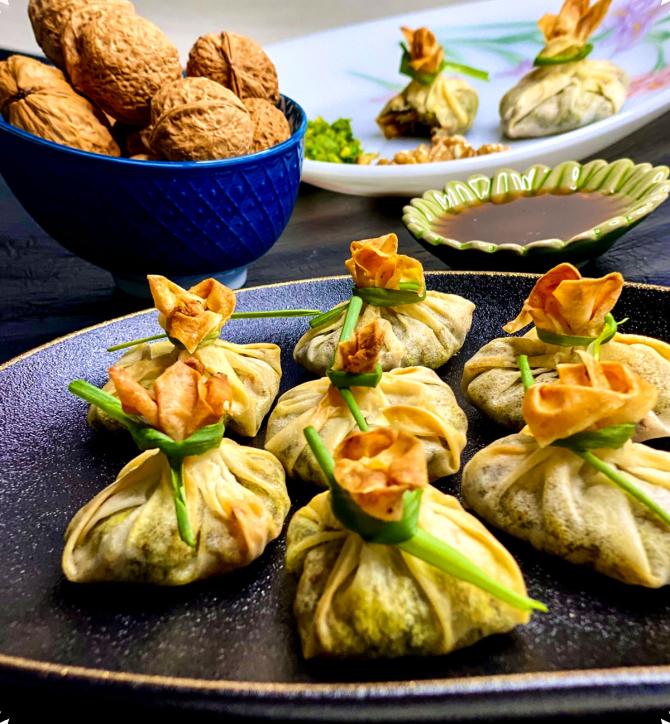 Recipe by Chef Meghna Kamdar
Ingredients
1 + ½ cup green peas (fresh or frozen)
1 tsp oil
½ tsp cumin seeds
A small piece of cinnamon
2 cloves
½ tsp garam masala
A pinch of turmeric powder
Some finely chopped green chillies
1 small onion, finely chopped
Salt as per taste
3 to 4 tsp coriander, finely chopped
30 gm walnuts, chopped
8-10 spring roll wrappers or white flour (maida) roti
2-3 tsp corn starch and a spoonful of water (for slurry)
Method
Heat oil in the pan.
Add cumin seeds, cinnamon, cloves, garam masala, turmeric powder, green chilies and chopped onion.
Add salt as per taste.
Mix it well and add 1 cup green peas. (If you are using fresh peas, you may have to cook it a little longer till they are tender. Do not overcook this mixture.)
Separate cinnamon stick and cloves from the mixture.
Put the remaining ingredients in a grinder and blend to a coarse mixture.
Transfer the mixture back to the pan.
Add chopped coriander, walnuts and mix it well.
Take spring roll wrappers or maida roti and place stuffing in the middle.
Apply some slurry on the corners of wrapper to make it stick (make slurry with 2-3 tsp corn starch and a spoonful of water).
Gently bring together all the corners of the wrapper and seal, giving it a good potli shape.
Bake the kachoris in a pre-heated oven at 190⁰C for 20 minutes.
Serve hot with mint chutney or ketchup.
---
Aloo Walnut Paneer Paratha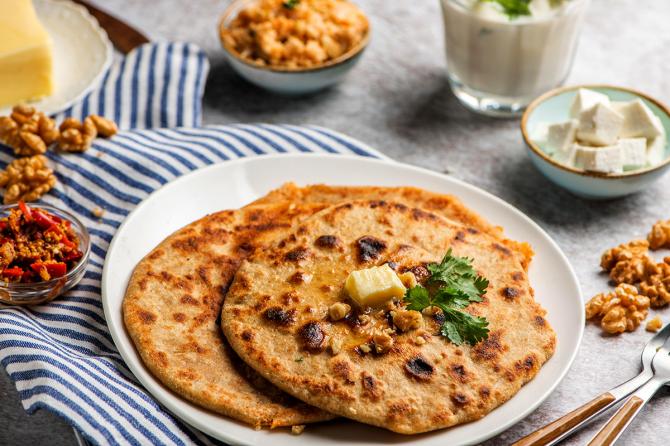 Recipe by Chef Anahita Dhondy
Ingredients
For the stuffing
100 gm potatoes, boiled and mashed
¾ cup mashed/crumbled cottage cheese
¼ cup finely crushed walnuts
1 medium sized onion, chopped
Salt and pepper to taste
1 tsp cumin powder, roasted
1 tsp red chilli powder
½ tsp coriander powder
3-4 green chillies, chopped
A handful of chopped coriander
For parathas
100 gm of whole wheat
100 gm of any millet flour (ragi/jowar/bajra)
Water for dough, as required
2 tbsp oil for roasting the parathas
Method
In a bowl, add mashed potatoes and cottage cheese.
To the mix, add all the spices along with finely chopped onion, crushed walnuts, fresh chopped coriander and green chillies.
Mix well then add salt.
You can add more chillies according to your taste.
Prepare the dough by mixing all the ingredients for the parathas and keep it aside for 30 minutes.
Take a small portion of the dough (about 40 gm) and roll it into a ball.
Shape the ball into a little pocket and stuff the mixture into it.
Roll it into a round shaped paratha.
On a hot skillet, dry roast the parathas on both sides, then add oil and press down to get that golden colour.
Serve hot with butter, curd and pickle.