Chef Satyajit Kotwal shares 3 recipes for the perfect weekend feast.
Roast Chicken with Pepper Jus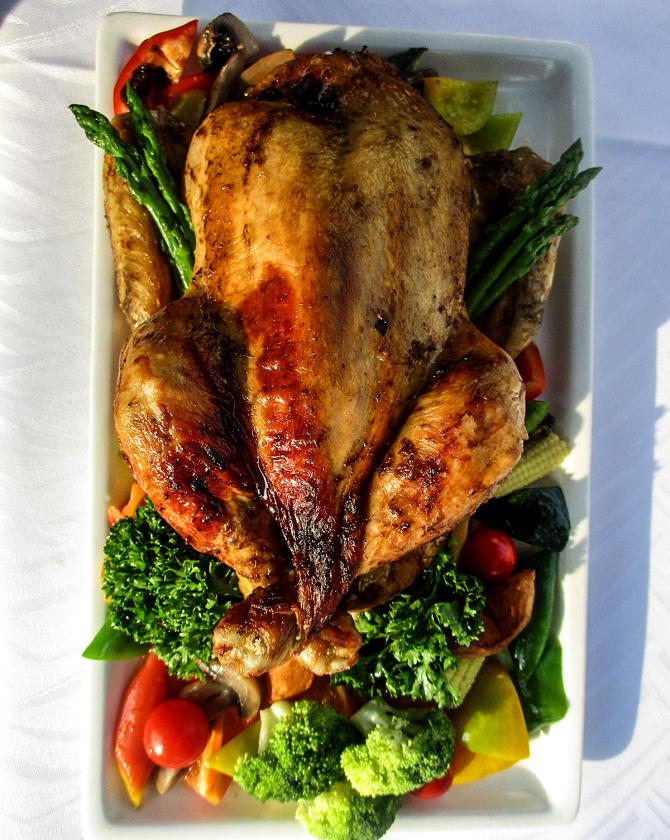 Ingredients
1 whole chicken
1 onion
1 carrot
Couple of celery sticks
2 bay leaves
10 gm mixed herbs (sage, rosemary, thyme)
For the seasoning
Olive oil
5 gm butter
2 black peppercorns
100 gm zucchini, broccoli and bell peppers
Worcestershire sauce
Method
Make a marinate with the ingredients mentioned under 'seasoning'. Mix well.
Take a whole chicken and apply the marination on it.
Keep for a couple of hours
Take a baking tray and add onions, celery, carrots, bay leaf, peppercorn (roughly cut) and put the marinated chicken on the tray.
Roast the chicken in the oven at 230°C for 40 To 45 minutes.
Take the chicken out and make a sauce out of the leftover liquid in the tray.
Add pepper and seasoning and keep aside.
Blanch some veggies and saute in butter.
Arrange the roast chicken on a plate and scatter the saute veggies around it.
Serve with sauce on the side.
---
Canadian Cheese Soup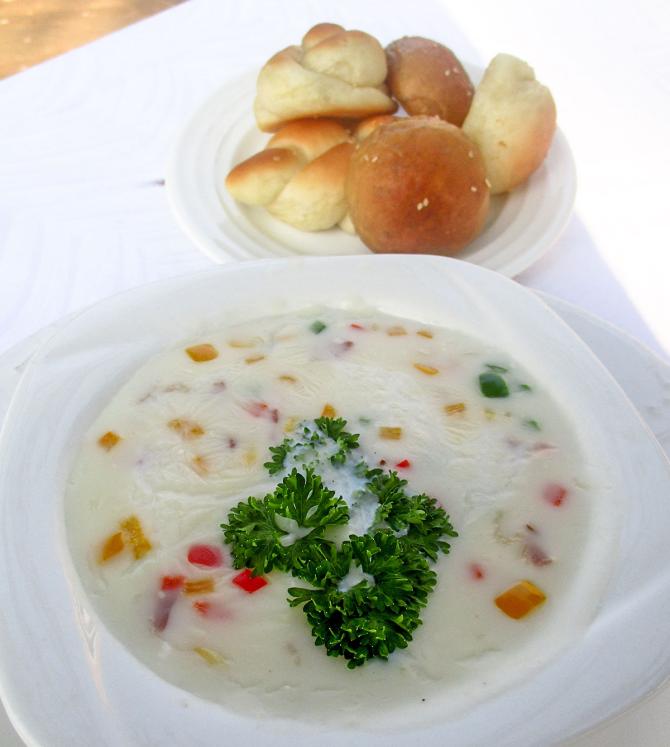 Ingredients
200 gm bell pepper, carrot
10 gm corn
2 slices of bacon
1 tbsp flour
5 gm butter
5 gm cheese
1 tbsp cream
250 ml chicken stock
Seasoning as per taste
Method
Melt butter and saute flour for a while.
Add the stock and keep stirring so that no lumps are formed.
Then add all the veggies, bacon and cheese with the stock and continue cooking so that the cheese melts.
Season it with cream and garnish with a sprig of parsley.
---
Lamb on Skewers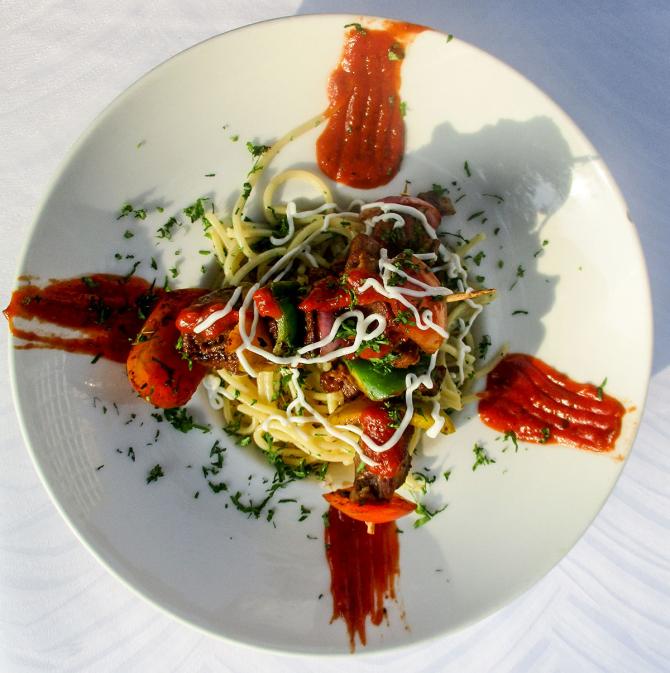 Ingredients
150 gm lamb chunks
1 onion
1 red capsicum
1 yellow capsicum
1 green capsicum
150 gm spaghetti
2 satay sticks
1 tsp Worcestershire sauce
5 gm oregano
15 gm garlic, chopped
20 gm butter
Seasoning as per taste
Method
Cut the above vegetables in chunks and keep aside.
Boil water and al dente (boil) the spaghetti. Keep aside.
Cook the chunks of lamb on low flame.
Add water and seasonings. Let it cook.
Marinate the lamb, bell peppers and onions with Worcestershire sauce and place them on a griller.
Increase the flame so that it gets a good smoky flavour.
Remove the platter and keep aside.
Arrange the lamb and veggies on a satay stick and keep under a warmer.
Take olive oil. Add garlic and saute it.
Add the blanched spaghetti and toss it with oregano and seasoning.
Arrange the spaghetti on a plate and put the lamb skewers over the spaghetti.
Pour barbeque sauce on the skewers.
Garnish with chopped parsley and serve hot.