Chef John Macedonius Fernandes and Chef Suriya Preechapiputpong share two recipes with Thai-inspired flavours.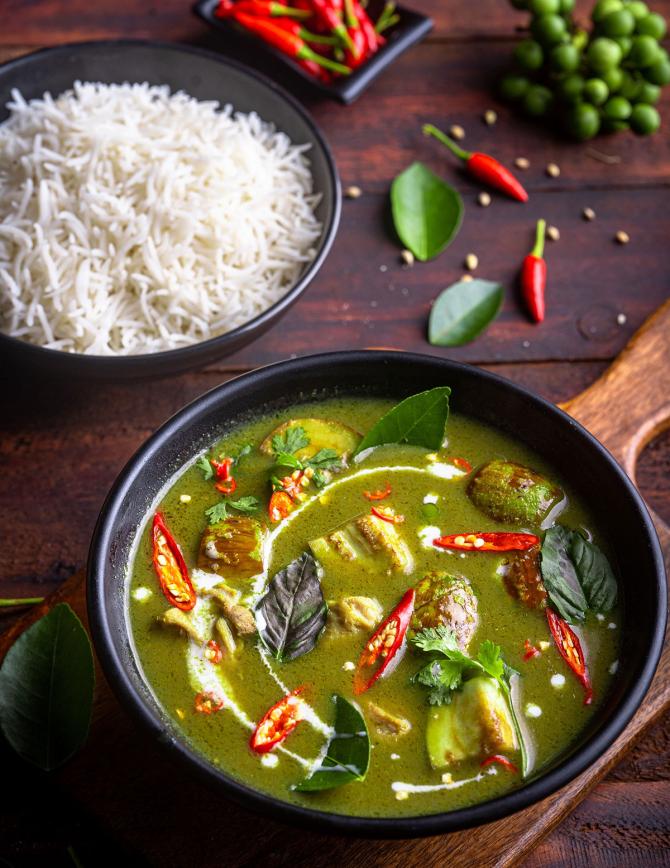 Gaeng Kiew Wan Gai (Thai green curry with eggplant)
Ingredients
120 gm chicken thigh, boneless
50 gm green eggplant
10 gm Thai eggplant
5 gm sweet basil
2 gm kafir lime leaves
10 gm fresh red chilli
200 ml coconut milk
40 gm Thai green curry paste
15 gm fish sauce
30 gm jaggery
2 gm salt
5 gm boullion
200 gm steamed rice
Method
Simmer thick coconut milk till its oil comes out.
Add the curry paste and saute till it gets a nice aroma.
Add the chicken and combine with the curry paste.
Add thin coconut milk, boullion, fish sauce, jaggery and keep simmering till chicken is cooked.
Add the eggplant (green and Thai) when the curry is boiling for 2-3 minutes.
Add sliced red chilli, kafir leaves and sweet basil and stir it well in the gravy.
Turn off the heat and garnish with chopped coriander.
Mix well and serve with steamed rice.
---
Som Tam with fish sauce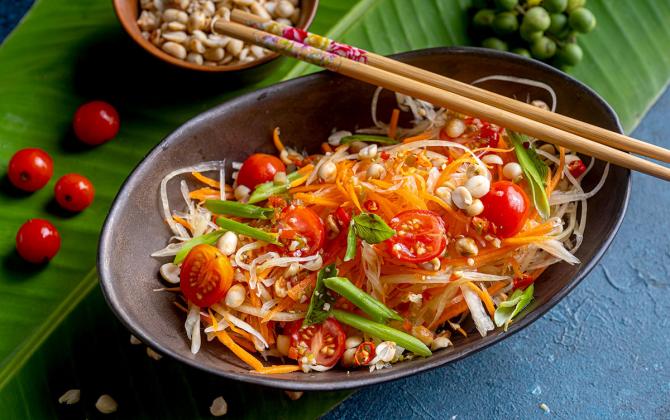 Ingredients
150 gm raw papaya, shredded
20 gm carrot, shredded
20 gm long beans (small batons)
20 gm cherry tomato, cut in half
5 gm bird eye chillies, crushed
5 gm garlic, chopped
20 gm roasted peanuts
5 gm palm sugar
5 ml fish sauce
5 ml lime juice
Method
For the sauce
Blend the chilli, garlic, palm sugar and fish sauce together well to a taste of sweet, sour and salty flavour.
For the Som Tam
In a mixing bowl, add the shredded raw papaya, carrot, long beans, cherry tomato, crushed peanut and the sauce. Mix well.
Serve the dish topped with roasted peanuts.