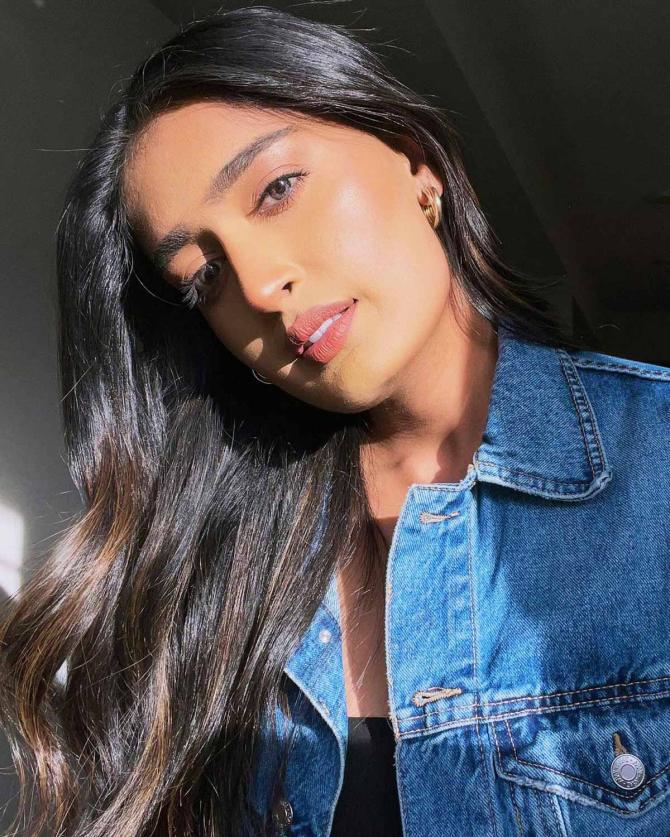 Global content creator Niharika NM, known for her fun and engaging YouTube and Instagram videos where she speaks in a Bengaluru accent and who shifted base to Mumbai from Los Angeles earlier this year, believes in aiming to be well turned out 24/7.
Right now she is undergoing a fashion transformation of sorts and leaning towards the 'soft-girl era' finish.
"(There was a time when) I opted for comfort over anything else. But now I want to dress more feminine, feel and look good all the time," she cheerfully tells Rediff.com's Mayur Sanap in a voice that doesn't have much of a Bengaluru accent at all.
"I am trying to step out of my comfort zone. This helps my mental health and I just end up having a better day."
Niharika turns to American actress Zendaya for inspiration. "I am always stalking her for fashion and make-up. She is so stunning and beautiful. I am a fan.
She adds, "And then, there's Rihanna. Both of them are beautiful."
Her tips for the perfect selfie are: Good lighting. Great foundation that blends well with the colour of your neck as well.
"Get someone to hold the flash close to your face from a different phone," she advises. "Just use your friends as tripods," she says with a mischievous smile.
For her beauty regime, Niharika applies moisturiser on her face daily. "I have a great dermatologist who helps me to keep things in check.
"I love experimenting with make-up. I don't really care what other people think. If I like it and I feel good in it, I put it on."
"(My advice is) whatever you want to express through make-up and skincare, just do it."
According to Niharika, "The only guy who is single in Bollywood right now is Aditya Roy Kapur." That makes him the most desirable as well.
As for Deepika Padukone, the content creator thinks Deepu "is stunning".
Niharika's Fashion Choices
Fancy or casual: Casual
Trousers or skirts: Trousers
Leather or denim: Leather
High street or high-end: High street
WATCH: Why Niharika doesn't want to wear sweatpants all the time?