At Priyanka Chopra and Nick Jonas's nuptials, the Adil Manuel Collective played funk, jazz and R&B for longer than planned that evening at the Umaid Bhawan Palace in Jodhpur.
One of the couple's friends in the audience yelled: 'Are you guys even from India?'
Adil Manuel offered to show her their passports.
Ranjita Ganesan meets an unusual musician.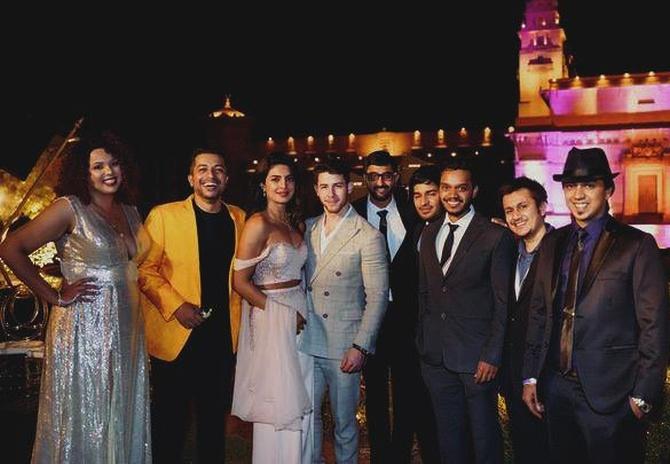 The first song Adil Manuel learnt to play in full on a guitar was British rock and roll star Cliff Richard's Teenager in Love.
Manuel was a teenager himself, smitten with music. He quickly picked up the three chords he was taught by a friend and new chords began forming under his fingers as if they had always lived there.
Richard, in a poetic coincidence, had grown up in the same compound in Lucknow where Manuel also spent a period in his childhood.
As much as this tryst with music sounds like it was meant to be, Manuel also had to make it happen. He is among the most prolific guitarists in the country, having played with Shubha Mudgal, Indian Ocean, and LouiS Banks among others, while also running his own bands, the Adil Manuel Collective and Bombay Bandstand.
Known mainly as a jazz man, he seems to have applied the genre's core philosophy to branch out in new directions musically: "I am an improviser." Now, Manuel plays everything including rock, funk, R&B, even Indian film music. "Why limit myself when there are so many opportunities out there?"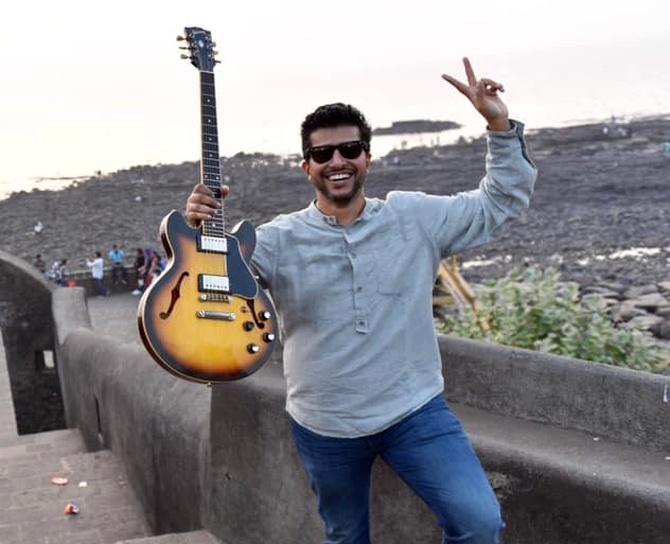 His mother from Varanasi and father from Goa were "rock and rollers". They attended gigs and their home in Uttar Pradesh invariably echoed with The Doors, Led Zeppelin, Cream and Peter Frampton.
One of his uncles would bring him LPs and VHS tapes of live concerts from the US in the early 1980s.
He would bang on cartons and dalda cans, but since a drum kit was too expensive, the guitar became his first instrument.
A Givson G-125 or 150 (he doesn't quite remember which of the two it was) gifted by his father. By age 13, he debuted on stage with singer-guitarist Christopher Hale of rock band Olio.
Manuel is unique for being self-taught. He listened keenly when a vinyl player in the common room of his Nainital boarding school had on classics like Roger Whittaker and Harry Belafonte.
The dream of studying music at a place like Berklee College of Music had to be shelved because it was unaffordable. But his family, which includes professional singers and dancers, encouraged the decision to take up music full time.
He read all the theory and spent many hours meeting with musicians after gigs. "I was hungry for knowledge. Everyone back then was very receptive to this young kid asking questions."
Piecing together this knowledge on his own, says Manuel, is what has let him develop his own "unique way of thinking about and composing music".
When I call him, Manuel has just returned from travelling abroad for gigs, and steals an hour away from a series of conference calls for an interview over coffee. "It is wedding season," he explains.
In recent years, he has expanded into music curation for private and corporate events. Famously, his Adil Manuel Collective was chosen to play at the nuptials of Priyanka Chopra and Nick Jonas.
They played funk, jazz and R&B -- Earth, Wind & Fire, Average White Band, Jamiroquai -- for longer than planned that evening at the Umaid Bhawan Palace in Jodhpur, Rajasthan. and one of the couple's friends in the audience yelled: 'Are you guys even from India?' Manuel offered to show her their passports.
Two years ago, he started Bombay Bandstand, a large ensemble that plays genres including Neo soul at scale.
"Ideas pick you," Manuel says. Several of these ideas were born of musical collaborations, which too appear to have picked him. He compares it to "open source", a give and take of creative concepts.
Most recently, he was invited to form a trio with Brazilian musicians, drummer Douglas Las Casas and bassist Adriano Sambati, after they met during a performance in Tamil Nadu.
They will take to the stage in the Jazz India Circuit Gurugram Festival on December 6.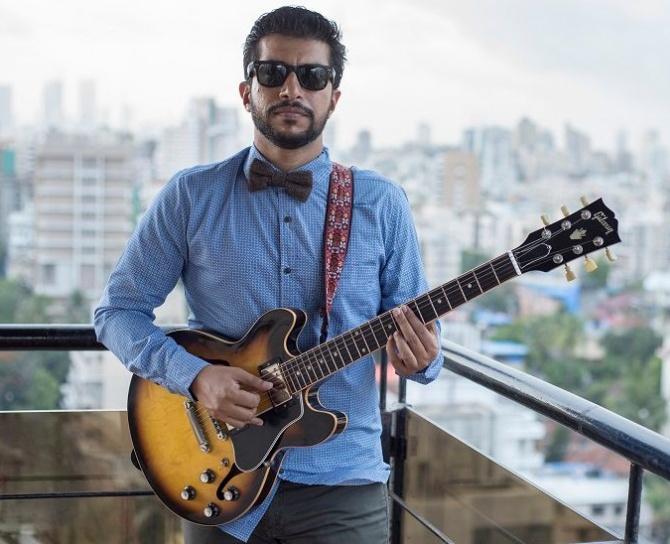 In the past, he has collaborated with Clinton Cerejo and Loy Mendonsa. A jazz duo he formed with Vasundhara Vidalur in 2009, which was featured on The Dewarists, rose in popularity.
The two performed in multiple circuits and in different languages including French and Portuguese. They released an ambitious jazz album, Ampersand, mastered by Chris Athens who also works with Coldplay, before disbanding in 2014.
Manuel's is a genre-agnostic approach. For an artist to stay busy, their craft and commerce are among the things that have to combine.
It is not one for the stomach and one for the soul anymore. "You can have both. I have the freedom of choice," he says, talking about laying down terms and conditions while also not being too rigid.
Some mornings, Manuel says he blasts VH1 just to know what is new, what the kids are listening to. Not long ago, his collective performed tribute gigs for Queen and Aretha Franklin.
The beginnings of this ability to be both a multi-genre artist and the one to market his art began when he played guitar for the band Silk Route from 2003 to 2008.
There was a cross-pollination of influences ranging from Himachali folk to Simon and Garfunkel, and The Grateful Dead. "Their pianist was a classical pianist; I was coming from hardcore shred rock phase."
In that time, he was also meeting and making friends with organisers to understand their side of the story. "I don't want to be the one complaining. I want to know how things work." Indeed, he exudes none of the brooding, tortured quality that sometimes afflicts artists.
From those insights into the music programming side, he was able to conceptualise several jazz and blues festivals in the country. Earlier this year, he recalls how the evening of a Blues Day event in Lower Parel was washed out by torrential rain.
"There were two red alerts, it was too late to cancel. But people began trickling in by 9.30 pm and by 11 pm, the place was filled to capacity." It reinforced his faith in there being an audience for every type of music.
There are more plans in the works. Manuel was the first to team up with hip hop artist Shah Rule, before rap had its moment recently, for an as-yet-unreleased track.
He expects to put out this and a number of other tracks he has worked on in the form of an album soon. He hopes the struggling music scene in Bengaluru, where a few popular venues wound up business, will pick up.
Manuel also intends to find more new artists and create enthusiasm for jazz performances in small-town venues. Harking to the history of the form, he asks, "Why must jazz be seen as something elite?"
---
Ranjita Ganesan is a feature writer at Business Standard.