Skinny Mo's announced its arrival to an enthusiastic city on August 21. There have been few more performances since.
Ishita Ayan Dutt reports.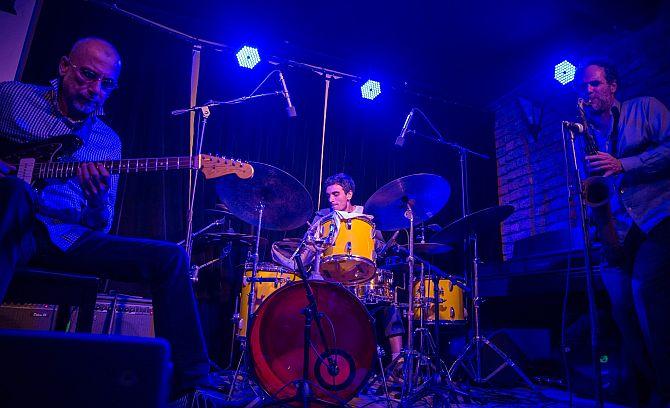 Skinny Mo's, Kolkata's only jazz club, was holding its first ticketed performance.
Smoke Inc, the company that manages, programmes and curates for the club, was selling tickets for the September 28 gig by Amyt Datta, Jivraj Singh and Maarten Visser.
Typically, 10-15 per cent of tickets are sold online.
But before the morning was over the show was sold out, reassuring the protagonists that jazz in the city is alive and thrumming.
The audience consisted largely of long-time jazz enthusiasts, including the man behind the club, Munir Mohanty.
"Regulars will always be there. The challenge is to draw in new people," says Nishit Arora, founder and director of Smoke Inc.
Arora, whose company has over 2,000 shows to its credit and also runs the Thursday Jazz Encounter at Kolkata's Astor Hotel, believes that jazz is on the upswing.
"Kolkata will do better than, or be at par with, other cities as far as jazz goes," says Arora.
A dedicated jazz club is just what Kolkata needed to get things going, he adds.
Skinny Mo's announced its arrival to an enthusiastic city on August 21 with a gig.
There have been a few more performances since.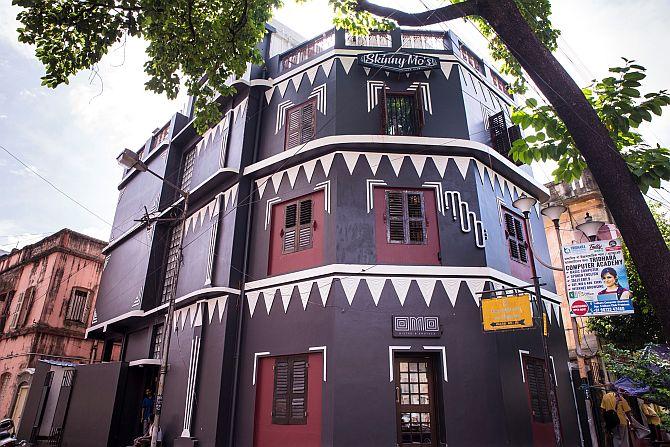 Jazz and Kolkata are old friends.
They go back right to the first decades of the 20th century, just a few years after the birth of the musical form in New Orleans.
Some reports claim that India's first jazz recording, of a track called House where the shutters are green, was made in 1926 by Jimmy Lequime's band, which played at Kolkata's iconic Grand Hotel.
"The major cinemas -- Lighthouse, New Empire, Globe -- had a bar and huge space dedicated to music. The intermission used to span one and a half hours, when a jazz band would play," says Mohanty.
The 1970s were marked by Louiz Banks, Pam Crain and Carlton Kitto, who reigned over Park Street, the epicentre of nightlife in Kolkata.
Over the years, live jazz in Kolkata died a quiet death.
Many of its patrons left the city and an entertainment tax of 30 per cent acted as the final nail in the coffin.
Most standalone places, like Firpo's and the legendary cinemas either became marketplaces or simply closed down.
Mohanty is reconciled to the fact that jazz is not commercially viable.
"I have been toying with the idea for 30 years.
"It's like classical music or a dying textile tradition -- someone's got to revive it," says the jazz fan, who often tries to catch a good concert in some part of the world.
The investment in Skinny Mo's has been made through a family trust, the Torsteel Research Foundation in India.
The research organisation had introduced TOR steel (a bar used in construction) to India in the 1960s.
Today, the funding for research has extended to areas like art, music and the like.
"When Torsteel had some surplus funds, we decided to invest in this place. My criterion was: I will set it up only if we can buy the property," says Mohanty.
Sometime last year, Mohanty got lucky and found the perfect address -- a dilapidated 1920s art deco building on Monoharpukur Road in South Kolkata, now buzzing with trendy eateries and quirky cafes.
Mohanty stripped the three-storeyed building to brick and fully restored it.
The black and white mosaic tiles for each of the floors were sourced from Bikaner or from old houses in Kolkata.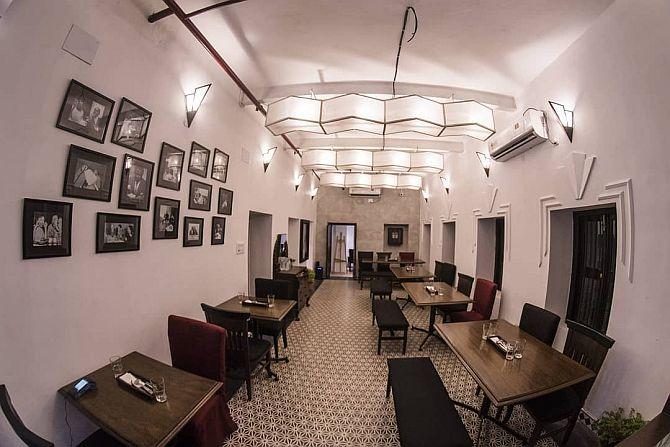 There is but one hitch.
Skinny Mo's is still awaiting its bar licence.
But that hasn't stopped concerts from being organised every now and then to keep the buzz going.
Meanwhile, Mohanty has other revenue streams flowing.
An European style bistro, Omo, and a boutique, Mono, are both operational at the same venue.
Adjacent to the 36-cover bistro is a 200 sq ft space that doubles up as a showcase area for art.
Every month sees a particular artist's works being featured.
At Mono, too, the boutique is divided into two areas: Kolkata designers like Bobo, conceptual jewellery artist Eina Ahluwalia and others are in one section; the other is dedicated to designers from outside Kolkata.
Here, too, a new designer will be featured each month.
"The bistro and the store were an afterthought. Jazz was the main thing," insists the jazz-mad Mohanty.
Ironically, despite that touching devotion, it's Skinny Mo's that's waiting for the spirits to flow in earnest.
The appropriately decadent, red velvet New York-style bar counter could use a drink or four.
What are your favourite restaurants in Kolkata and why? Do let us know in the message board below.