Joe Vessoakar's video will make you fall in love with the trumpet.
Take a morning walk through Bandra's Bazaar Road, and you'll hear the sound of the trumpet playing.
As you follow the beat of the music, it will lead you to a row house.
Outside the house, you'll spot a tall and slender T-shirt clad gentleman, sitting on a tiny broken-down chair, playing the trumpet with his eyes closed.
It's fascinating to notice people in the neighbourhood just walk by, with a smile on their faces, listening to the delightful musical notes.
Not once do they alter their pace only hinting at the fact that this is a daily occurrence here.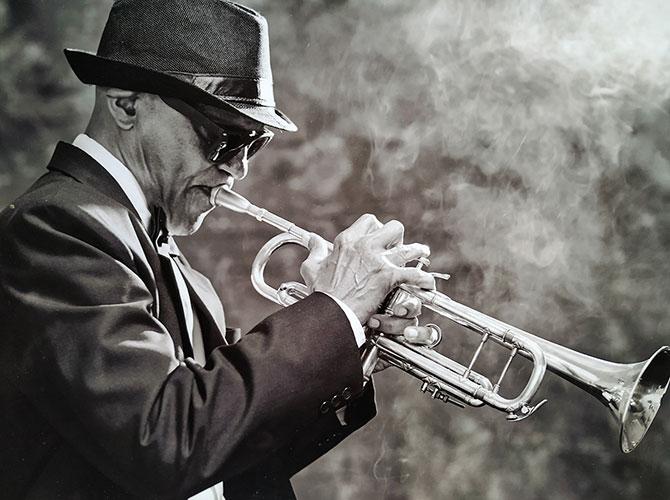 Fruit and vegetable vendors, who begin their day early, arrange their wares joyfully listening to the music playing in the background.
Quiz them about the trumpet player, and they say, "Woh Joe bandwala hain. Subah roz bajaata hain. Achha lagta hai hume, kaam pe aane ke liye"
It is on days when Joe doesn't play his trumpet that people wonder where the melody has disappeared.
Joe has been playing professional music on the streets of Bandra since the age of seven.
At the age of four, spoons, tin cans, steel plates and forks served as his musical tools.
And now, when he is nearing 70, Joe says he still needs to practice.
According to him, one can never claim that they know everything about music.
"One should be learning forever. That's when you love what you do," he says.
He was introduced to playing the trumpet at funerals by his dad, and that's what he loves the best.
"At weddings and parties, the crowd tells us to play louder and louder. They don't care what I'm playing.
"It's just the loud sound that they want to enjoy.
"But it is at funerals that I get to play to my heart's content without being disturbed," says Joe, who loves to jazz up funerals.
The band master and teacher took time off his busy schedule to share some precious moments of his musical career with Rediff.com.
Watch the video to get to know the 70-year-old jazz musician's heartwarming story.
You can get in touch with Joe Vessoakar and his Swinging Jazz Dance Band on 9820620199.