'We are all from middle class backgrounds...'
'We are not like those super privileged kids to whom the parents say "Jao beta. Studio khareed lo".'
Rediff.com's Rajesh Karkera chats with Lawntuba as the band jams, early morning, in a Mumbai studio.
So many of us don't end up following our dreams.
Come meet four youngsters who have.
They create their own songs. And do regular jobs to fund their passion for music.
Lawntuba, their band, is steadily enthralling larger and larger audiences.
Siddhant Vernekar, 26, a graphic designer, quit his job and drives the band's direction.
Calm, composed, clear, he ensures the group takes the right decisions. He plays the guitar and sings.
Shalom Benjamin, 25, who plays bass, works at a Mumbai record store.
Aarifah Rebello, 23, a singer, plays the drums, percussion and handles the backing vocals.
Krishna Purohit, 25, band-cofounder, handles the keyboards and sings.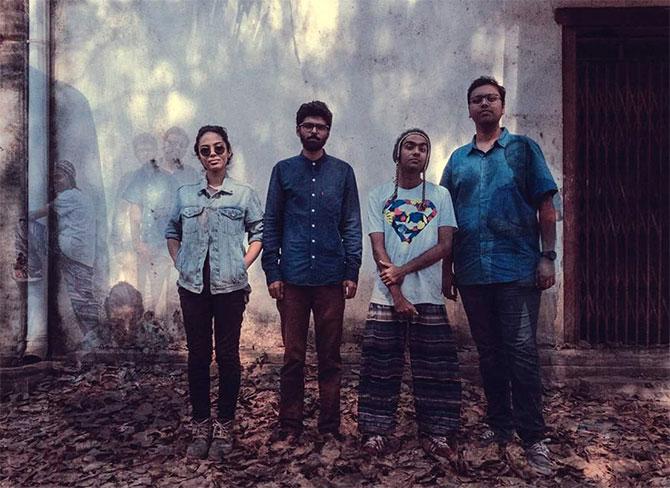 Meet Lawntuba, from left: Aarifah Rebello, Siddhant Vernekar, Krishna Purohit and Shalom Benjamin. Photograph: Naman Saraiya
It is 7.30 am. The band has rented a studio in Mumbai's north-western suburbs at a time when even tea stalls in the city are not open.
Sleepy-eyed Aarifah is sitting at her drum set.
Krishna is setting up his keyboard.
Siddhant is ready with his guitar.
They are waiting for Shalom.
"Let's order some tea" says Krishna. But there is no place to order it from.
As we wait for Shalom, and hopefully some chai, we chat:
How do you fund yourself?
Krishna (laughing): "We just steal from our parents."
Siddhant clarifies: "No, we all have or rather had jobs. Aarifah is probably the only famous individual out of all of us. And even Shalom. They both have a fan following."
"We have our jobs, which we try our best to get to pay for our passion," he adds.
How did Lawntuba start?
Siddhant: "I am a graphic designer. I did five years of art school. Illustrations, calligraphy and everything you need to know in graphics was what I learnt. I still like designing. I've been earning all my money from it."
"I played the guitar when I was in college. So that desire to do music was always there."
Krishna: "In college I got a chance to play in a band. That's when I also started learning production... All these knobs and keys on this equipment (he says, pointing at the keyboard and amps in the studio)."
VIDEO: Lawntuba jams early morning at the Jamnastique Jam Studio in Mumbai.
Why Lawntuba?
Siddhant: "Lawntuba doesn't mean any one thing in particular. We wanted it to sound like a spell. Or a chant, which upon repetition would cause an effect on the listener."
"Krishna was staying at this hotel in Kolkata called Fairlawns. He wanted to name the band Lawns. We decided upon Lawntuba."
"Somewhere the picture of a green lawn and a golden tuba on it was a good visual to imagine."
What is it like making music on your own?
Krishna: "In the beginning we just jammed for the sake of it. Then some of our friends heard us. They (said) you play good and we should make something together."
Siddhant: "Strangely I don't remember anyone telling us to play together. I always thought we gelled together when we played music, even with just two acoustic guitars. I liked Krishna's musical sensibilities. I always thought we should make original music, rather than covering other people's music."
"It was around 2010 when I thought we should start making music," Siddhant adds. "But it took quite a lot of time."
"It was: Haan ek din mein music banaoonga (one day I will make music). It was like one day it attracts you. One day it doesn't. One day you have a guitar. One day you don't. But music was always a part (of our story)."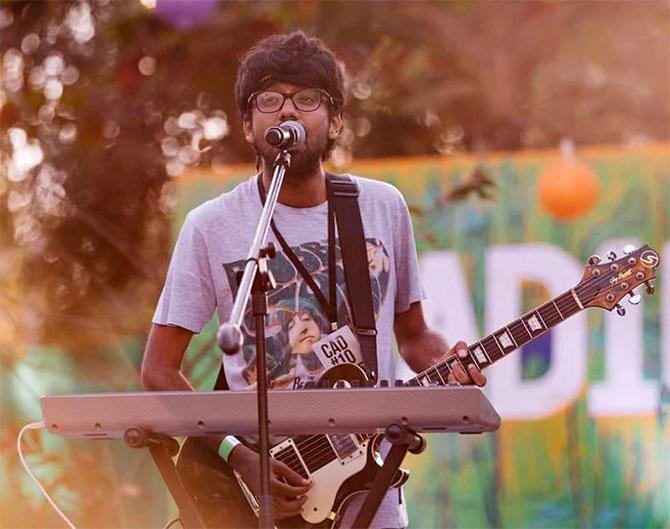 IMAGE: Krishna performs at the Control Alt Delete festival in Mumbai. Photograph: Sujay Das
So how did all of you get together?
Krishna: "I was playing in a college band, Fatman's Entourage. The same year, another band Lightyears Explode started playing. That's where I met Shalom. He played the bass for Lightyears. We would have that bass player chill time. We would borrow each other's instruments all the time."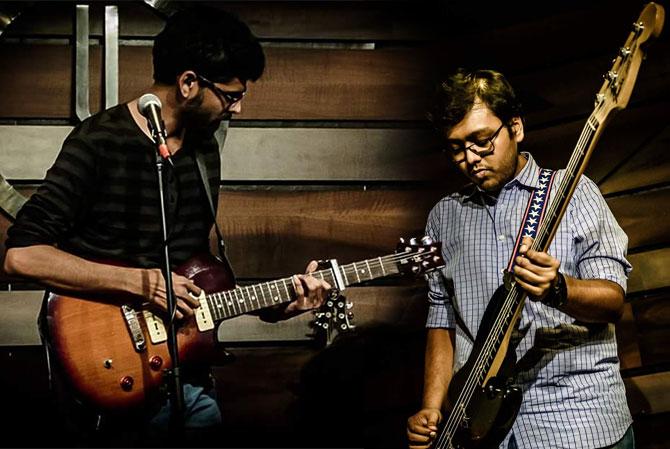 IMAGE: Siddhant and Shalom perform at Tuning Fork, Khar, northwest Mumbai. Photograph: Rajeev Chico Roy
Siddhant: "We released our EP in May 2016, On Silver Clouds. We had performed just once -- Krishna and me. We came across Sofar Sounds, which is a community of music lovers. They organise house gigs. We sent them our music. Those guys liked our stuff and told us to come perform."
"There was a need for a full band setup sound to exist," he recalls. "I called up Joshua Thomas (responsible for organising Open Mic nights for upcoming musicians at the Hive where Krishna and Siddhant would perform). He recommended Aarifah. We gelled very well."
"We put out five songs. We have done a a total of about 11 songs."
Why this type of music?
Krishna and Siddhant: "We have listened to a lot of dreamy, chilling music. We heard so much of alternate music, we thought we too can do our own version."
Krishna: "We have used tones of Bollywood sounds to treat our music."
Siddhant: "But we treat it heavily. You won't make out the Bollywood sound we have used."
VIDEO: Lawntuba jams on Niah Tells Me.
What do your parents think of the music?
Siddhant: "My parents still think it is just a hobby. They were really surprised I (quit) my job. I plan to look for a job soon. I love making music. The music scene in India is thriving. But there is very little money for upcoming musicians like us."
"Shalom had been in this for some seven years now. He knows it takes very long for the money to actually come in," Siddhant adds. "That's why I would like to keep working and earn money, which will also support our music."
Aarifah: "There's always going to be some amount of agitation, mostly because I'm a girl. My mom knows that I have good friends. She's seen my name in the paper. I've heard her say: 'Her name is coming all over the place, people are talking about her'. So maybe she's good."
Siddhant: "Our parents are very ancient. They are letting us do this for some time. But jab shaadi ka time ho jayega (when it is time to marry), then they will be like 'Get real, c'mon!'"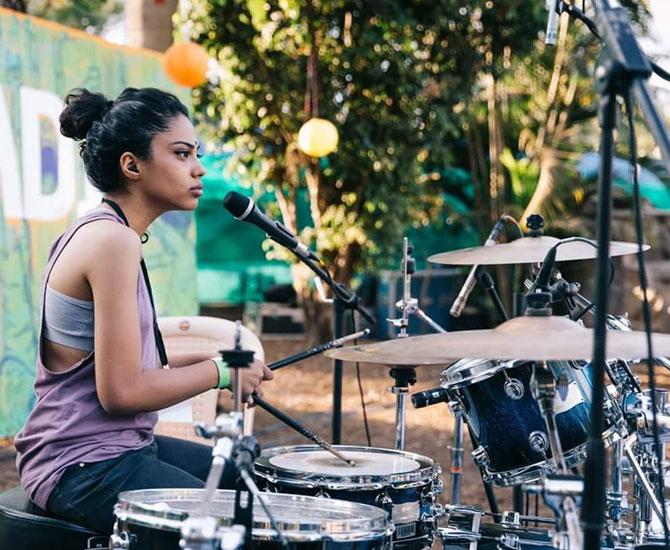 Aarifah performs at the Control Alt Delete 10.0 festival. Photograph: Sujay Das
Is it an expensive hobby?
Shalom: "Sort of. You need to buy gear which is expensive. You need to book a studio. If you are smart enough to make your way through it, then it's great."
Krishna: "We are all from middle class backgrounds... We are not like those super privileged kids to whom the parents say 'Jao beta. Studio khareed lo (Go son, buy a studio)'."
Siddhant: "So sustaining ourselves -- just doing music -- takes a lot of thinking. It has to be a balance of both. You have to take up things that will pay. But still we don't want to (do) gigs and shows which compromise our music."
"If someone asks us, 'Hey, can you do a Pearl Jam night? Or can you do a Coldplay night?' I wouldn't do it. If the band collectively comes to a decision, then maybe," he adds. "As long as we have our creative integrity. It's a good thing."
Favourite bands?
All their faces light up: "Lightyears Explode."
Fave Bollywood numbers?
Taal. Pardes. O Hum dum suniyo re from Saathiya. Dil Se.
The future?
They are confident that money will come: "It's just a matter of time."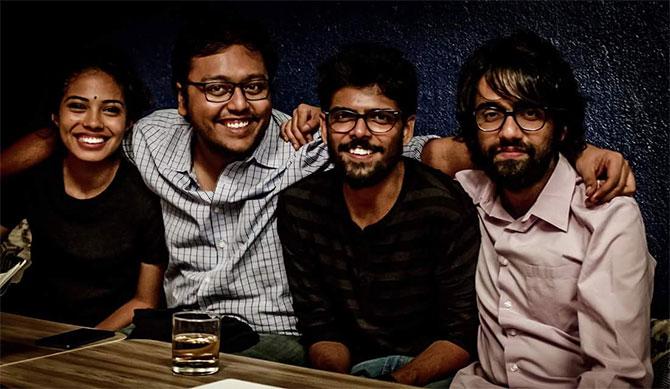 IMAGE: "We have used tones of Bollwood sounds to treat our music... But we treat it heavily. You won't make out the Bollywood sound we have used," say the Lawntuba folks. Photograph: Rajeev Chico Roy
Advice for aspiring musicians...
Siddhant: "Finding your own unique sound and element. Do it fully."
"The first bit is to learn your instruments with dedication. Give it time. After that, do not stop, despite all the things that go against you."
"So just work on your content and sound. Be as original as possible and stick to it."
"We have been sailing only on the merit of our content. Our songs. Purely on our songs."