Rediff.com's Hitesh Harisinghani gets Gladson Peter to share his inspiring life story.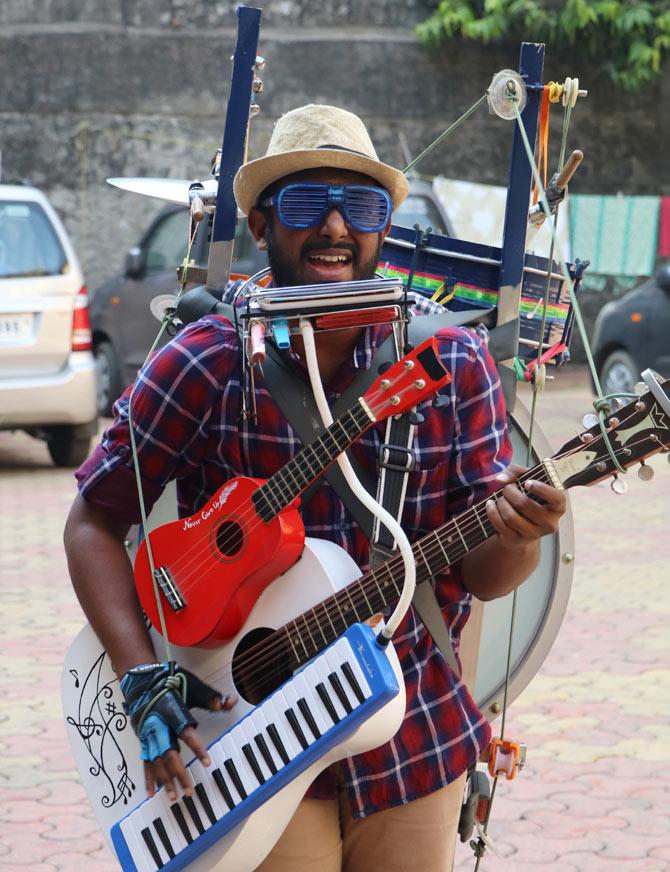 One man who can play 45 instruments.
And the one-man band he has created.
Meet Gladson Peter.
Watching the 24 year old perform with 13 instruments that weigh 25 kilos is a treat for the soul.
"I wonder how I manage to carry 25 kilos and play so many different instruments with just 40 per cent of my lungs functioning. I believe the strength comes from above," he says.
Watch Gladson's inspiring story below.
Gladson, who works as a part time music teacher at a school in Mumbai, has just one dream -- to put a smile on as many faces as he can.
He is part of the Natural Streets for Performing Arts, an NGO which promotes street music, and does about 5 or 6 shows with them in a month.
"2016 was a good year; I have been doing almost 20, 25 shows in the last 2, 3 months."
Gladson has performed exclusively for you guys. ENJOY!
Videos: Hitesh Harisinghani and Afsar Dayatar/Rediff.com
Do watch the INSPIRING FEATURES in the RELATED LINKS below.