Blogger Sangita Agrawal has three fruity solutions for the garmi.
Is there anything better than a recipe of chilled Aam Ka Panna to shake off mercury-induced lethargy?
The Lemon and Mango Parfait -- which offers the zingy flavour of citrus, the smooth and creamy taste of mango puree, cake crumbs and soft peaks of yummy whipped cream -- is a dessert that's hard to resist.
There's also a simple yet awesome Mango Malai Sandwich made with slices of ripe mango and fresh cream.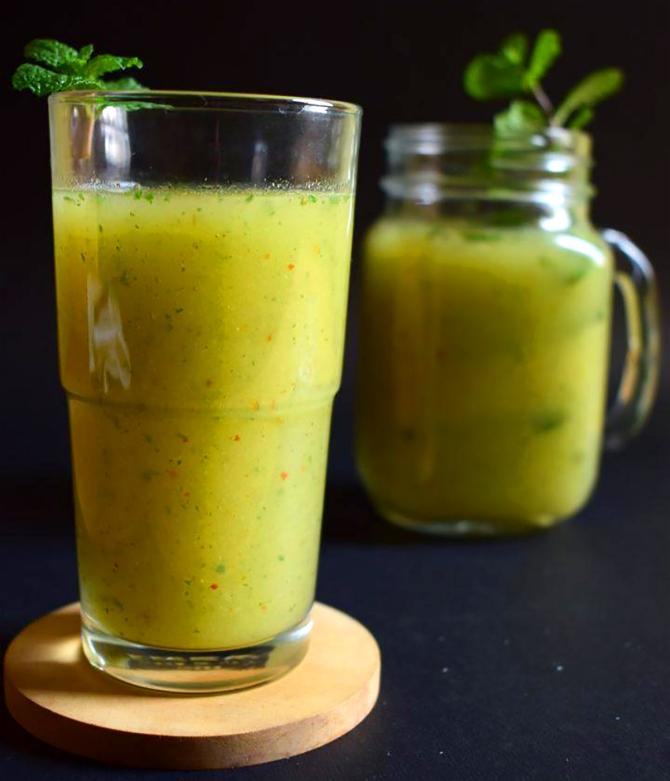 Aam Ka Panna
Serves: 3-4
Ingredients
2 medium raw mangoes, peeled and cut into big pieces
2 tbsp pudina or mint leaves, crushed in a mortar and pestle
½ tsp pepper powder or as per taste
1 tsp roasted jeera or cumin powder
1 tbsp sugar or as per taste
Rock or black salt as per taste
2 cups filtered water
Cubes of ice
Method
Pressure cook the mangoes along with 2 cups of tap water for 2-3 whistles.
Turn off heat and let the pressure release.
Once cool, mash the mangoes to a pulp.
Add the 2 cups filtered water and pour the mixture through a channi or colander to strain it.
Transfer the mango juice into a tall jug.
Add the crushed mint leaves, salt, sugar, jeera, pepper and mix well.
Taste to adjust salt or sugar.
Add ice and serve chilled.
---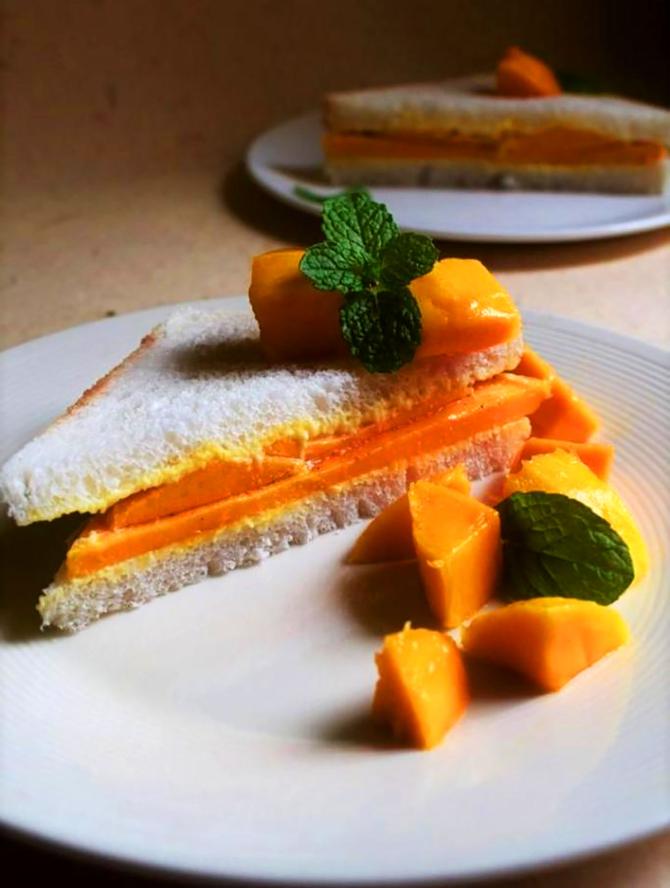 Mango Malai Sandwich
Serves: 1
Ingredients:
2 slices of white bread
1 ripe mango, cut into slices
2 tbsp malai or fresh cream
½ tsp powdered sugar
A pinch of green elaichi or cardamom powder
Fresh pudina or mint leaves, for the garnish
Method
In a bowl, mix the cream and sugar well until you get a smooth texture.
Place the bread slices on a plate.
Spread the cream and sugar mixture on both slices.
Arrange layers of sliced mangoes on top of one slice and sprinkle some cardamom powder.
Place the other bread slice on top.
Garnish the sandwich with the mint and the remaining fresh mango slices.
---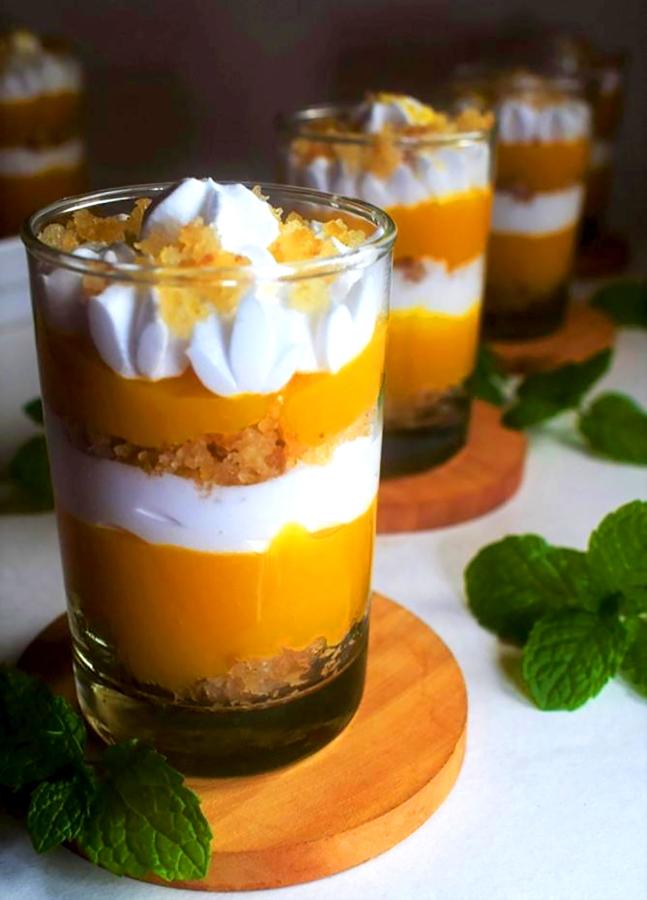 Lemon and Mango Parfait
Servings: 6 to 8
Ingredients
200 gm lemon cake, crumbled into small bits, a regular sponge cake will also work
2 cups whipped cream
For the mango and lemon custard
1 cup peeled and diced ripe mangoes
½ cup sugar
2 tbsp freshly squeezed lemon juice
½ tsp lemon zest, optional
2 tbsp cornflour
2 tbsp butter
Assembly
Method
For the mango and lemon custard
Puree, in a blender, the diced mango, sugar, lemon juice and cornflour till smooth and creamy.
Do not add water.
Transfer this mixture into a small saucepan and bring to a simmer over medium to low heat.
Whisk for 5 to 10 minutes until the mixture thickens.
Turn off heat and cool to room temperature.
For the assembly
Fill the whipped cream in a piping bag that has a star nozzle.
If you don't have a piping bag, use a small spoon.
Fill the shot glasses first with a layer consisting of 1 tbsp of crumbled lemon or sponge cake.
Then add 2 tsp of the mango and lemon custard.
Over the custard layer, add a layer of whipped cream using the piping bag or a small spoon.
Repeat the process, starting again with a layer of the crumbled cake, followed by a layer of the mango and lemon custard, and then the whipped cream.
Garnish with lemon zest. Serve chilled.
Sangita Agrawal lives in Mumbai and publishes the food blog Bliss of Cooking.