Maharaj Jodharam Choudhary, of the Khandani Rajdhani restaurant group, goes creative with mangoes.
He offers recipes for sweet-salty ripe mango rice, green mango-laced dhokla served with spicy kairi chutney and a mango-accented Rajasthani desert sabzi.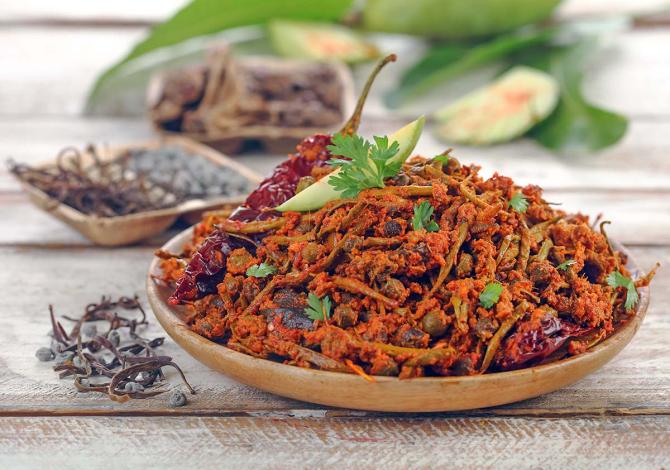 Ker Sangri
Serves: 4
Ingredients
1 cup sangri, also known as desert beans.
½ cup ker, also known as kerda, a desert berry used in pickles and vegetable recipes in Rajasthan.
½ cup whole aamchur or dried mango or 2-3 tbsp dry mango powder
1 litre water to boil ker sangri plus a little more to make the sabzi
1 tbsp red chilly powder
1 tbsp Kashmiri chilly powder
1 tsp haldi or turmeric powder
½ tsp jeera or cumin seeds
6 garlic pods, crushed
1 tsp ginger paste
½ tsp dhania or coriander powder
½ tsp jeera or cumin powder
Salt to taste
3 tbsp oil
A handful of chopped green dhania or coriander or cilantro leaves, for the garnish
Method
Wash the ker, sangri and the whole amchurthoroughly.
Drain and soak in a bowl filled with water for 8 hours or overnight.
Wash again, drain and pressure cook along with 1l water and salt for 2 whistles.
When the pressure releases, drain the excess water and set aside to cool.
In a heavy-bottomed frying pan or wok or kadhai, heat the oil over medium heat.
When the oil is hot, add the cumin seeds and let it crackle.
Add the garlic, ginger paste, turmeric powder, chilly powder, Kashmiri chilly powder, coriander and jeera powder.
Add few tbsp of water and stir for a minute.
Add the cooked ker, sangri and aamchur.
If you are using aamchur powder, add it along with salt to taste. Mix well.
Cover and cook for 5-6 minutes.
Turn off the heat and garnish with chopped coriander leaves.
Serve hot with rice and dal.
---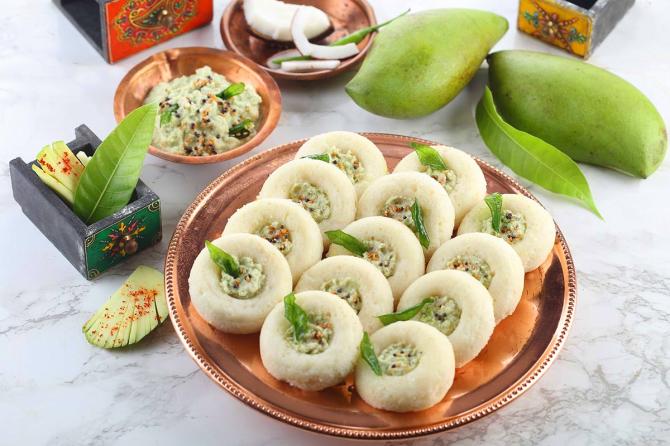 Kacchi Kairi Dhokla
Serves: 5
Ingredients
½ kilo ukda chawal or parboiled rice
100 gm kala urad dal or black gram
Water to grind the batter
1 tbsp Eno powder
2 tbsp oil
Salt to taste
1 cup grated kachi kairi or raw mango
1 tbsp green chilly paste
½ tbsp ginger paste
¼ tbsp rai or mustard seeds
½ tbsp white til or sesame seeds
1 spring of curry leaves
½ tbsp chopped green chilly, slit
Oil for tempering
A pinch of hing or asafoetida powder
Method
Wash the rice and dal well and drain excess water.
Soak rice and dal in a large pot in water for 6 hours or overnight.
Drain the water and grind to a thick, smooth paste, adding water, sparingly, if required.
Let the batter rest for 3 hours in a warm place.
Add the green chilly paste, ginger paste, salt to the ready batter.
Add the oil, Eno, grated raw mango, hing and mix well to make a thick batter.
Add water if needed.
Grease a dhokla mould with oil and fill it with the batter.
Don't fill it to the brim as the dhokla will rise when steamed.
Place the mould in a steamer or cooker with a little water without the whistle and heat for 20 minutes over medium heat.
If you are using a steamer, put the filled mould in when the water in the steamer starts to boil.
Once done, let the pressure release before removing the mould.
If using a steamer, take out the mould and let it cool.
Ease the cooked dhokla from the mould by placing a plate on top of the mould and inverting it.
For the tadka: In a tempering pan heat the oil and add the til, rai and let it begin to crackle.
Add the curry leaves, green chilly and saute until crisp.
Pour the tadka on top of the dhokla and spread it with a spoon.
Cut the dhokla into small squares and serve it with kairi or green mango chutney (recipe given below).
NOTE: If you have small circular moulds, add the chutney in the centre of each dhokla as shown in the picture above.
---
Kairi Chutney
Serves: 5
Ingredients
1 cup chopped kachi kairi or raw mango
1 cup fresh grated coconut
1 tbsp chopped green chilly
1 tsp jeera or cumin seeds
½ tsp hing or asafoetida
1 tsp oil
Salt to taste
Water if required
Method
In a mixer, grind the mango and coconut to a coarse texture.
Add salt. Add water sparingly only if required.
Heat the oil in a small kadhai or wok over medium heat.
Add the jeera and when it crackles, add the hing, green chilly and saute.
Lower the heat and add the ground mixture.
Give it a stir and turn off heat.
Serve along with dhokla.
---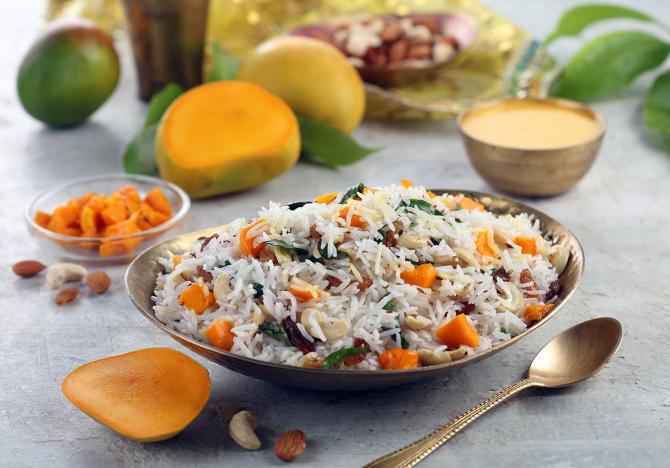 Mango Pulav
Serves: 2
Ingredients
1 cup Basmati rice
1 cup chopped ripe mango
20 gm cashews
20 gm kishmish or raisins
One sprig of curry leaves
2 tbsp ghee
Salt to taste
½ tbsp jeera or cumin seeds
2-3 clove
3 bay leaves
Method
Soak basmati rice in water for 20 minutes.
Drain the water and wash the rice a few times.
Heat enough water in a large pot over high heat with salt, cloves and bay leaves.
Once the water begins to boil, add the washed rice and let it cook for 20-25 minutes.
When the rice is cooked, drain the water using a channi or colander, or just place a lid over the pot and holding the lid firmly, tilt the pot to drain off the water.
Heat the ghee in a large fying pan or wok or kadhai over medium heat.
Add the jeera. Once it splutters, add the cashews, raisins and curry leaves. Mix well.
Add the rice and stir gently. Turn off the heat and let it cool.
Transfer to a serving bowl and add the chopped mangoes.