Escape the heat with two rejuvenating recipes by food blogger Vindhya Karwa.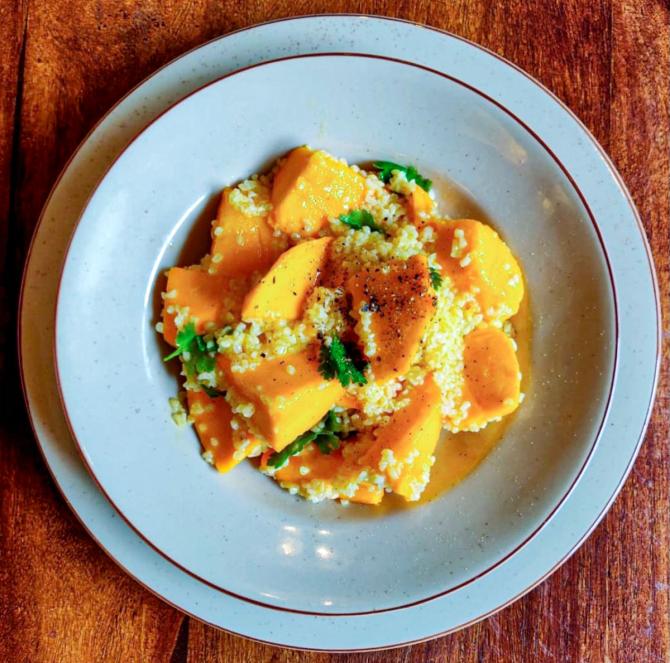 Mango Tabbouleh
Serves: 2
Ingredients
1 cup dalia or broken wheat
2 to 3 medium-sized ripe mangoes, chopped into big pieces
1 tbsp chopped spring onion
Few leaves of mint
Juice of 1 lemon
1 tbsp maple syrup
2 tbsp extra virgin olive oil and a little extra for garnish
Salt and pepper to taste
Method
For blanching the dalia
Place dalia in a large bowl.
Boil 2 cups water and pour it over the dalia.
Let it blanch in the hot water for 4-5 minutes.
Drain the water and keep aside.
For making the tabbouleh
In another large bowl mix the blanched dalia with the maple syrup.
Add the chopped mangoes, spring onion, mint leaves and olive oil.
Add salt, pepper, lemon juice and give it a toss.
Refrigerate.
Garnish with some more olive oil and serve chilled.
NOTE: Those who are gluten intolerant can use quinoa or millets instead of broken wheat.
---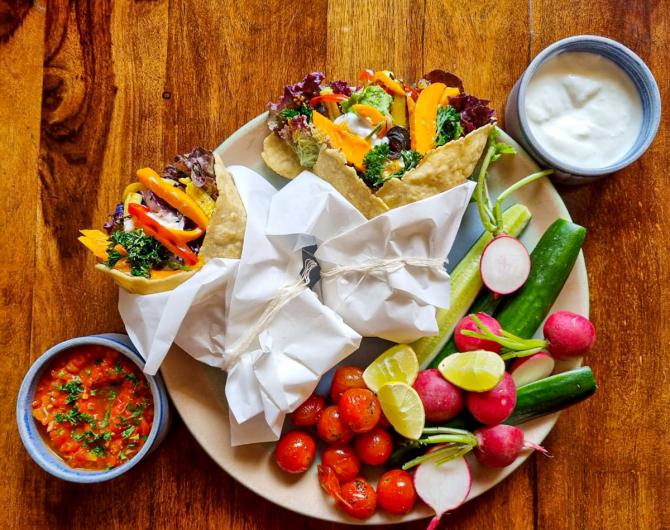 Indian-Style Mexican Burrito with mango
Servings: 5
Ingredients
1 cup refried beans, available in cans in gourmet grocery stores and online or substitute with baked beans, washed
1 cup cooked brown rice
10 lettuce leaves
1 cup sautéed thin strips baby corn
A handful of red cabbage leaves, grilled
1 red and 1 yellow capsicums or bell peppers, sliced and grilled
1 ripe avocado, sliced and limed
2 ripe mangoes, sliced
½ cup parsley, grilled in olive oil with salt and pepper
10 garlic pods, sliced and sauteed
15-20 slices jalapenos
6-7 black olives, sliced
5 tsp and 5 tbsp sour cream for dressing and serving
1 cup salsa for dressing and serving (made from chopped raw tomatoes, chopped jalapenos, chopped red onion, chopped fresh dhania/cilantro and lime juice)
Salt to taste
A dash of pepper powder
5 tortillas, easily available in grocery stores or online
2 limes, cut into halves
Method
Place the readymade tortilla on a plate.
Place 2 of the lettuce leaves on top of it.
Spread 1 tbsp of the refried beans, followed by 1 tbsp of the brown rice.
Add a few strips of the baby corn, few slices of the bell peppers, 1 or 2 red cabbage leaves and some of the grilled parsley.
Add a slice of the limed avocado and a few mango slices.
Top it with a little of the sauteed garlic, jalapenos and olives.
Add the 1 tsp of sour cream, 1 tsp of tomato salsa, a squeeze of lime, some salt and pepper to taste.
Fold up the tortilla. Fill all the other tortillas in the same way.
Serve with a vegetable salad, more tomato salsa and a tbsp sour cream for each burrito.
Vindhya Karwa posts vegan and vegetarian recipes under the Instagram handle @vinsplate.&