Serve as a delightful side, this fresh, nutrient-filled shrikhand by Maharaj Jodharam Choudhary, who works for the Khandani Rajdhani restaurant group.
You can also have it for breakfast along with poori or chapatti. Packed with nuts, it is delicious.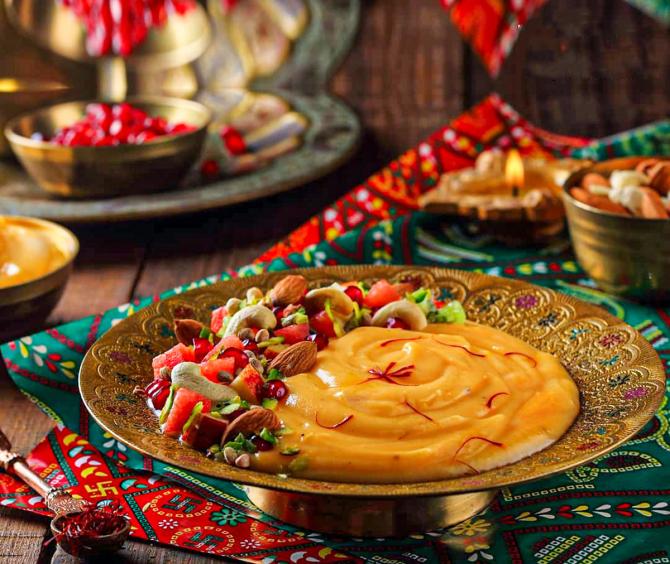 Photograph: Kind courtesy Khandani Rajdhani
Serves: 5-6
Fruit Shrikhand
Ingredients
2 cups plain fresh yoghurt (it should not be sour)
¼ cup powdered sugar or more as per taste
Few strands kesar or saffron, crushed in a mortar and pestle
1 tsp milk
¼ tsp elaichi or green cardamom powder
4-5 cashews, finely chopped
4-5 badam or almonds, finely chopped
4-5 pistachios, finely chopped
Method
For the hung curd
Take a deep bowl and a channi or strainer. Choose a bowl that is deep enough such that when the strainer sits over it, it does not touch the bottom of the bowl.
Place a muslin cloth over the strainer and pour the fresh yoghurt into it.
Gather the edges of the cloth to make a potli or pouch, and slowly start squeezing the cloth with your hands.
Tie the edges together and give the potli another good squeeze.
Store the bowl, along with the strainer and the potli in the refrigerator for 4-5 hours or overnight.
After all the liquid has drained out, you will be left with thick yoghurt. Discard the liquid. Transfer the hung curd into a small bowl and again store it in the fridge for a little longer.
In another small bowl, warm the milk for a few seconds in the microwave.
Add the crushed saffron to the milk and stir.
Add the saffron milk to the hung curd.
Add the sugar and give it a good mix. Make sure that there are no lumps.
Do not whisk or stir continuously or it will become runny.
Add the cardamom powder, chopped nuts and mix.
Refrigerate and have by itself or serve with poori or chapatti.