Interesting snacky sides for a lazy weekend brunch by Chef Sabyasachi 'Saby' Gorai, who runs his own hospitality company.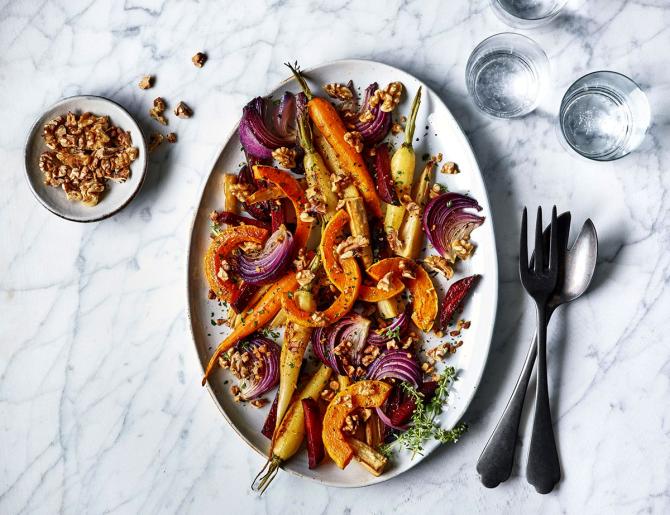 Roasted Vegetables with Walnuts and Herbs
Ingredients
½ a small red bell pepper or red capsicum, cut into 1-inch cubes
½ a small yellow bell pepper or yellow capsicum, cut into 1-inch cubes
1 medium-sized red onion, cut into 1-inch cubes,
120 gm mushrooms, halved
1 tbsp extra virgin olive oil
¼ tsp sea salt or Himalayan pink salt
¾ cup snow peas
1 small zucchini, sliced
1/8 kg yellow summer squash or unripened lal bopla or kadu, sliced
2 pods garlic, minced
2 tsp balsamic vinegar
2 tbsp snipped fresh basil
½ cup walnuts, coarsely chopped
Method
Preheat the oven to 200°C.
Toss the bell peppers, onion, zucchini, squash and mushrooms in a large bowl with the olive oil and salt.
Place in a single layer on a large baking sheet. Make sure not to crowd the vegetables.
Cook for 10-20 minutes in the oven till lightly roasted and the heat has taken off the raw edge to the vegetables.
Take out of the oven. Add the snow peas, garlic and toss lightly.
Top with the walnuts and roast in the oven for 5 to 10 minutes more or until all vegetables are crisp but tender and the walnuts are toasted.
Drizzle with balsamic vinegar and toss well.
Garnish with basil. Serve warm.
---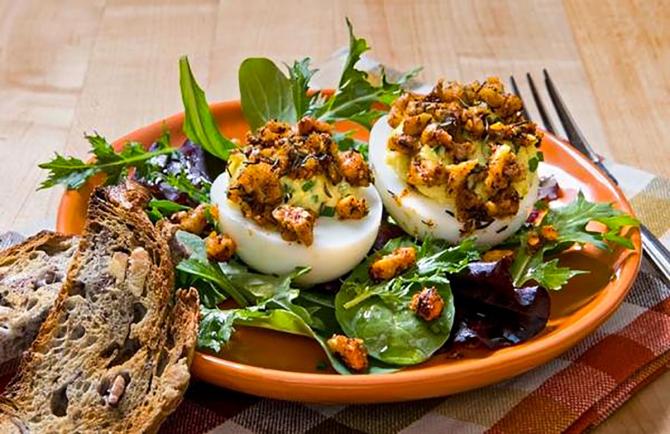 Devilled Eggs with Cajun Spice Walnut Crumb Topping
Ingredients
8 eggs, hard-boiled
2 tbsp water
2-3 tbsp mayonnaise
1-2 tsp mustard paste
Salt to taste
A dash of pepper powder
Walnut crumb topping, recipe below
1-2 tbsp very finely minced chives, optional
For Cajun-style walnut crumb topping
1 tbsp extra virgin olive oil
1 tsp thyme, dried
¼ tsp garlic powder
1 tsp paprika, smoked or the regular variety
1 cup walnuts, finely chopped
¼ tsp salt
Few dashes of cayenne pepper, optional, available in gourmet food stores or online, or substitute with chilly powder
Method
For Cajun-style walnut crumb topping
Heat the oil in a medium-sized skillet over medium-low heat.
When the oil is warm, add the spices and stir until they are completely coated.
Add the walnuts and salt, and keep stirring.
Stir and cook over medium-low heat for another 5 to 8 minutes or so, until the walnuts are toasted.
Be careful not to burn the chopped walnuts.
Stir in the cayenne as per taste, if desired, and take off heat.
When cool, store in a tightly closed jar, in the refrigerator until use.
Assembly
Peel the eggs, and halve them lengthwise.
Remove the cooked yolks, and transfer yolks to a bowl.
Add 2 tsp of water, and mash with a fork.
As you mash, add the mayonnaise, mustard, salt and pepper.
Continue to mash until the mixture becomes very smooth. Alternatively, use a food processor.
Arrange the egg whites on a large tray.
Carefully and slowly, using a teaspoon, begin to fill each halved egg white with the filling (see picture above) and distribute the filling evenly.
Sprinkle the chives and the walnut crumb topping over the filled eggs. Serve cold or at room temperature, plain, or on toast or with a salad.