Mumbai food blogger Manasi Sadarangani shares an easy recipe to make tasty momos using the two-fold technique.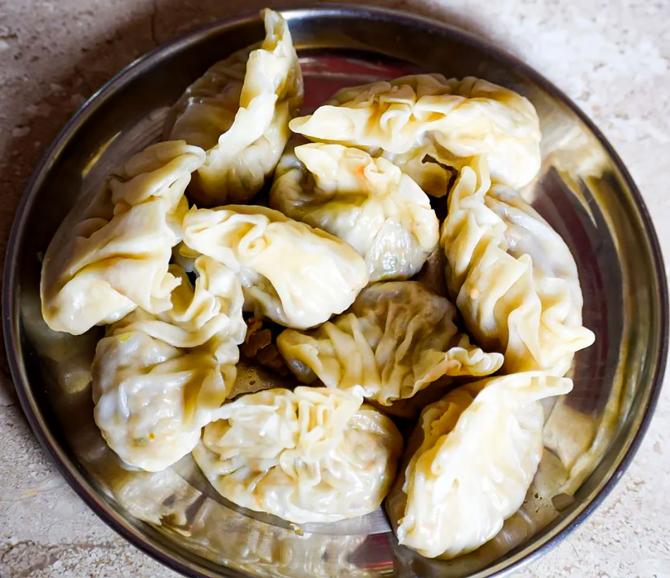 Vegetable Momos
Servings: 8-10 portions
Ingredients
For the dumpling dough
1 cup maida or all-purpose flour, sifted
½ tsp oil
Salt as per taste
Water as per requirement
For the vegetable stuffing
1 tbsp oil
3 to 4 pods garlic, finely chopped
1 medium onion, finely chopped
½ cup finely chopped cabbage
1 carrot, finely chopped
1 or 2 green capsicums, finely chopped
1 tsp soy sauce
½ tsp black pepper powder
1 tsp Szechuan sauce (optional)
1 tsp tomato ketchup
Mozzarella cheese, grated, as per requirement (optional )
Salt as per taste
Oil for greasing the steamer or cooker tray
Szechuan or chilly-garlic sauce for serving
Method
For the dumpling dough
Mix the flour, salt and oil.
Add water bit by bit and knead to make a firm dough.
Cover the dough and keep aside for 15-20 minutes.
For the vegetable stuffing
Heat the oil in a kadhai or a wok.
Add the chopped garlic and saute for 2-3 seconds on medium to low heat.
Add the chopped onion and saute for 10-15 seconds.
Add the balance finely chopped vegetables.
Turn up the heat and stir fry the vegetables for 4-5 minutes.
Add the soy sauce, tomato ketchup, pepper and Szechuan sauce, if using, and lower heat.
If you would like cheesy momos then can add the mozzarella cheese now.
Add salt as per your taste and turn the heat off.
Keep the stuffing aside until it cools completely.
Assembly and steaming
Make small balls out of the dough.
Flatten or roll the balls into small 4 to 5-inch circles. The edges must be thin and the centre thick.
Place 2 to 3 tsp of the stuffing in the centre.
Start gathering and pleating the edges together slowly and join all the pleats in the centre.
Another simple technique is to shape the momos like the traditional Indian sweet, the karanji.
When all the momos are assembled, heat water in a steamer.
You may also opt for an idli mould in a pressure cooker and place each momo in each idli mould.
Add water as required in the steamer/cooker.
Grease the steamer tray/idli mould and arrange the momos, so they are not touching each other.
Cover and steam for 10-12 minutes, till the outer skin becomes transparent.
Don't overcook the momos or they will become chewy.
Serve the momos with red chilly-garlic chutney/sauce or spicy Szechuan sauce.
NOTE: Instead of using the vegetables listed under the ingredients in this recipe, you can add other vegetables of your choice like spring onion, lettuce, yellow or red bell pepper, red cabbage and/or white button mushroom.