Seafood lovers, here's a delightful recipe for a mid-afternoon snack shared by Nadiya Sarguroh.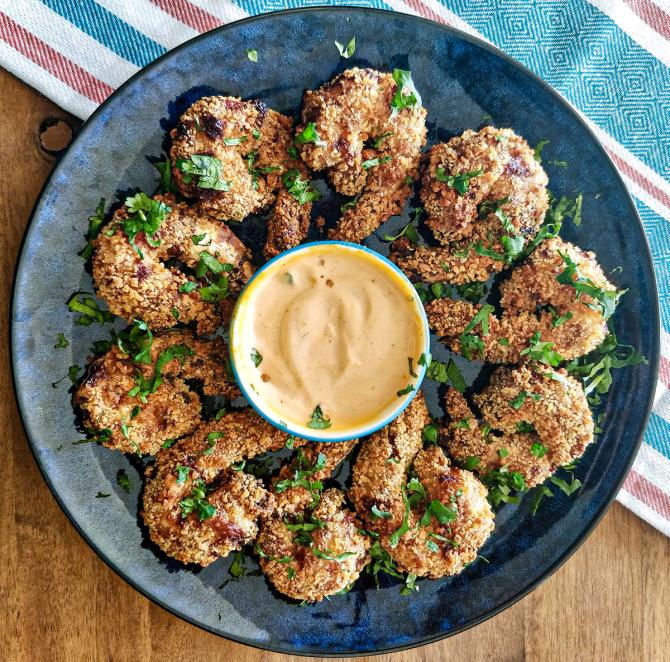 Crispy Panko Prawns
Serves: 4
Ingredients
250 gm king prawns, cleaned and deveined

¼ tsp black pepper powder

1 tbsp sriracha sauce, or as per taste

2 eggs, lightly beaten

⅔ cup maida or all-purpose flour
1 cup panko crumbs, now readily available in specialised food shops (can be substituted with cream cracker crumbs or bread crumbs, prepared by grinding lightly toasted bread in a mixer)

Salt to taste

Oil for cooking
Method
Put the cleaned and deveined prawns in a bowl.
Add the black pepper powder, sriracha sauce and salt.
Mix well until well coated.
Set aside for 30 minutes.
Sprinkle the flour onto a plate.
Keep the egg mixture handy in a bowl.
Roll the prawns in the flour, and then dip in the lightly beaten egg mixture.
Coat it with panko crumbs.
Fill the prawns in an air-fryer basket and drizzle with oil.
Cook at 180°C for 20 minutes.
Carefully turn the prawns after 10 minutes and let the other side cook too.
Alternatively, you can choose to deep fry the prawns in a kadhai or wok in hot oil.
Serve with garlic mayonnaise or aioli or mustard-spiked mayonnaise.
Nadiya Sarguroh lives in Mumbai and publishes the food blog HautePot.