Spanakopita is a classic Greek savoury pie filled with the goodness of spinach and cheese, encased in a crispy pastry.
It's a great breakfast option, especially with a tomato salad on the side, and you will find several versions of it.
Food blogger Nadiya Sarguroh has an enticing recipe.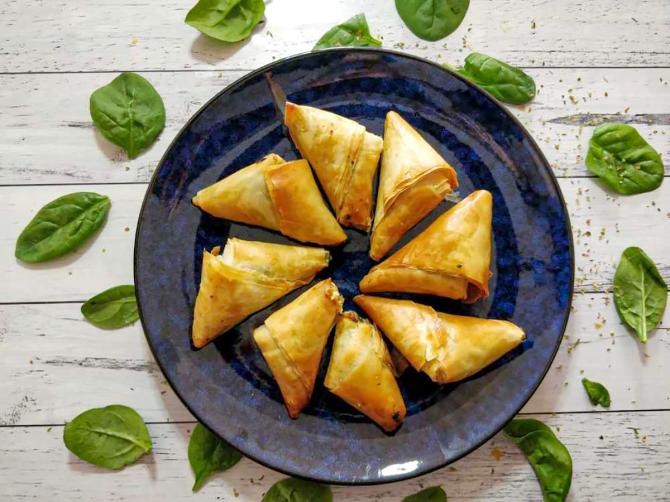 Spanakopita
Makes: 6-8 triangles
Ingredients
1 medium onion, finely chopped
280 gm fresh spinach leaves
4 sheets of filo or phyllo pastry, thawed 45-60 minutes, if frozen (sheets are easily available in stores)
1 tbsp extra virgin olive oil
Salt to taste
Oil for greasing baking tray and filo/phyllo sheets
For the filling
½ cup cottage cheese (since cotttage cheese is rarely available in India, substitute with an equal mixture of ricotta and paneer or an equal mixture of hung curd and paneer)
½ cup feta cheese, crumbled
2 tbsp finely grated parmesan cheese
1 egg
1 tsp dried oregano or less
¼ tsp black pepper, crushed
½ tsp red chilly powder
Method
In a colander wash the spinach leaves well.
Squeeze excess water, pat dry and roughly chop. Keep aside.
Heat the olive oil in a large flat frying pan over low heat. Do not allow it to smoke.
Add the finely chopped onions and fry until softened.
Add the spinach leaves and cook until it looks wilted. Remove from heat.
In a large bowl add all the filling ingredients along with the cooked spinach and onions.
Add just a pinch of salt and mix well.
Taste the mixture and adjust the salt as feta cheese can be quite salty.
Preheat the oven to 180°C and brush a baking tray with oil.
If using an air fryer, preheat to 180°C and lightly brush the basket with oil.
On a cutting board, place the 4 filo sheets on top of each other.
Don't forget to brush each sheet with oil and avoid pressing the sheets down.
Using a pizza cutter, cut the sheets, parallel to the short edge into 8 equal strips.
Add about 1 tsp of filling on one end of the sheet and keep folding diagonally to make a triangle.
Repeat for all strips.
Place all the 8 triangles on the baking tray and bake for about 30 minutes, until golden.
If using an air fryer, cook for 15 minutes or until golden brown at 180°C.
Leave to cool. Serve with a Greek tomato salad or a chickpea salad.
Nadiya Sarguroh lives in Mumbai and publishes the food blog HautePot.