Topped with caramel, these sinful bars of chocolate by Delhi-based Chef Sabyasachi 'Saby' Gorai make for a yummy treat.
The celeb chef, who owns a hospitality company, also offers his special spaghetti recipe.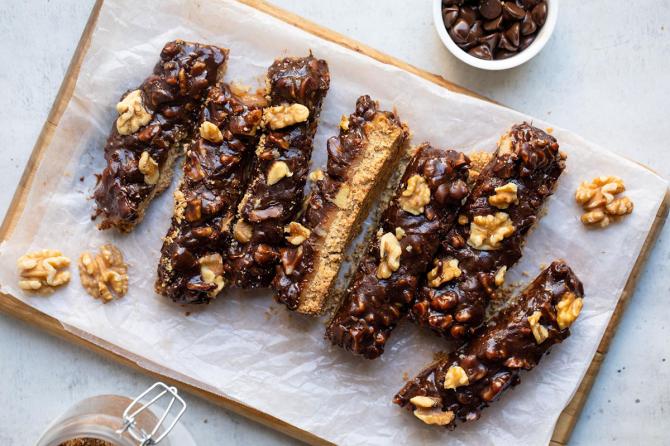 Walnut Caramel Chocolate Bars
Serving: 8 bars
Ingredients
For the crust
1 cup walnuts
½ cup gluten-free maida or all-purpose flour or regular flour/maida
3 tbsp vegan or regular butter (almond or cashew butter is vegan butter and is available in gourmet stores or online)
1 tbsp maple syrup, easily available
1 tbsp coconut sugar (sugar derived from the sap of the coconut palm, available in gourmet food stores and online)
For the vegan caramel
¾ cup coconut cream, easily available in cans or tetrapaks
¼ cup maple syrup
2 tbsp coconut sugar
1 tsp vanilla essence
1/8 tsp salt
For the chocolate walnut fudge
1/3 cup coconut sugar
1 tbsp coconut oil
1 tbsp water
¼ cup coconut cream
½ cup semi-sweet chocolate chips
1 tsp vanilla essence
¼ tsp salt
2 cups coarsely chopped walnuts
Method
Preheat the oven to 180°C and line a 9 x 5-inch loaf pan with parchment paper (or foil or butter paper).
Place all crust ingredients in a food processor and pulse for 30 seconds or until it's a crumbly consistency.
Spread in the prepared loaf pan and press down firmly to make a single even layer.
Bake for 22 to 25 minutes or until the edges have just started to brown. Take out of the oven and cool.
While the crust is baking, add all the caramel ingredients in a small saucepan and bring to a boil.
Reduce heat to low and simmer for 25 minutes, stirring frequently to avoid burning. Take off heat and let the mixture cool slightly.
The mixture should now coat the back of a spoon and be reduced to half a cup.
Pour over the cooled crust and refrigerate the coated crust for 20 minutes.
To prepare the chocolate walnut fudge, in a small saucepan bring to a boil the coconut sugar, coconut oil and water.
Reduce heat and simmer for 3 minutes. Stir in remaining ingredients.
Spread over the caramel layer and refrigerate for at least 4 hours or overnight.
Remove from the pan and cut into thin slices. Store in the refrigerator and serve cold.
---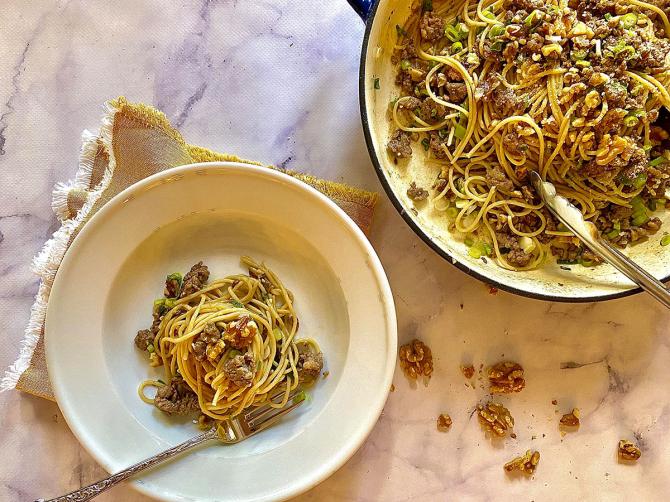 Spaghetti with Sausage, Walnuts and Green Onions
Serves: 2
Ingredients
¼ cup extra virgin olive oil
220 gm sausage
½ cup walnuts, finely chopped
2 pods garlic, minced
2 small pinches red chilly flakes
1 cup chicken stock
1 tbsp white wine vinegar, available in gourmet food stores and online
Salt to taste
340 gm uncooked spaghetti
½ cup thinly sliced green onions
½ cup grated Parmesan cheese, available in gourmet stores or cheese boutiques
Method
Bring a large pot of liberally salted water to a boil.
Add the pasta and cook according to package directions to al dente -- not too soft.Al dentemeans 'to the tooth' or pasta that has a bite to it.
Packets of pasta usually have their cooking time listed on them. To make a pasta al dente, subtract one minute or 1.5 minutes from the cooking time.
Set aside a small amount of pasta cooking water and then drain pasta in a channi or colander that you have kept already ready in the sink or over a pot.
Run it under cool water. Keep aside.
Heat oil in a very large heavy bottom pan over medium-high heat.
Add the sausage and break into small pieces with the back of a spoon.
When sausage is almost fully cooked, add the walnuts.
Cook for a few minutes more or until sausage is cooked and walnuts are toasted and fragrant.
Stir in the garlic and red chilly flakes.
Add the stock, vinegar. Cook until at least the half of the liquid has boiled off and sauce is thickened.
Stir in the butter and season with salt and pepper.
In a pan over low heat, add pasta along with the sauce and a small amount of pasta water.
Toss well so that the pasta is coated with the sauce.
Let the pasta cook for a few minutes more.
Season with salt and toss with green onions and half the cheese.
Serve in pasta bowls and garnish with remaining cheese.