Creamy and utterly delicious, whip up this mousse recipe, by food blogger Sangita Agrawal, to make your family dinner extra special.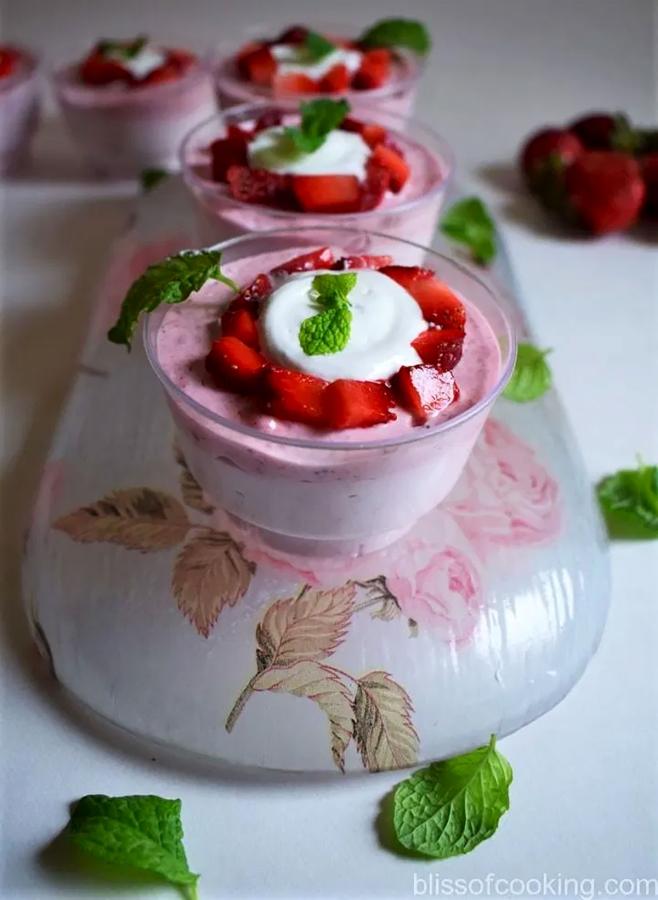 Strawberry Cream Cheese Mousse
Servings: 8 to 10
Ingredients
4 tbsp sugar
200 gm fresh strawberries, stems and leaves removed
200 gm cream cheese
4 cups chilled cream
6 tbsp + 3 tbsp powdered sugar
10 strawberries, stems and leaves removed, chopped for the topping
A few mint leaves, optional
Method
Over medium heat, in a thick-bottomed pot, boil the 200 gm fresh strawberries and the 4 tbsp sugar.
Cook till the sugar syrup starts to thicken.
Take off heat and let the strawberry-sugar mixture come to room temperature.
Transfer to a food processor and puree. Refrigerate the strawberry puree.
In a bowl whip the cream cheese and 6 tbsp of the powdered sugar till fluffy. Keep aside.
Divide the chilled strawberry puree (from the fridge) into two parts. Add one part to the cream cheese mixture. Mix well.
In another bowl whip the cream with an electric beater or food processor till it forms soft peaks, adding the 3 tbsp powdered sugar gradually.
Take care not to whip extra or it will turn into butter.
Fill ½ cup of whipped cream in a piping bag with a star nozzle and keep aside.
Gently fold the whipping cream into the cream cheese mixture.
Spoon this mixture to fill 8-10 small bowls. Fill only half the bowl for the first layer.
Add the strawberry puree as the second layer and top with the whipped cream from the piping bag.
Use the whipped cream in the piping bag to decorate the top layer of the mousse.
Refrigerate the mousse bowls for four hours to allow the mousse to set.
Garnish with strawberries and mint leaves before serving (please see the picture above).
Sangita Agrawal publishes the food blog Bliss of Cooking.