Food blogger Manasi Sadarangani shows you easy and quick baking chocolate cupcakes is.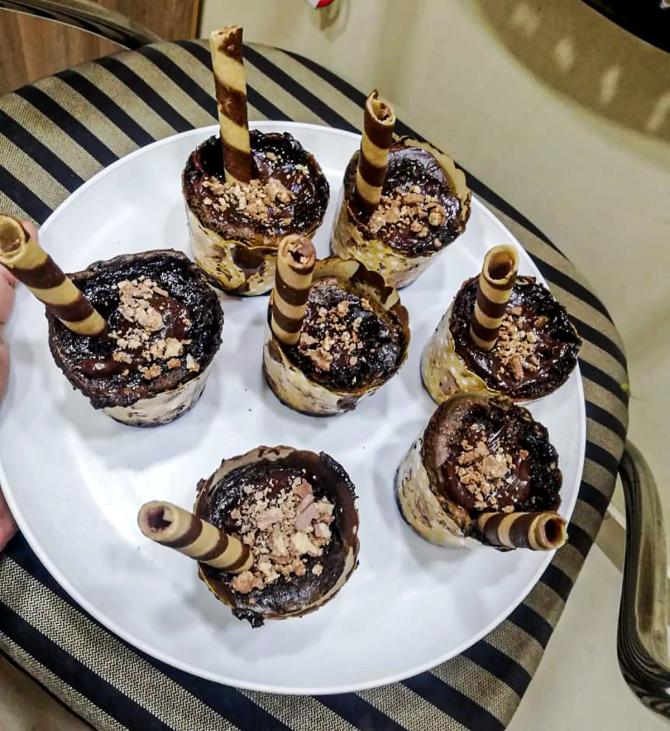 Eggless Chocolate Cupcakes
Yields: 7 cupcakes
Ingredients
1 cup hot chocolate premix (easily available in grocery stores; if you don't get a premix, substitute with ¾ cup maida or all-purpose flour + 2 tbsp cocoa powder)
¼ tsp baking powder
2 tbsp butter
½ cup castor sugar (a kind of finer sugar manufactured by top baking brands. Don't add sugar if the chocolate premix has sugar)
¾ tsp chocolate essence or vanilla essence
1 tbsp chocolate/brown food colour
1 cup milk
6-7 metal or silicon muffin cups lined with greased butter paper or greased butter paper muffin cups
2-3 tbsp whipped cream or creamy milk, optional
Method
Preheat the oven to 180°C for 15 minutes.
In a large bowl, sieve the chocolate premix (maida and cocoa powder if you're not using a premix) and baking powder. Keep aside.
Whip the butter and sugar with a blender or an electric mixer.
Add the vanilla essence, food colour, the 2-3 tbsp whipped cream/milk (optional) and mix again.
Add the butter-sugar mixture to the larger bowl which has the chocolate premix and baking powder.
Add the milk and mix the batter well.
Fill the muffin cups ¾ with the batter and bake for 15 minutes.
Insert a toothpick to check if the cupcakes are done.
Let them cool and serve with a scoop of vanilla ice cream and wam chocolate sauce.
You may also decorate with chocolate sticks (please see the picture above).