This recipe by food blogger Sangita Agrawal is an improvised version of the classic chaas and incorporates a smoky flavour into the refreshing summer drink.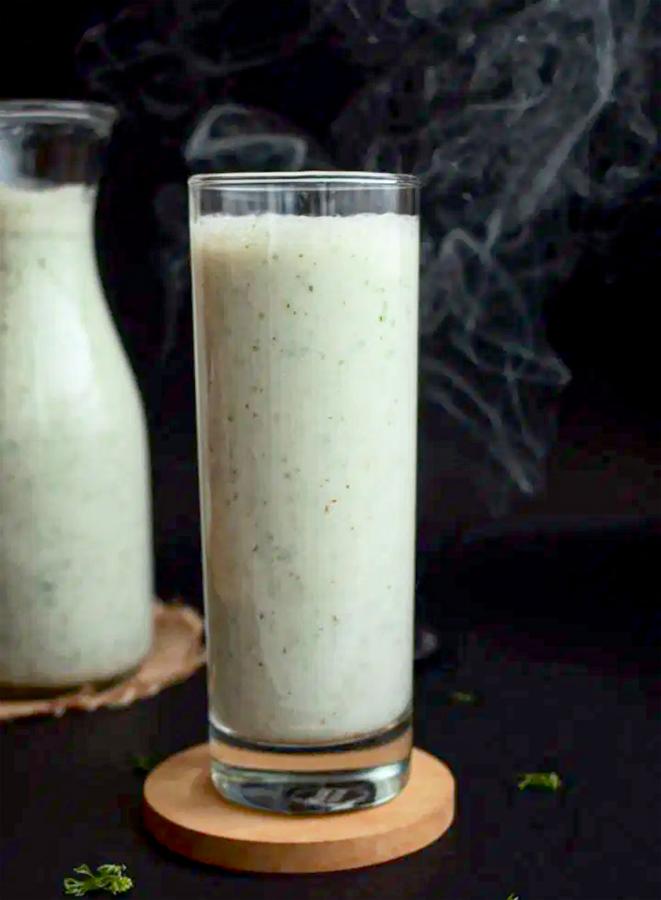 Smoked Masala Chaas
Serves: 4
Ingredients
1½ cup plain dahi or yoghurt
1 green chilly, chopped
3 cups of water
½ tsp chopped ginger
1 tsp roasted jeera or cumin powder
1 tsp kala namak or black salt
Salt to taste
1 tbsp green dhania or coriander or cilantro, finely chopped
For the smoky flavour
1 piece of charcoal
4 to 5 drops of ghee or clarified butter
A pinch of red chilly powder
A small pinch hing or asafoetida
A small steel bowl
Method
Blend all the ingredients except water, in a blender till smooth.
Add the water and blend again.
Adjust the salt and seasoning as per taste.
Transfer the chaas into a flat, broad container, such that another smaller bowl can be placed inside it without toppling over.
Use a cake tin or a baking tray.
Heat a piece of charcoal till it turns reddish hot.
Place the charcoal ino the smaller steel bowl, and place it inside the big bowl of chaas.
Try and place the bowl is such a manner that it doesn't topple over.
In the small bowl, add the ghee, hing, red chilly powder and cover the larger container/bowl with a large plate.
Do things quickly while the charcoal is hot, otherwise, the smoke will not be enough to flavour the chaas.
After 5 minutes, take off the the plate and take out the small bowl and discard the masala (the hing etc).
Pour the smoked chaas into a tall glass and serve.
Sangita Agrawal lives in Mumbai and publishes the food blog Bliss of Cooking.