In Indranee Ghosh's latest book Spiced, Smoked, Pickled, Preserved, you'll discover a delectable selection of family recipes passed down over three generations.
The culinary guide features over 70 recipes and it brings together vignettes from the author's youth in the densely forested Khasi Hills of Meghalaya and then in Bengal's hills.
Be prepared to go on a food adventure and treat yourself to a mix of recipes from the Bengali, Khasi and Nepali cuisine -- from fermented delicacies like shidol in pumpkin leaves, pan-roasted telapiya to mouth-watering pork in plum sauce.
Whether you are a fine cuisine lover or comfort-food enthusiast, this book will take you on a culinary adventure.
Presenting an excerpt and three traditional recipes for you.
But first the author, in her own words, about the emotions and rationale behind her book:
'This memoir about a place, people and food is placed in the east of India, specifically in Shillong, in the Khasi and Jaintia hills.
It recalls a time when life was quite different from what it became for many of us now in our sixties and seventies, who grew up there, and later descended to the plains and cities in other states, away from what had once been their home.
It recalls a past that our children have not seen and is lost to us forever. But what we as a family have not lost is the food we ate -- it may be a little modified according to the availability of produce, but its essence remains the same.
It is perhaps the only thing that connects us to our roots and remains an active source of comfort. It is also a tangible legacy to our children.
Our food comes with our stories, unwritten and unsung, that record the times and lives of my family spanning three generations, from about the beginning of the last century up until the formation of Meghalaya in 1972.
I was born in the Welsh Mission Hospital in Shillong, in the care of Dr Hughes, a household name for his expertise and kindness, and I lived there till I was 20.
The neighbourhood I grew up in was mixed, both in terms of class and community -- we were among the very few Bengali families living on the western edge of town.
My parents came from the two parts of Bengal. My mother's family, originally from Jessore (now Jashore, in Bangladesh), had been settled in Kolkata for two generations.
Towards the end of the first decade of the last century, my maternal grandfather took up work with the Brahmo Samaj and moved to Cherrapunji and housed his wife and children in Shillong because Cherrapunji was then a wilderness.
Migrating from Kolkata to the hills was not uncommon then, and many moved for reasons other than the missionary zeal that drove my grandfather.
The climate, the pine and cedar forests, the fresh and unspoilt beauty of the hills made many want to settle there.
Breathing pine-scented air was considered good for the lungs, and perhaps for that reason, both Shillong and Darjeeling were popular locations for tuberculosis sanatoriums.
Besides, both hill stations had a certain sophistication, one of them the capital of Assam since colonial rule and the other the summer capital of Bengal.
This suited the urban and the urbane: a perfect mix of country and club life for those so inclined.
On my father's side, the story was different. Coming from what was once a rich, landowning family, the Datta Chowdhuries of Richi in the Habiganj district of Sylhet went through a series of familial crises and found themselves quite impoverished, such that my father, the eldest son in the family, had to forgo a career in engineering and study economics at Scottish Church College in Kolkata.
He taught economics for a time after that and then decided to move to Shillong in the mid-1930s to set up business with a cousin.
The used-car dealership they ran did not do badly at all, and then he met my mother and decided to marry and settle down.
He bought the house my sister and I grew up in between the end of 1939 and the beginning of 1940.
It had a pristine, ideal location away from the town centre, and it was close to my maternal grandmother's house, where my mother was -- just two hills away.'
Ghosh goes on to reminisce about her blissful childhood in Shillong that would make any reader of Spiced, Smoked, Pickled, Preserved feel they must catch the first plane to Shillong (which is reachable by air and road) to experience the heavenly place she has described in such special detail, except that would also involve going back in time, for which there is no machine/vehicle.
The author goes on to wryly remark that according to a common Bong joke all Bengalis spend both their waking and sleeping moments thinking about food.
Her family's life in Shillong meant that they cooked a mix of both Bengali and local cuisine and the recipes below reflect that: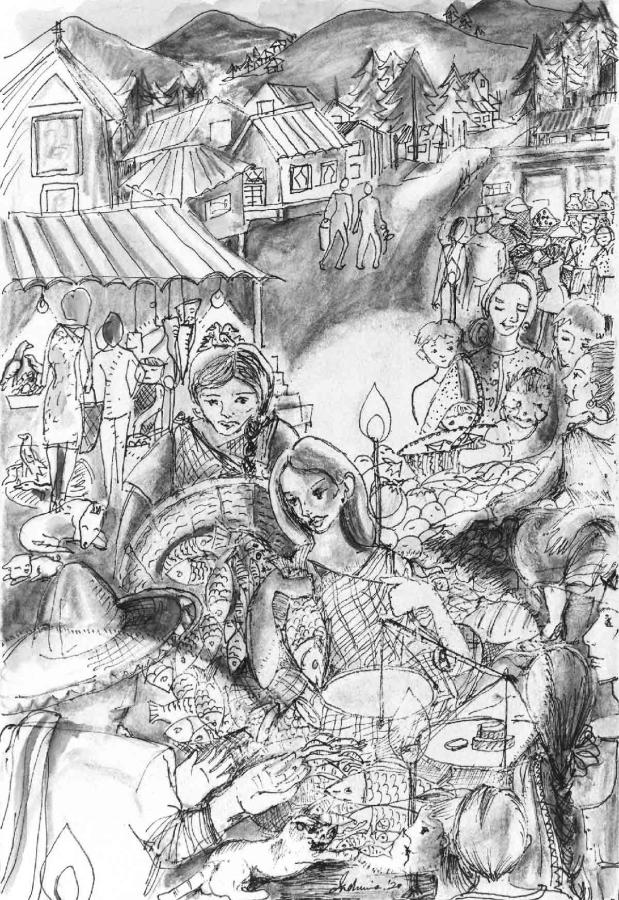 ---
Kucho Chingri Kingba Ilisher Matha Diye Pui Saag or Vine Spinach with Shrimp or Hilsa Heads
Known in Bengah as pui saag, this green has thick, pulpy, bright green leaves and resembles a succulent.
Pui grows everywhere, both in the hills and the plains. It should be eaten while the stalks and leaves are tender because they tend to secrete a slime as they grow older.
Ingredients
3-4 young vine spinach stalks with leaves
2 medium-sized potatoes
3 tbsp mustard oil
250 gm shrimp/prawns or hilsa heads
2 onions, chopped
1 tsp haldi or turmeric powder
Salt to taste
Method
Thread and chop the vine spinach and cut the potatoes into longish pieces. Set aside.
Heat the oil in a kadhai till it is smoking and saute the shrimps till they are pink, and set aside.
In the same oil, fry the onions till golden brown.
Add the potatoes and saute for 2 minutes.
Add the greens, turmeric powder, salt, and mix well.
Cover and cook on medium heat till the juices are absorbed.
Put the shrimp back into the pan with a little water and cook till the vegetables are soft and the juices mixed well.
If using hilsa heads instead of shrimp, fry the head and tail of the ilish till it is well browned. Follow the same method for the hilsa heads as you did for the shrimps.
Before taking the fish out of the kadhai, break the fish up with a spatula and mix well.
---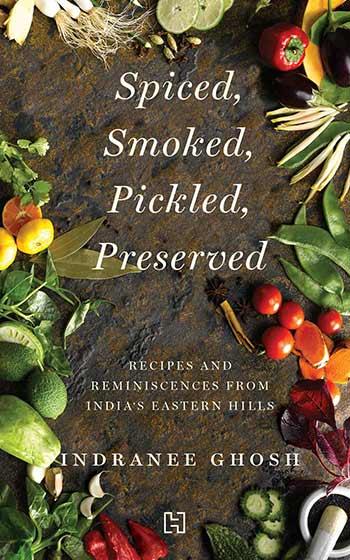 Aloordal or Potato Dal
If you ever run out of lentils, this is a handy dal made with potatoes.
Ingredients
500 gm potatoes
2 tbsp ghee
½ tsp kalo jeera or kalonji or onion seeds
2 dried red chillies
2 1-inch sticks of cinnamon
Dhania or green coriander leaves, optional
Chopped tomato, optional
Method
Cook the potatoes and mash them.
Add a little water, approximately 1½ cups, to make a thick soup.
Heat the ghee in a kadhai and add the onion seeds, dried red chillies and cinnamon.
Add this to the potato mix and stir.
Garnish with coriander leaves and chopped tomato.
Serve with chappatis.
---
Kheerkomla or Tangerine Payesh
Ingredients
2 large keenu or tangerines, preferably not juicy and squishy
1 l full-cream milk
1 cup sugar or a sweetener of your choice
Method
Peel the tangerines, separate the segments and pull out the insides carefully so as to preserve their shape.
If you have only juicy tangerines around, it doesn't matter too much -- just get rid of the skin, seeds and pith.
Set the milk to boil in a heavy-bottomed kadhai. Once it starts boiling, reduce the heat to simmer.
Stir it often with a wooden spatula to keep it from forming a skin.
Keep the spatula in the kadhai to prevent the milk from boiling over.
When the milk has reduced by half, add the sugar and mix well.
Cook for 10 minutes or till the bubbling is audible and the bubbles are large.
When the payesh cools, add the tangerine and cover.
Don't add the tangerine before the milk has cooled, as this might lead to it curdling.
---
Excerpted from Spiced, Smoked, Pickled, Preserved by Indranee Ghosh with the kind permission of the publishers, Hachette India.