Swarupa Dutt shares her special recipe for Shoshar Torkari, a light, non-spicy dish made with cucumbers.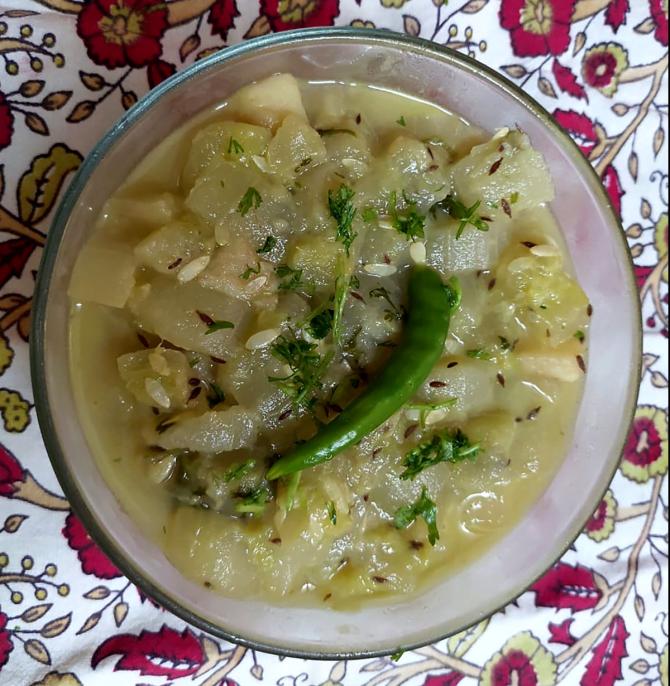 "It is eaten any time of the year, but even better during summers," says Swarupa.
"Since we don't have a winter south of the Vindhyas, now is as good a time to make this."
Shoshar Torkari
Ingredients
5 large cucumber
1 large or 2 small potato
1 tsp ginger paste
A pinch of jeera seeds
A pinch of jeera powder
1 + 1 green chilli
1 or 2 bay leaf
2 tbsp or less oil
Quarter cup milk
1 tbsp wheat flour or refined flour
Note: Turmeric is not used in this dish.
Method
Wash the cucumbers and the potatoes and peel.
Cube cucumbers. Cut it lengthwise, twice (if the cucumbers are large), and then chop into cubes. They should be mid-sized (neither big, nor small).
Chop the potatoes in small cubes.
In a kadai, put any vegetable oil (not coconut or mustard oil), preferably odourless.
Temper with bay leaves, 1 green chilli and whole jeera seeds.
Add the potatoes and saute a bit till lightly golden.
Add the cubed cucumbers and saute on high flame for 2 minutes.
Add the ginger paste and salt.
Add the jeera powder.
Mix well, lower the flame and cover with a lid.
The cucumbers will start releasing water so you don't need to add any water. Just ensure the flame is on low.
When the potatoes are soft, you will find, so are the cucumbers.
Add the sugar to balance the sourness of the cucumbers.
Dissolve the maida in the milk and it to the kadai.
Increase the flame, bring to a boil and stir gently, for 30 seconds or less, basically till the maida-milk mix comes to a boil.
What this does is gives the gravy a nice rich consistency, so that it's not runny.
The torkari should not be reduced to a mash.
Switch off the gas, add a daub of clarified butter or ghee (optional).
Sprinkle with chopped coriander and the remainder of the whole green chilly. Serve with rice or phulkas.
Note: Preferably use large cucumbers, since there is more flesh, but then, strip the seeds.
If you don't get large ones use the regular ones we use for salads, but you will need to up the numbers.
You could also add a tbsp of grated, fresh coconut once the potatoes and cucumbers are cooked. It gives the dish a nice zing.
Food value: Cucumbers are rich in vitamin K. You'll also get vitamins B and C along with minerals like copper, phosphorus, potassium, and magnesium.