Rediff reader Debjani Chatterjee shares the recipes of this delicious Bengali sweet also known as Pran Hara.
Kancha Golla is a popular sweet from the state of West Bengal made with Chena (cottage cheese).
Here's the recipe: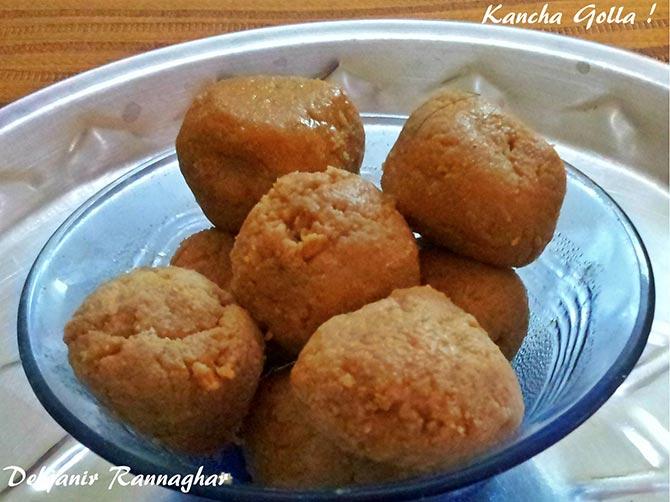 Ingredients
3 litre full cream milk
2 to 3 tbsp lemon juice
100 ml fresh cream
250 gm khoya/mawa
250 gm nolen gur (if unavailable, use same quantity of sugar)
Method
How to make chena (paneer)
Boil entire milk in a deep vessel on medium flame.
Mix lemon juice in 1 cup of water. Gradually add to boiling milk.
When milk starts curdling cook for another five minutes.
When you see water separating from the milk solid remove from flame.
Strain the water with the help of a clean cotton/muslin cloth and collect the chena.
Run fresh water over the chena for one minute to get rid of the lemon flavour.
Tie the cloth and place a weight over it for 15 minutes.
How to reduce cream
Heat fresh cream in a pan on low flame and reduce it to a thicker version (like a cold cream). Keep aside.
How to make Kacha Golla
Mash chena using your hands or in a food processor and divide it into two equal portions.
Take one portion along with nolen gur in a non-stick pan and cook on low flame for 8 to 10 minutes.
Stir continuously.
Mix the cooked chena along with the plain one, reduced cream and mawa properly.
Make small balls out of the mixture.
You may garnish the gollas with chopped dry fruits as well.
Refrigerate and serve as required.
Note: If not refrigerated, Kancha Golla should be consumed within 24 hours of preparation.
Image Courtesy: Debjani Chatterjee
ALSO SEE