When you talk about Bengali cuisine, what pops up in most non-Bengali minds is the fish and rice (maach-bhaat as it is known in Bengal).
But it is not as fishy as you think. A fabulous vegetarian spread and an amazing range of sweets are also hallmarks of Bengali cuisine.
Celebrity chef Ananya Banerjee shares four such recipes.
Aloo Dum (spiced potato curry)
Ingredients:
2 cups boiled and peeled baby potatoes
1 tsp cumin seeds
1 tsp each of haldi powder, chili powder, cumin powder, coriander powder
½ tsp garam masala powder
Paste of 1 onion, 2 tomatoes, ½" ginger, 1 chilli, 1 tsp sugar, 1 tsp roasted cumin and red chilli powder
4 tbs mustard oil
1 tbs ghee
Salt to taste
Method:
Heat 2 tbs mustard oil in a pan. Sprinkle cumin seeds and cook till light brown. Add the potatoes. Saute well. Add ½ tsp turmeric powder and salt and cook till the potatoes get a light brown colour. Keep aside.
Heat the remaining oil. Put the prepared paste and saute for 2-3 minutes. Add powdered masala of chili powder, remaining haldi powder, cumin powder and coriander powder. Add salt to taste and sugar. Saute till the masala leaves the sides of the pan. Add ½ cup water and bring it to a boil till the gravy is thick. Add ghee, garam masala, and roasted jeera-chilli powder. Served best with luchi or puri (deep fried puffed bread).
---
Korashutuir Kochuri (green peas stuffed puris)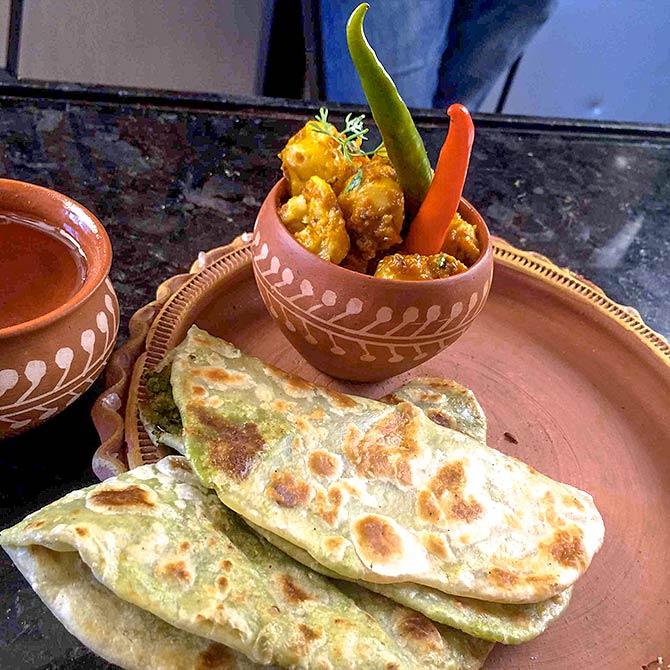 Ingredients:
For the filling:
1 cup of green peas shelled
½" piece ginger
2 chillies
1 pinch asafoetida
1 tsp sugar
Salt to taste
For the dough:
1 cup flour
1 tbs oil
½ cup water
Salt to taste
For the kochuri:
Method:
For the dough:
Mix all the ingredients from the dough and form a pliable dough. Keep aside.
For the filling:
Make a coarse paste from the filling ingredients. Heat 2 tbs mustard oil in a pan. Saute the paste till most of the moisture is evaporated and the mixture leaves the sides of the pan. Keep aside to cool.
Divide the dough into lime sized balls. Roll each dough ball into 3-inch diameter discs. Place 2 tsp filling in the centre of the disc. Bring the ends together and completely cover the filling. Repeat the process and prepare stuffed balls.
Take one stuffed dough ball. Roll out as thinly as possible, making sure that the filling does not burst out. Heat a nonstick skillet. Place the stuffed paratha. Roast from both sides till golden applying a little (about 1 tsp) oil or ghee from the sides.
Tip: Traditionally the Korashutuir Kochuri is deep-fried. You can try a healthier version by roasting it on a tawa with minimum fat.
---
Machor Ghanto
Ingredients:
1 tsp red chili powder
1 tsp cumin powder
1 tsp turmeric powder
1 tbsp raisins
Salt to taste
1 tsp sugar
1 tsp ghee
¼ tsp garam masala powder
2 tbsp scraped the fresh coconut
2-3 bay leaves
1 tsp cumin seeds
2 medium potatoes, boiled, peeled and cut into cubes
1 banana blossom (mocha) finely chopped, boiled and mashed
3 tbsp mustard oil.
Method:
Heat mustard oil in a pan, add bay leaves and cumin seeds and saute till fragrant. Add potatoes and saute till light brown.
Add boiled banana blossom and saute well. Add chili powder, cumin powder, turmeric powder and mix well. Add raisins, salt, and sugar. Mix well and cook for few minutes till everything is combined well. Add ghee, sprinkle garam masala powder and scraped coconut and mix lightly. Served best with plain white rice.
---
Misti Doi
Ingredients:
½ liter milk, boiled till reduced to 1 cup
4 tbsp sugar
2 tbsp yogurt
Method:
Heat reduced milk in a pot. Add 2 tbsp sugar and mix well till the sugar dissolves. Heat a pan, add 2 tbsp sugar and 1 tsp water and cook, stirring till the sugar gets caramelised and turn golden.
Heat milk in the pot again, add the caramel and stir it for ½ minute. Let it cool.
Add yogurt and mix well. Let it set overnight. Chill and serve.