Bookmark Chef Sabyasachi Gorai's recipe for Simple Walnut Brownies for a stress-banishing weekend of baking.
Rich in walnuts, this warm confection will cheer up your chai time.
We also suggest how you can make vegan or eggless brownies.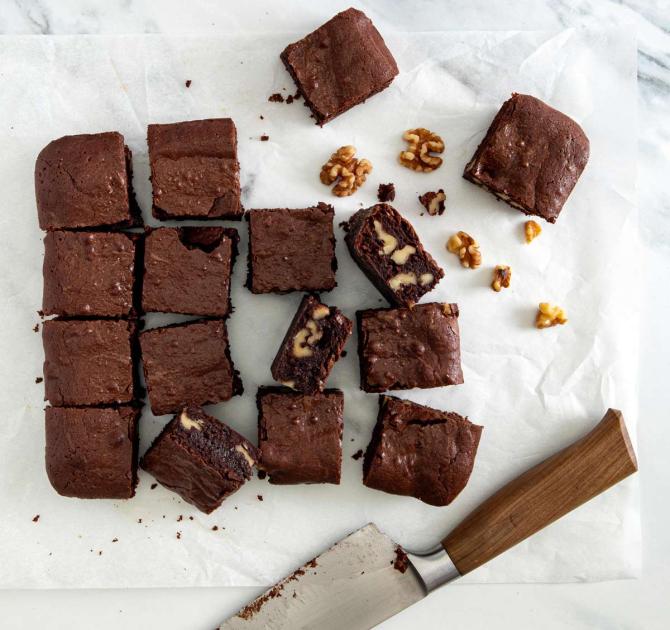 Simple Walnut Brownies
Servings: 10
Ingredients
12 tbsp butter
1 cup chocolate chips
½ cup maida or all-purpose flour
¼ cup unsweetened cocoa powder
½ tsp salt
1½ cups icing or powdered sugar
3 eggs
1 cup walnuts, coarsely chopped
Butter or oil for greasing the baking pan
Method
Preheat the oven to 180°C.
Butter an 8-inch by 8- inch square baking pan.
Melt the butter in a medium saucepan over low heat.
Take off heat and add the chocolate chips, stirring until melted.
Stir together the flour, cocoa powder, salt in a medium bowl.
In a stand mixer with whisk attachment (or with a hand mixer) beat together the sugar and eggs until pale and creamy.
Gradually add the butter-chocolate mixture in two batches and mix until just combined.
Add the flour mixture in two batches and mix until just combined.
Fold in the walnuts and spread evenly into prepared baking pan.
Bake 25-30 minutes or until a toothpick inserted comes out lightly fudgy or clean.
Cool completely before cutting into 10 pieces.
Note: Those who don't eat eggs can substitute the 3 eggs in the recipe with 1½ medium-sized bananas OR 3 tbsp flaxseeds + 9 tbsp water.
Vegans may also substitute the butter for cashew butter [external link] and use vegan chocolate chips/buttons available online.
Chef Sabyasachi Gorai is a consultant chef and mentor.