Go all out this weekend and treat yourself to an irresistible chocolate cake and a crunchy tart.
Made in the microwave with jaggery, cocoa powder and yoghurt, the eggless Quarantine Chocolate Cake is a fuss-free dainty.
The Chocolate and Salted Caramel Almond Oat-Crusted Tart is topped with frozen berries, fresh seasonal fruit or chocolate shards, and a sprig of fresh mint for that pop of colour.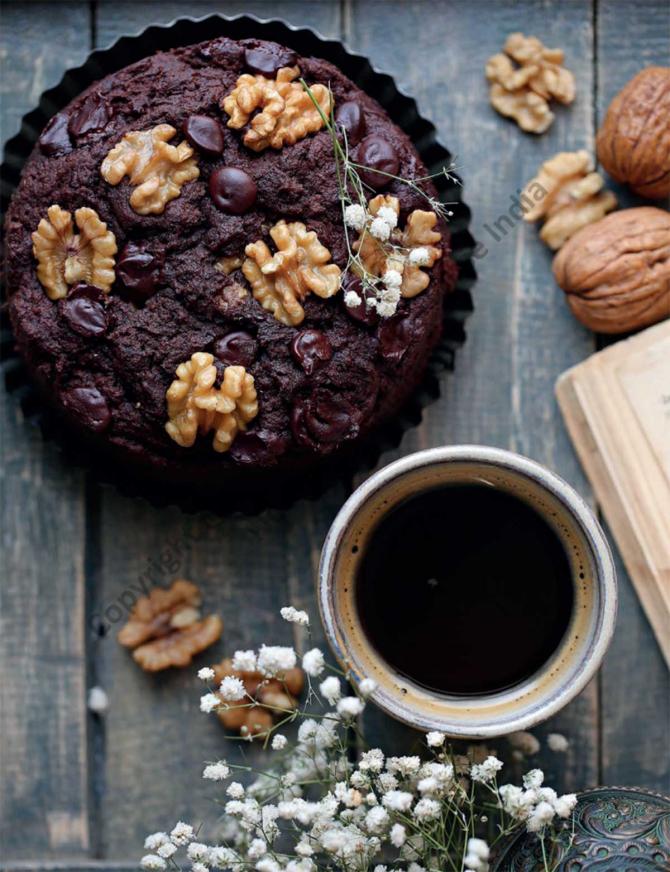 Quarantine Chocolate Cake
'This cake has a connect to things I really enjoy: Baking, chocolate, going egg-free, using wholegrains, simple bakes and basic ingredients', says Deeba Rajpal.
Servings: A 4-inch cake
Ingredients
For the dry mix
100 gm aata or whole wheat flour
½ tsp baking powder
¼ tsp baking soda
50 gm walnuts, chopped
25 gm dark chocolate chips
Pinch salt
For the wet mix
70 gm jaggery powder
50 gm clarified butter/ghee, melted
25 gm cocoa powder
75 gm bananas or 1 large, ripe banana, mashed
75 gm thick yoghurt
1 tsp vanilla essence
For the topping
Walnut halves
Chocolate chips
Method
Line the bottom and sides of a small 4 inch-diameter, microwave-safe glass baking dish with parchment paper.
Stir together the dry ingredients in another bowl.
Keep aside.
Place the jaggery powder in a third bowl.
Heat the clarified butter/ghee till hot and pour over the jaggery powder.
Whisk well and then whisk in the cocoa powder, mashed banana, yogurt, vanilla essence.
Add the dry mix to the wet mix and stir gently to combine.
Don't over-mix.
Transfer the batter to the prepared dish.
Top with walnut halves and chocolate chips.
Bake at full microwave oven power for 3½ minutes.
Open and check with a toothpick tester.
It should come out clean with a few moist crumbs, else bake for another 30 seconds.
Cool for 30 minutes in the baking dish, then gently turn out to cool on the cooling rack.
Note: If you don't have jaggery powder, you can use brown sugar instead.
---
Chocolate and Salted Caramel Almond Oat-Crusted Tart
Recounts Deeba Rajpal, 'This tart has an interesting beginning. I had plenty of leftover crumb mix from a video I was shooting for Anzac-inspired bars. Since I absolutely loathe wasting anything, instead of reaching out for digestive biscuits for the tart base, I experimented with this mix. Best decision ever -- this is a dessert that turned out as delicious as it was effortless'.
Servings: One 8-inch tart
Ingredients
For the tart base
50 gm brown sugar
100 gm all-purpose flour
100 gm whole almonds
40 gm quick-cooking oats
1 tsp baking soda
Pinch salt
70 gm clarified butter/ghee, melted, cooled
For the filling
250 gm salted caramel sauce (please see the note below)
250 gm dark chocolate, chopped fine
275 ml cream
For the topping
Chocolate shards
Cocoa powder
Sea salt
Frozen berries
Fresh seasonal fruit
Dusting of cocoa powder
Sprig fresh mint
Method
Preheat the oven to 180°C.
Lightly grease an 8-inch loose-bottomed round tin or line an 8-inch dessert ring with heavy-duty aluminium foil.
Grind the sugar, flour, almonds, oats, baking soda, salt in a food processor and process until you get a fine meal consistency.
Alternatively, a dry grinder will work but grind the almonds and flour together, making sure you do it in short pulses.
Then whisk in the suga, baking soda.
Add the clarified butter/ghee to the ground mix and process for a few seconds until mixed in.
Turn into the prepared tin and press into the base and work up the sides.
Leave the sides uneven if you like.
Bake for 25 minutes until firm to the touch and light golden brown.
While the shell is baking, prepare the filling.
Place the chocolate in a glass bowl.
Heat the cream till hot but not boiling and pour over the chocolate.
Allow to stand for 10–15 minutes until the chocolate softens.
Stir gently until smooth.
To assemble
Cool the baked tart base in the tin on the cooling rack for 10 minutes.
Heat the salted caramel sauce and pour over the base of the shell.
It should be quite runny.
Swirl the tart tin around gently to coat the inner sides of the tart base.
Sit the tin back on the rack and gently pour in the warm chocolate filling.
It should spread easily to fill the tart about halfway up.
Cool for about an hour, then refrigerate for 4–6 hours, or better still overnight, to firm it up.
Top with frozen berries, fresh seasonal fruit, chocolate shards, and maybe a dusting of cocoa powder.
Add a sprig of fresh mint for that pop of colour.
Note: Deeba Rajpal's recipe for salted caramel sauce calls for heating 200 gm sugar over low heat till it is a light caramel brown and then adding in 100 gm of diced butter. When the butter has melted, add 100 ml cream. Allow the cream to simmer and add ½ tsp sea salt. After it cools the sauce will thicken and yield 400 gm of sauce. It can be stored in the fridge.
Excerpted from Passionate About Baking by Deeba Rajpal with kind permission from the publishers Penguin Random House India.