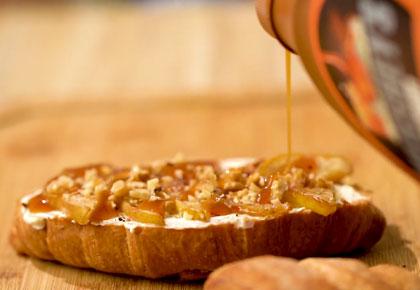 Chef Ranveer Brar offers a quick-fix breakfast: If you have access to a fresh croissant, convert it into a delicious Caramelised Pear Croissant Sandwich, spiked with a little chilly and black pepper.
Surprise your loved one with this morning plate of happiness.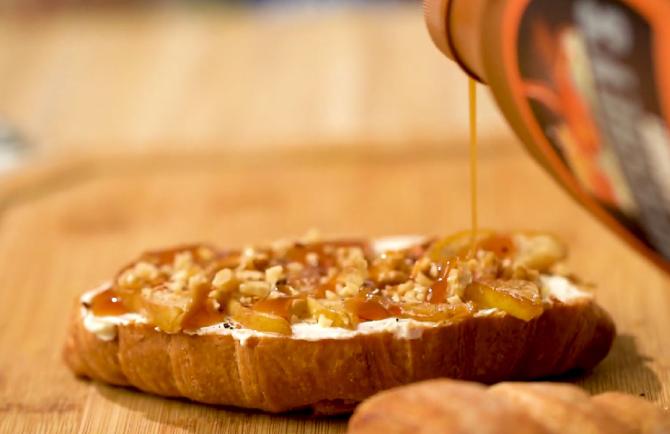 Caramelised Pear Croissant Sandwich
Serves: 1
Ingredients
1 ripe soft pear
20 gm or 2 tbsp chopped walnuts
30 gm hung curd or hung yoghurt
2-3 tbsp caramel-flavoured syrup
Dash salt
Dash black pepper powder
Dash chilly flakes
1 fresh croissant
Parchment paper
Method
Core and slice the pear into thick slices, but keep the peel.
Preheat the oven to 180°C.
Place the pear slices on a baking tray lined with parchment paper.
Drizzle 2 tbsp of the caramel syrup and bake in the oven until the slices are softened and caramelised, for about 10-15 minutes.
Take out of the oven and cool.
Mix the hung curd with the remaining 1 tbsp caramel syrup.
Slit the croissant lengthwise into two halves.
Place the sliced caramelised pear slices on the face of one of the halves.
Garnish with the chopped walnuts and a dollop of the hung curd mixture.
Sprinkle black pepper powder, chilly flakes, salt.
Top with the other half of the croissant to form a sandwich.
Serve warmed.
Note: 2 cups dahi/yoghurt makes about 1 cup hung curd. And 1 cup hung curd weighs 200 gm.
Chef Ranveer Brar is an author, MasterChef India judge and restaurateur with over 25 years of experience in the food industry.