A sweet-savoury tea-time snack of Monaco Canape with Mango Tikka Chicken by Chef Ajay Thakurwill go down well with a cup of masala chai.
While cooking the tikka, the sugar of the mango gets charred in the heat giving it a unique smokey flavour.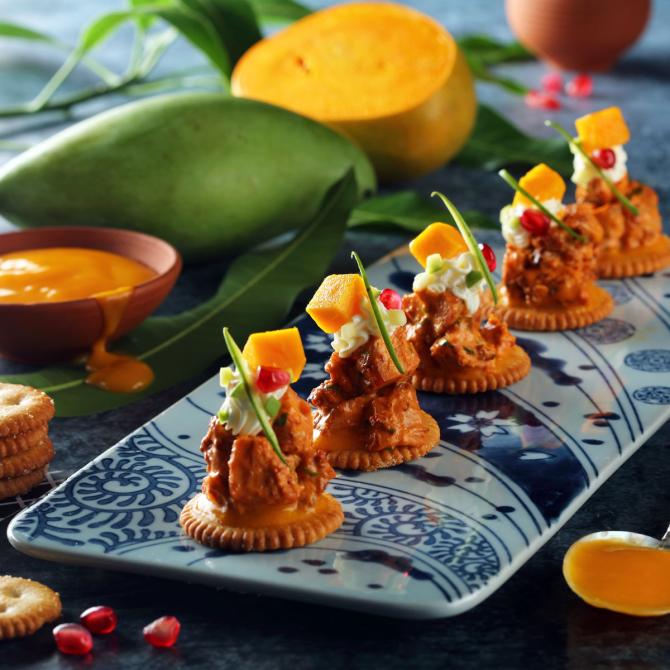 Monaco Canape with Mango Tikka Chicken and Kairi Sour Cream
Serves: 3-4
Ingredients
1 medium-sized raw mango, thinly sliced
1 medium-sized ripe mango, diced + few pieces for the garnish
300 gm mango pulp, reserve a tbsp of the puree for the cooked chicken
1 packet Monaco crackers
100 gm chicken tikka marinade
500 gm chicken breast
150 gm yogurt
30 gm fresh green dhania or coriander or cilantro, chopped, reserve some chopped coriander for the cooked chicken
Salt as per taste
50 ml oil
10 gm butter
100 gm sour cream
Method
Cut the chicken breast into tikka-sized pieces.
In a large bowl mix the tikka marinade, yogurt, chopped coriander, salt, oil, mango pulp and cut pieces of chicken.
Refrigerate for a minimum of 2 hours or overnight.
In a heavy-bottomed kadhai or frying pan, melt the butter over low heat.
Add the marinated chicken and let it cook over medium heat for 20 minutes.
Once done, take off heat and let it rest for a couple of minutes.
While resting the chicken pieces continue cooking and release juice which make it more succulent and moist.
The cooked chicken will need to be cut into smaller pieces as it will have to rest on the cracker.
Add some fresh coriander, a tbsp of mango puree to the chicken mixture and mix. Refrigerate this mixture for 30 minutes.
Line up the Monaco crackers on a plate or platter.
Add a tbsp of the chicken mixture and top it with a tsp of sour cream.
Layer with a slice of raw mango and a diced ripe mango.
Serve.
Chef Ajay Thakur is the corporate chef at Hitchki, Mumbai.