Chef Ajay Thakur, corporate chef at Bayroute, Mumbai shares his special recipe for classic Middle Eastern chickpea Falafel Pockets, which make for a delicious and satisfying veggie meal.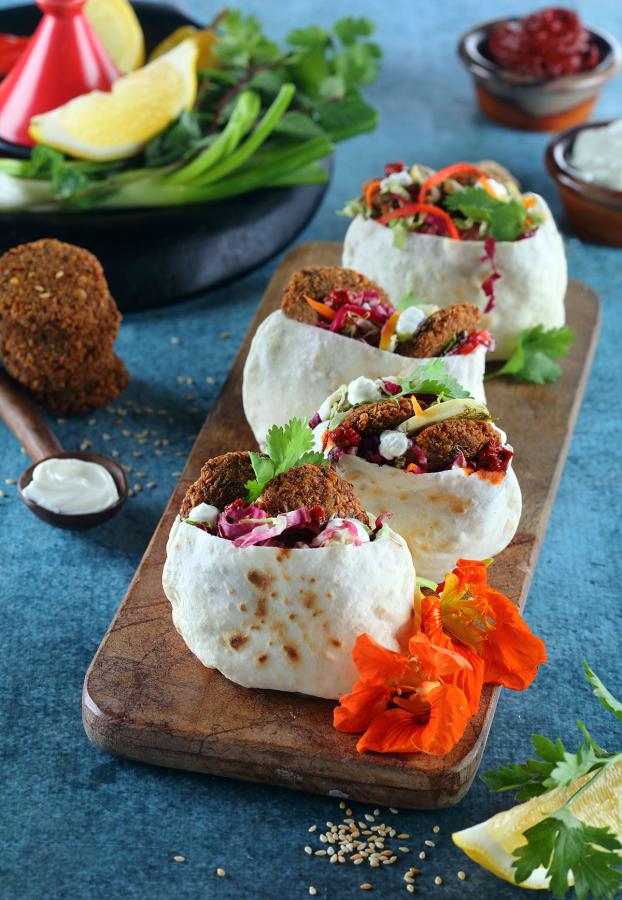 Falafel Pockets
Serves: 4
Ingredients
For the falafel
250 gm kabuli channa or chickpeas
5 gm jeera or cumin seeds, roasted
1 small onion
Handful of parsley leaves
Handful of coriander leaves
Salt to taste
1 tsp black pepper powder
1 tsp white sesame seeds
1 green chilly
Oil for deep drying
For the pockets
2 pita breads
A small bowl of tahini sauce
A small bowl of spicy yogurt sauce
2-3 gherkins, sliced
A bowl of shredded lettuce
2 tomatoes, sliced
1 onion, sliced
4-8 fried falafel tikkis, depending on the size
Method
For the falafel
Soak the chickpeas for 12 hours or overnight.
Rinse them and drain the excess water.
Keep aside.
Roughly chop the onions, parsley and coriander leaves and chilly.
Transfer to a blender along with the chickpeas and blend till fairly smooth, with very little or better no water.
Add the roasted jeera, black pepper powder, sesame seeds and salt and blend again.
Pour into a bowl.
Using your hands, shape the mixture into small balls.
Heat the oil in a heavy-bottomed kadhai or frying pan over medium heat.
Fry the falafel for 3 minutes on each side or until golden brown.
Drain excess oil and place on a tissue or paper towel-lined plate.
For the pita pockets
Cut the pita bread into two.
Fill the pockets with the shredded lettuce, sliced tomatoes, onions and gherkins.
Add a tbsp of the spicy yogurt sauce and tahini sauce into each of the pockets.
Place 1 or 2 falafel tikkis into each pocket.
Heat a heavy-bottomed frying pan over medium heat.
Place the stuffed pita bread pockets in the pan and lightly toast both sides.
Transfer to a plate and serve with spicy yogurt sauce and tahini sauce.