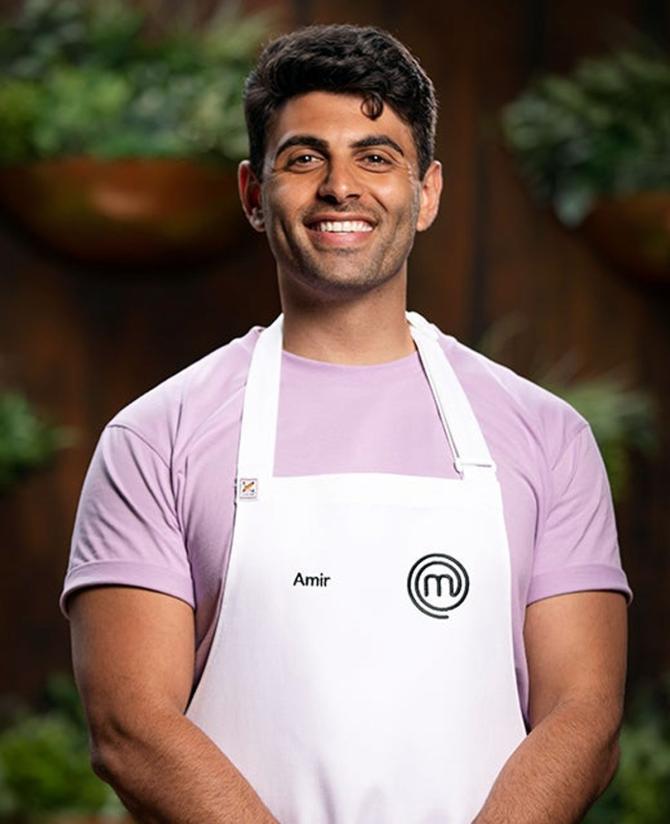 When MasterChef Australia Season 13 contestant Amir Manoly was locked down at home in 2020 because of the COVID-19 pandemic, he made Zoom meetings with friends fun by creating an online mystery box challenge.
He'd challenge his friends to create a dish in 90 minutes, using seven ingredients from the mystery box.
A construction project manager from Victoria, Amir entered the kitchen at the age of four and loves cooking with Middle Eastern flavours.
Sundays at home meant a big Egyptian-style breakfast of baked eggs, falafel, pickled vegetables and pita made from scratch.
Here's presenting his special recipe for Chicken Shawarma with warm homemade flatbread and the intense smoky Baba Ganoush.
Made with Middle Eastern and Indian spices, the chicken Marylands, a cut of chicken with the drumstick and the thigh, are cooked to perfection in an oven.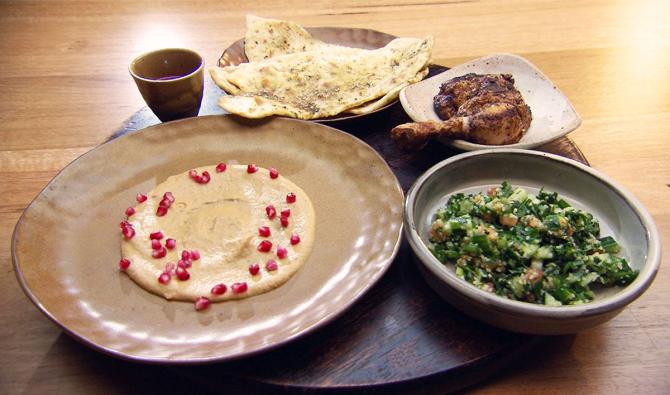 Chicken Shawarma with Baba Ganoush and Flatbread
Serves: 4
Ingredients
For the marinated chicken
4 chicken Marylands, a cut of chicken with the drumstick and the thigh
1/4 cup extra virgin olive oil
Juice of 1 lemon
1 pod garlic, finely diced
1 tbsp sumac, a tangy, lemony spice used in Middle Eastern cooking, found online (can, not very satisfactorily, substitute with 1 tsp lemon zest)
1 tbsp ground jeera or cumin
1 tbsp ground green dhania or coriander or cilantro
1 tbsp smoked paprika
2 tsp ground green cardamom
1 tsp cayenne pepper or regular chilly powder
Salt to season
A dash of pepper
For the flatbread
125 gm plain flour + extra for dusting
90 ml warm water
3 gm instant dried yeast
1 tbsp zaatar, available in gourmet food stores and online
Salt to taste
Extra virgin olive oil
For the Baba Ganoush
1 large eggplant
2 tbsp extra virgin olive oil
1 tbsp tahini or sesame seed paste, easily available
Juice of ½ lemon
1 pod of garlic, finely diced
½ tsp ground jeera or cumin
½ tsp paprika
Method
Preheat oven to 180°C fan forced.
For the marinated chicken
Combine all ingredients in a deep dish and mix to ensure the chicken is covered in marinade.
Set aside for 30 minutes.
Heat ovenproof medium frying pan over medium high heat.
Add the chicken and cook until golden brown, about 5-10 minutes.
Turn the chicken over and then place in a pan in the oven and bake until cooked through to the bone, about 20 minutes.
Take out and cover loosely with foil and set aside.
For the flatbread
Place the flour, water, yeast and a pinch of salt into a bowl and bring together to form a dough.
Knead dough for 1 minute on a clean work surface, dusted with flour.
Return dough to the bowl, cover with cling film and set aside for 30 minutes or until doubled in size.
Cut dough into 4 portions, roll each into a ball and roll out thinly with a rolling pin.
Meanwhile, heat a medium-sized frying pan over medium to high heat.
Add a little olive oil and when hot, cook flatbreads until golden brown on each side.
Remove from the pan and drizzle with olive oil and sprinkle with zaatar and salt.
Cover with a clean tea towel to keep warm.
For the Baba Ganoush
Place the eggplant onto a wire rack over an open flame and cook until tender and charred on all sides, about 20 minutes.
Transfer the roasted eggplant to a heatproof bowl, cover with cling film and set aside to cool slightly.
Peel away skin and transfer the flesh to a food processor.
Add remaining ingredients and process until smooth. Cover and set aside.
To serve, spread flatbreads with Baba Ganoush and then add the chicken.
MasterChef Australia airs on Disney + Hotstar every Monday to Friday at 9 pm.