Time-crunched? Yet do you want to prepare something sweet but healthy-ish for Ganesh Chaturthi?
Try out food blogger Sangita Agrawal's recipe for Date and Peanut Laddoos.
It can be made quickly with few ingredients, and it is fasting-friendly as well.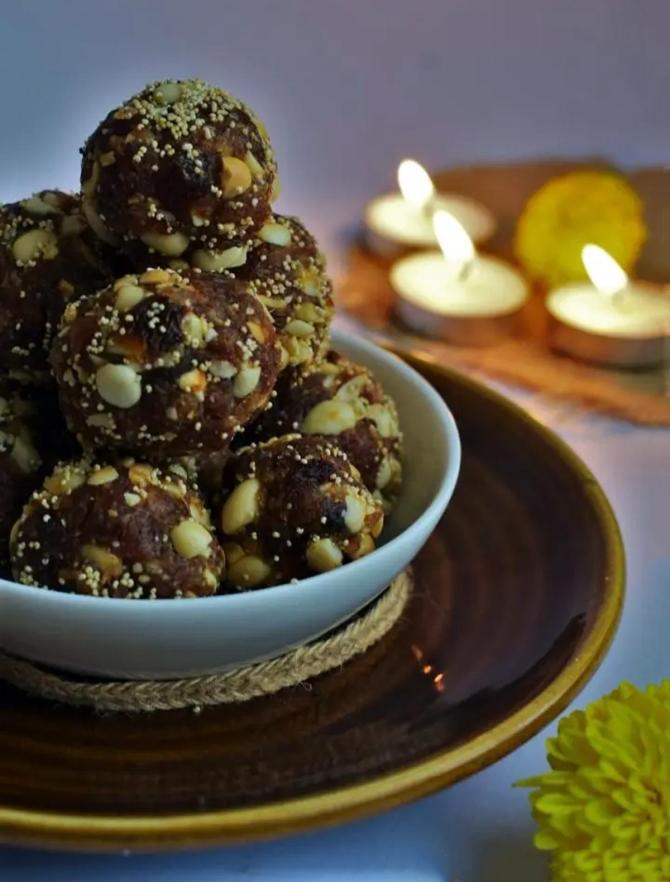 Date and Peanut Laddoos
Serves: 8-10 pieces
Ingredients
2 cups or around 250 gm seedless dates, chopped
½ cup raisins, chopped
1 cup peanuts
½ cup desiccated coconut
2 tbsp khus khus or poppy seeds
2 tbsp honey or brown sugar or jaggery
½ tsp green elaichi or cardamom powder
2 tsp ghee or oil
Method
In a heavy-bottomed kadhai or pan dry roast the peanuts over low heat till crunchy.
Take off heat, let it cool and rub between your palms to peel off the skin.
Pound the roasted peanuts in a mortar and pestle till it's a coarse mixture.
Keep aside.
Dry roast the khus khus and the desiccated coconut separately, one after the other, in the same pan.
Keep aside.
Chop the dates roughly and grind coarsely in a blender.
Heat the ghee or oil in a heavy-bottomed kadhai or wok and add the ground dates.
Add the brown sugar/honey/jaggery, along with the roasted coconut and peanuts, raisins and saute for a few minutes.
Take off heat and add the cardamom powder.
Mix well. Let it cool.
Meanwhile spread out the roasted khus khus on a plate.
Make small balls of about 1 or 1.5-inch diameter, of the date-peanut mixture and roll them in the khus khus to coat the laddoos evenly.
Store in an air-tight container.